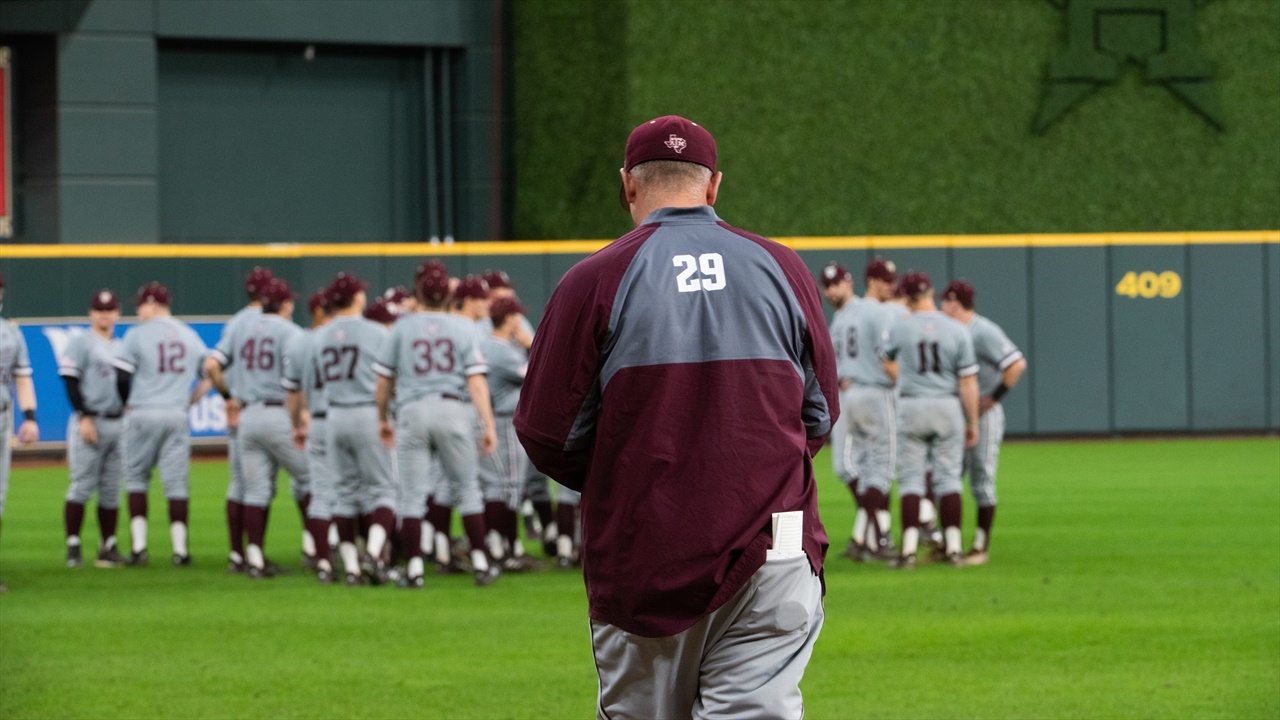 Photo by Tarah Cochran, TexAgs
Texas A&M Baseball
Rob Childress, Aggie baseball making final preparations for 2020 season
---
Key notes from Rob Childress interview
Practices are going well. We couldn't have asked for a much better start with the way the weather has been. We're getting up to game speed, and building up pitch counts as we go deeper into our practices, so we're getting there. The upperclassmen have been excellent from a leadership standpoint. We have so many veterans coming back, and that's always a good thing because you can't cover up a lack of experience in this league.

We have a lot of guys that are coming on very well this spring. Rody Barker plays fast and can play a lot of different positions and handle the corner outfield positions. Trevor Werner is going to play on the left side of the infield and come out of the bullpen in the late innings. He's a very talented guy who will do a lot for us.

Freshman Logan Britt will play outfield and has an arm that will remind a lot of people of Tyler Naquin. He's a big guy at 6'5", 215 and is a very talented player. Jonathan Childress is back, and we're going to ease him along, but we're happy to have him back. Zane Schmidt is a transfer hitter from Hutchinson CC who is looking good so far. We have some nice pieces that are coming back to go along with all of the new guys, and we're happy with what we've seen so far.

We hesitate to put too much on Trevor Werner's plate, but he's preparing himself, and we think he is ready to contribute to this team. We're going to play him on the left side of the infield, and we really like him at shortstop. On the mound, he's going to throw it over the plate and essentially be a 5th infielder with the way he can field. He'll pitch some late innings and see some critical situations, and we'll bring him on as he is ready to handle it, but he's already showing signs of being prepared for that.

Asa Lacy has done a marvelous job from a leadership standpoint. He's been a great teammate in teaching the young guys what it takes to be great at your craft. When you do that, you've got the entire team behind you, and he works hard for everything and shows up every day. He's one of the most powerful lefties I've seen on the mound and with his hard work, it's not surprising to see. He is prepared to be not just good, but as great as he can be.

I think the obvious thing that people will see with the offense is that we're going to play fast and take chances on the bases. We've got a great group of veterans coming back with a lot of talented guys coming in, which we're excited about. We're going to do everything we can to get better and bring it all together offensively, and I think from what we've seen so far this spring, we're in a really good spot to do just that.
Never miss the latest news from TexAgs!
Join our free email list