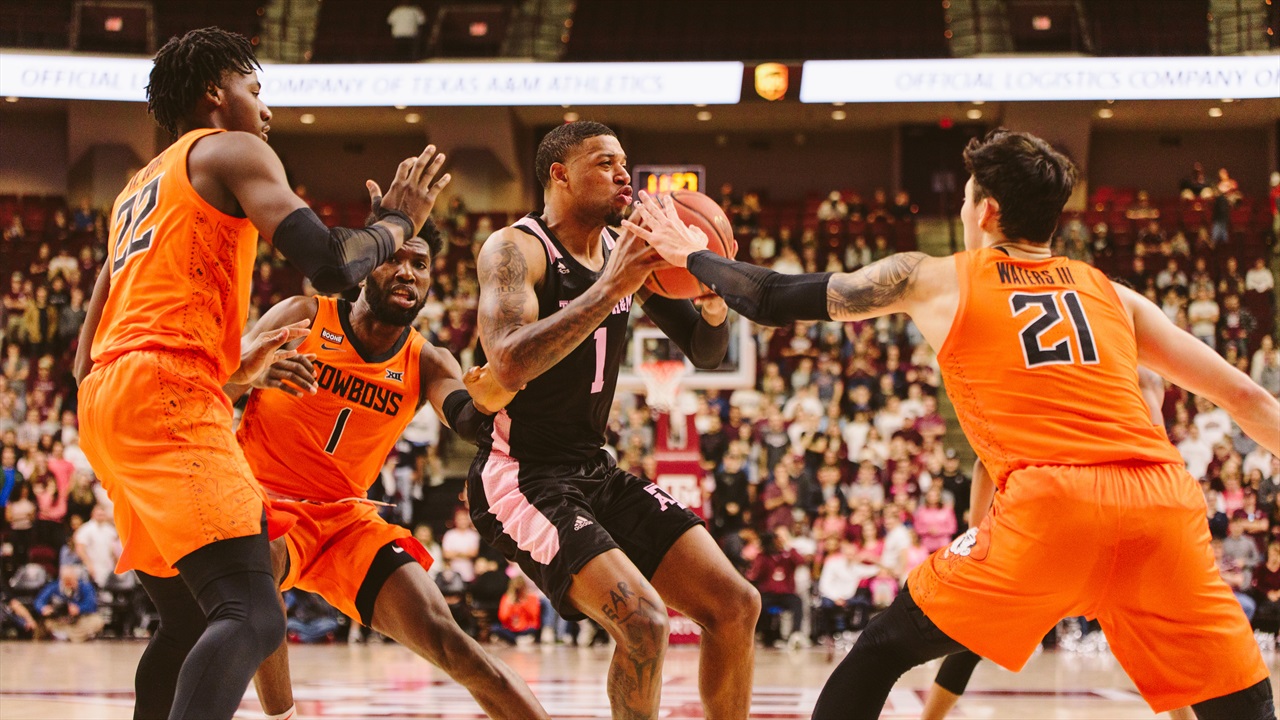 Photo by Rey Romo, TexAgs
Texas A&M Basketball
Aggies' recurring issues plague them in loss to Oklahoma state, 73-62
---
Erratic shooting has been a recurring issue for Texas A&M. Yet, the Aggies have occasionally overcome their inaccuracy with tenacious defense.
There was no such compensation on Saturday.
A&M (9-9) allowed Oklahoma State (10-9) to shoot 55.1 percent — 65 percent in the second half — and suffered a 73-62 college basketball loss before 7,622 at Reed Arena in the SEC/Big 12 Challenge.
Oklahoma State's shooting percentage was the highest allowed by the Aggies this season. The Cowboys hit eight 3-point goals and scored 30 points inside the paint.
Five Oklahoma State players scored in double figures led by guard Isaac Likekele with 13.
"You have to give your best effort and have the mentality to fight. Today, we did not do that."
"Some of the things that have allowed us to be in games have been the design of what we do defensively, which is to keep the ball out of the paint," A&M coach Buzz Williams said.
"You have to give your best effort and have the mentality to fight. Today, we did not do that."
Senior guard Wendell Mitchell echoed that thought.
"We have to come out fighting a lot harder," Mitchell said. "We kind of got punched and kind of let them keep punching us. We've got to punch back and push harder.
"As far as a team, we've got to play better defense and a lot more effort."
There was plenty more frustration to go around. A&M shot just 39 percent from the field (23 of 59) while taking 25 shots from 3-point range, of which they made seven.
Oklahoma State's strategy invited A&M to shoot 3-pointers with a zone defense and concentrate on neutralizing Josh Nebo inside.
Nebo scored 11 points to tie Emanuel Miller and Quenton Jackson for team-high honors. But Nebo took only five shots and managed just four rebounds.
"He was the game plan," Oklahoma State coach Mike Boynton said. "We tried to take as much space away from him as possible. Keep bodies around him, and make him uncomfortable in there. He's too much to handle for one guy.
"None of our guys could contain him by themselves, so we had the team focus not only on just not letting him catch it clean and easy. He still got a few. Even on block-outs, we were sending two bodies at him every time."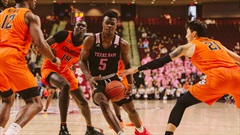 Rey Romo, TexAgs
There was no hint of an oncoming Oklahoma State blowout in the early going.
The Aggies got off to a fast start, hitting a trio of 3-pointers in the first 5 1/2 minutes. Wendell Mitchell had two of those.
A three-point play by Nebo and Jackson's rousing baseline dunk staked the Aggies to a 16-12 lead.
But soon afterward, A&M's usual issues resurfaced. The Aggies' shooting went cold while Oklahoma state heated up from the 3-point arc.
Thomas Dziagwa hit a 3-pointer from the corner to launch a 9-0 run that gave the Cowboys a 26-19 lead.
A&M was able to pull within 29-26 when Miller's offensive board and pass set up Andre Gordon's 3-pointer with 3:17 left in the half.
That was the Aggies' last score before halftime. Meanwhile, Nebo left the game with 1:34 remaining following his second foul.
Likekele capitalized on Nebo's absence to score twice in the paint and give the Cowboys a 34-26 edge at the break.
The Cowboys did not slow down in the second half. Oklahoma State outscored the Aggies 7-2 to start the half take a 41-29 lead. The Cowboys' margin never dipped below seven points from there.
The Aggies' frustration level spiked with A&M trailing 57-40 with 7:24 to play. Jay Jay Chandler stomped on Cameron McGriff's head as he was lying under the A&M basket. That resulted in a technical foul and Chandler's ejection.
Undaunted, McGriff made both technical foul shots. Seconds later, he hit two more free throws as Oklahoma State's lead peaked at 21 points.
Chandler's gaffe the most glaring failure on a day full of them.
"We were non-communicative on the court," Williams said. "We were on our heels, so to say. And for sure, we do not have the ability to overcome that."
Never miss the latest news from TexAgs!
Join our free email list