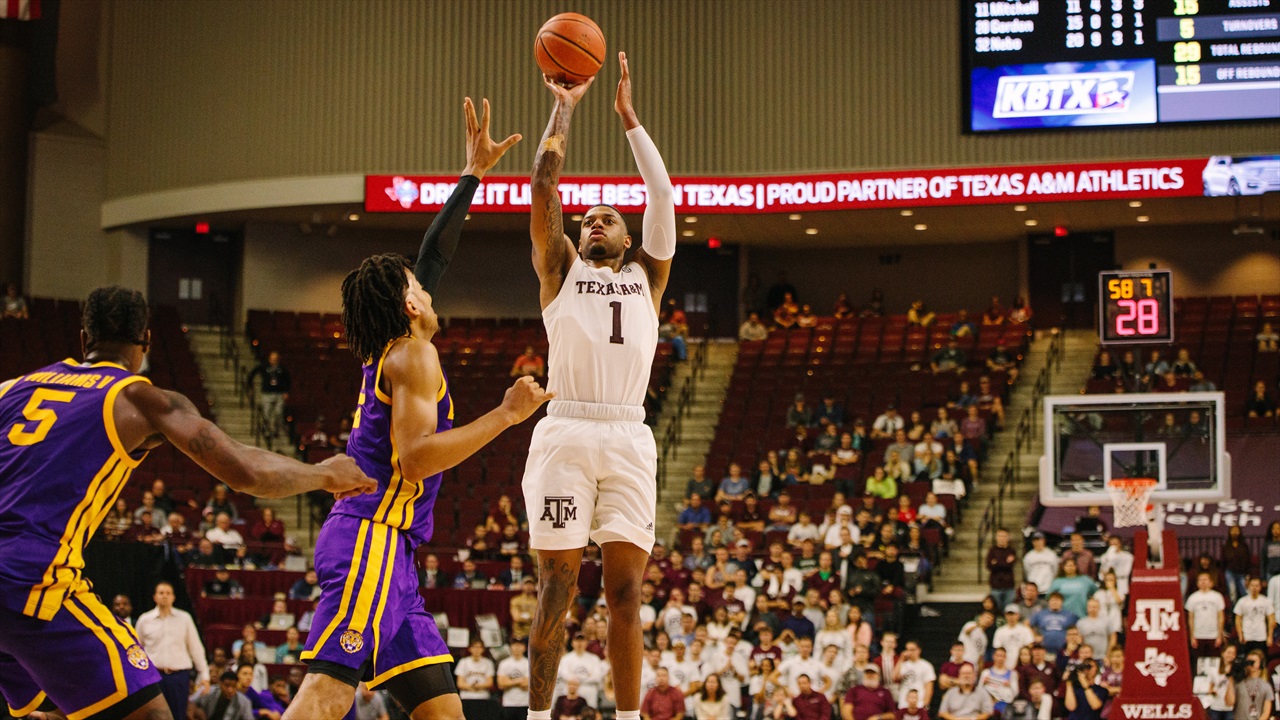 Photo by Rey Romo, TexAgs
Texas A&M Basketball
Flagg, Aggies hope to continue upward trend as Oklahoma State pays a visit
---
It's been a challenging basketball season for Texas A&M. So what's one more?
The Aggies (9-8) hope to continue trending upward when Oklahoma State (9-9) visits Reed Arena on Saturday at 3:00 p.m. in the Big 12/SEC Challenge.
A&M has posted three victories in their last five games after holding off Missouri 66-64 in Columbia on Tuesday. It was the latest in a series of games that have tested the Aggies' toughness.
Coach Buzz Williams said the Aggies need to demonstrate toughness in many avenues, particularly the free-throw line. They missed ten attempts and converted just 61.5 percent in the narrow victory over Missouri.
"What I tell our guys (is) tough guys make free throws," he said. "Wherever you fall in the tough guy spectrum, the more free throws you make, the tougher you are.
"Wherever you fall in the tough guy spectrum, the more free throws you make, the tougher you are."
"We have to get tougher more a multitude of reasons, including so that we shoot a higher percentage from the free-throw line, and we're not trying to come up with some math formula on who to get to the line (and) when."
The Aggies have made noticeable strides in several areas. Missouri was limited to 25.7 percent 3-point shooting while converting nine baskets from long range.
That was a considerable improvement from the previous two games in which South Carolina and LSU combined to convert 30 treys and shot 44 percent from behind the arc.
"Some interesting numbers," Williams said. "The most important number was our ability to contest those shots. We didn't contest near good enough against South Carolina. Against Missouri, our contested number was up, and our defensive rebounding percentage number was up."
The Aggies also have averaged 11.2 turnovers over the last five games. That's well under their season average of 14.1.
Further, A&M, which for much of the season was last in the nation in 3-point shooting percentage, has converted a respectable 34 percent (16 of 47) since the second half of the game against LSU.
Among those finding their range is junior forward Savion Flagg, who has hit 40 percent (6 of 15) of his 3-point attempts over the last three games.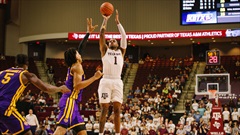 Rey Romo, TexAgs
Flagg averaged nearly 20 points over the final ten games of last season but has struggled to regain that form. However, after scoring 16 against LSU and 14 against Missouri, he appears to be trending in that direction.
"I feel like I'm getting a good feel for it," Flagg said. "I'm not really worried about stats. Anything I can do to help my team win. Whether that's getting all the rebounds I can or all the assists I can or finding the hot man. If it's my time, then it's my time to shoot the ball."
The Aggies are hopeful Flagg and his cohorts keep making progress against Oklahoma State, which has struggled with consistency.
Although guards Lindy Waters and Isaac Likekele and forward Cameron McGriff all average in double figures, the Cowboys are eighth in the Big 12 in scoring with a 67.2 average. They also have a conference-worst 30.5 shooting percentage from 3-point range.
The Cowboys blew out Ole Miss 78-37 earlier this season and have victories over No. 25 Houston and Syracuse. However, they're currently mired in a six-game losing streak.
Obviously, this season has been a challenge for them, too.
Never miss the latest news from TexAgs!
Join our free email list