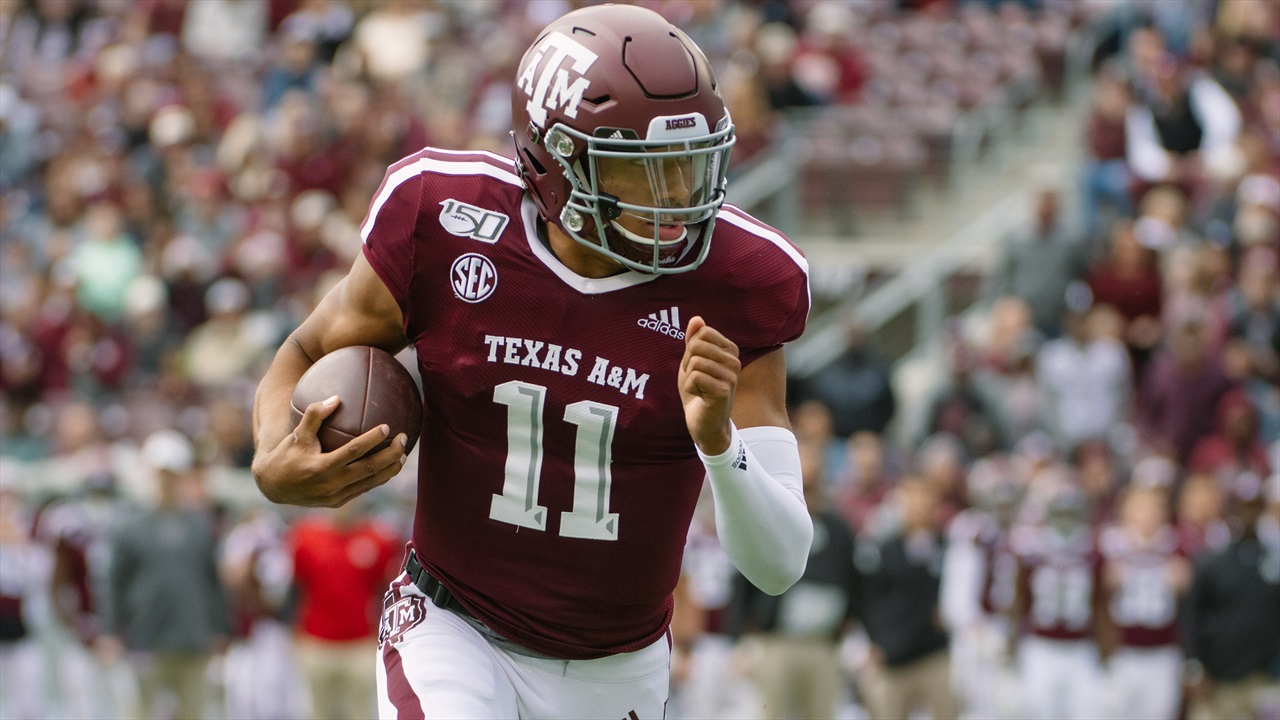 Photo by Rey Romo, TexAgs
Texas A&M Football
Cubelic: Who is the top SEC quarterback heading into 2020?
---
Key notes from Cole Cubelic interview
I'm still in Houston for the XFL stuff. We've got mock games today. We're trying to see what our broadcasts are going to look like, and I hope that I'm going to be a part of some of those games this year. We've got ABC, ESPN, and FOX. The distribution is there. The football is going to be a lot better than people imagine. I think the fans are just going to have to grasp some of the new rules. There might be some that people think are better and might be looked at later on down the road.

I think you have to lean to Alabama to be the favorite in the West in 2020. Their offensive line is going to be really good, and Najee Harris coming back was a huge surprise. They're going to have a lot of skill talent as well. I'm not on board with their defense being a lot better, though. I don't believe that. They're losing Davis, Jennings, among others. They're getting Moses back, but that's one guy. I don't think they have an elite pass rusher or any depth.

We're looking at another scenario like we did this year where it's Alabama, LSU at the top of the SEC West, and then a log jam after that.

I think the A&M offense next year could be special. I'm not sure that the defensive line will be the same, though. They've got a huge chance to be pretty good next year defensively, regardless. And of course, that schedule isn't going to be what it has recently either.

I'd like to see Kellen Mond get better protection - consistent protection. If he gets that, he can take a huge step. I think a lot of this is on Jimbo and how he sets Mond up for success. He's going to have a lot of pieces back around him in Cupp and Wydermyer. He needs to get the time. I don't think Mond's accuracy is awful. I think Mond is the best returning quarterback in the SEC. He needs time. I'm not sure he can take a huge step because he's already pretty good. I think his improvement will come down to the offensive line and how Jimbo uses the pieces in that offense.

Some people think Kyle Trask is the best quarterback in this league. Think about what they're saying: Kyle Trask is the best quarterback in the SEC? He's solid, sure. Look at what Burrow just did. Joe Burrow just threw 60 touchdowns with six interceptions. After him, Tua was amazing. Go back to Manziel, Tebow, and now we're talking about Trask being the best we have in this league?

Jamie Newman has skills. When I get Georgia fans coming at me telling me that I'm dumb for not having him in my top five or at number one... How many Georgia fans or SEC fans watched a single Wake Forest game this year? He's not going to do this 'walk-the-dog' zone-read that he was doing that. He's running a different offense with a new offensive coordinator coming in. I'm sorry that I don't think Jamie Newman is just going to come in and shred the SEC.

Mac Jones shredded Arkansas. So did everyone else. San Jose State shredded Arkansas. John Rhys Plumlee is interesting. Lane Kiffin isn't going to run the same thing that Rich Rod did. Is he even going to play with Matt Corral? If you're talking ability, it's Mond, Nix, Newman and then maybe Plumlee. Bo Nix can't stay in the pocket. He's a one-read guy.

People can get mad at my list, but they need to step back. They need a reality check. It's unbelievable. Sounds like Kellen Mond is the Cole Cubelic of A&M. There are just as many guys that love him as guys that hate him at his school.

Feleipe Franks might be even better than Mond from an ability standpoint. A guy that big can throw like that? Incredible. He's got wheels and can run. If we're talking about straight talent, he's as good as anyone in the league. It'll be interesting to see how they use him at Arkansas. Kendall Briles has worked well with a lot of quarterbacks. A lot of people wanted Franks to go work with Leach at Washington State. I'm interested to see how he works at Arkansas.
Never miss the latest news from TexAgs!
Join our free email list