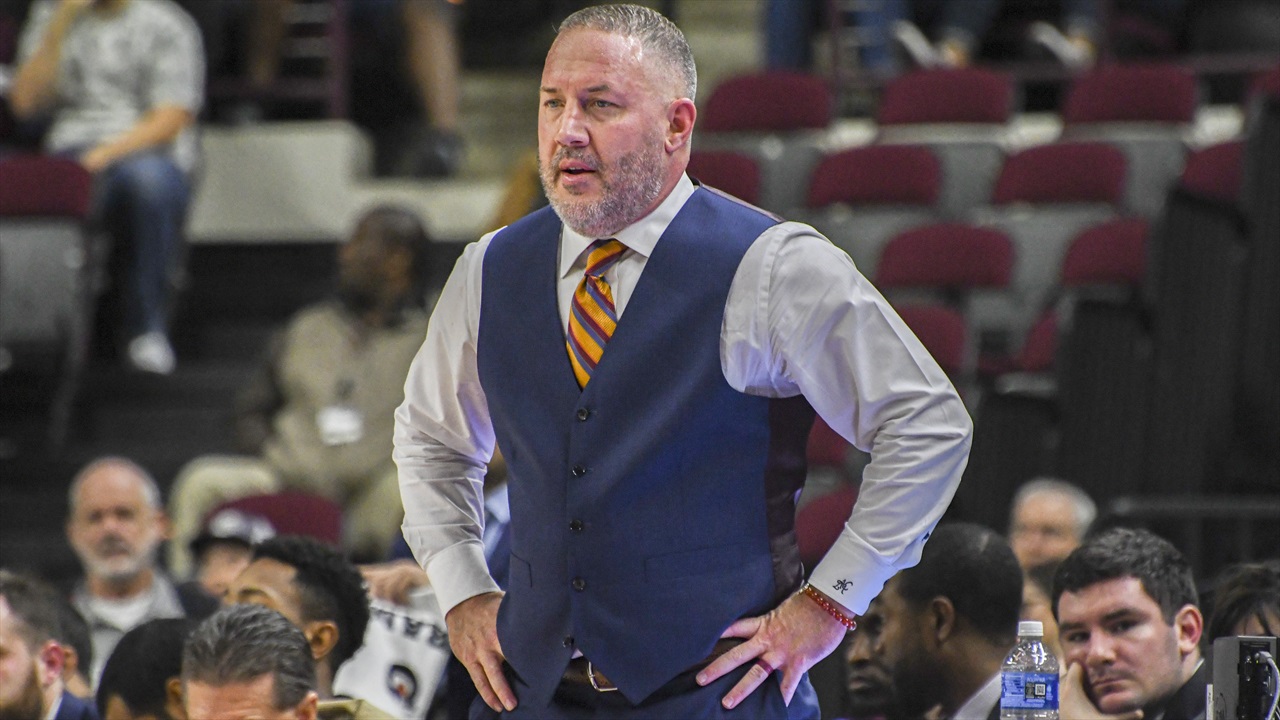 Photo by Lia Musgrave, TexAgs
Texas A&M Basketball
Buzz: Aggies close to turning the corner thanks to quality game & practice reps
---
Key notes from Buzz Williams interview
I hope I can get to watch some of the second half just because of the itinerary of the day, but I think the Tigers are going to win in the National Championship game.

There's no way that you can quantify the buy-in and the effort and all of the things that come from how these kids were raised. It has made me a better parent. To see these guys play so unselfishly, I think it has made me a better parent.

Everything works better when you make shots. The counter from that is that everything feels worse when you don't make shots. We're last in the country in three-point field goal percentage. We are not a shooting team. We took two bad shots against Vanderbilt. That's 4% of the possessions. Over the last month, we've done a much better job of not taking bad shots. When the average and great shots don't go in, that's more of a burden for us and what we do defensively. For use to have a chance to win, we have to be close to perfect defensively, and we have to be active on the glass. If we do that, it's more aesthetically pleasing.

What we do defensively is semi-complex. We got beat from start to finish early on. The reps in games and practice are doing a great job of helping our staff break it down for our guys. Being able to see it in the film room has helped us as well. As time has transpired, we have improved. We were the 53rd best defense in the country entering the Ole Miss, and now I think we're the 42nd best defense after the Vanderbilt game. A lot of what has helped our defense has been our defensive rebounding percentage. Only allowing the opponent one shot per possession is huge.

I think all of those kids, regardless of how you'd evaluate them or how old they are, have completely bought in. When everybody is hitting their ceiling, it allows a lot more maneuverability. Maybe some of the guys that are playing heavy minutes don't have to play as much; then, they can be more productive. It raises the water level of the enter time. Can we do that again and take the next step? Only time will tell.

In the second half, I called a timeout and asked them why I called a timeout. Nobody knew the answer. I told them it was a great first rep for us. Great to learn how to win on the road, but how are we going to handle that? We're in a race to mature as a program and individuals in the programs. It's all about improving relative to the last public rep that we've had. I think we've improved from the Ole Miss game, but now the task is to make sure that we mature before Saturday vs. South Carolina and this LSU game.
Never miss the latest news from TexAgs!
Join our free email list