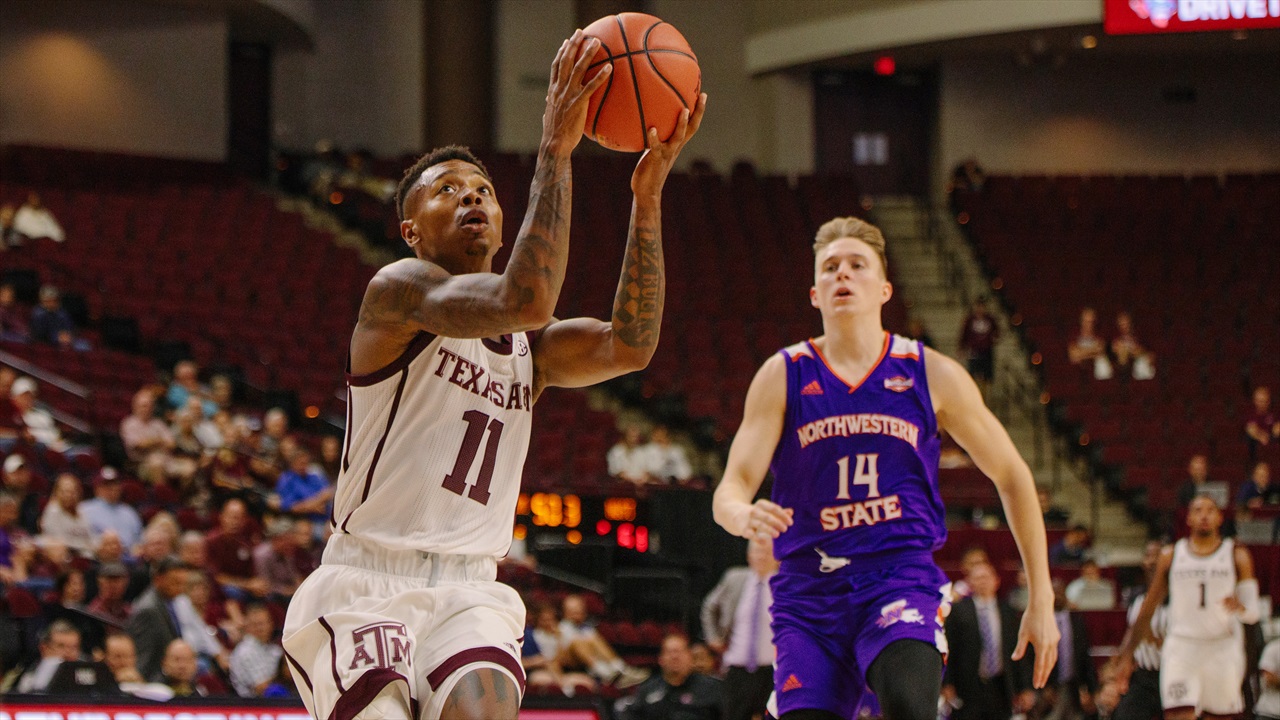 Photo by Rey Romo, TexAgs
Texas A&M Basketball
Aggies determined to shoot better, fight harder heading into rivalry renewal
---
As a product of Rockdale — which lies roughly halfway between Austin and College Station — Texas A&M senior basketball guard Wendell Mitchell knows all about the A&M-Texas rivalry.
He learned about it at an early age from Caldwell resident Charles Williams, who happens to be Mitchell's grandfather.
"My grandfather emphasized we don't go burnt orange," Mitchell said on Thursday.
Thus, Mitchell is uniquely aware of the game's significance when A&M (3-4) faces Texas (7-1) in the Lone Star Showdown on Sunday at 2 p.m. at Dickies Arena in Fort Worth.
With an A&M roster that includes two Canadians, a Turk, a Nigerian, a player from Los Angeles and another from Ohio, Mitchell has felt the need to educate them.
"I told them it's important that we win this game," Mitchell said. "It's huge. Being an hour from Austin and an hour from College Station, I've always been on the Aggies' side from day one. I tell them it's real. The rivalry is real."
Coach Buzz Williams is making it a point to educate the Aggies, too.
"Our Texans probably understand it to the level you think they do," Williams said. "Our non-Texans don't. I want to give them a little bit of history. Not just men's basketball, but just the rivalry in general. Like I don't think they know when we're swaying back and forth that there's a reference to t.u. I don't think they know all that."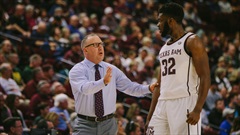 Rey Romo, TexAgs
The Aggies do know they're struggling. They're shooting just 36.4 percent. Subtract the numbers of 6-foot-9 forward Josh Nebo and the numbers decrease to 33.9 percent.
Nationally, A&M is ranked 341st out of 350 in field goal percentage. Leading scorer Savion Flagg is averaging 10.7 points. Nebo averages 10. Mitchell averages 9.6.
Texas, meanwhile, is limiting opponents to just over 40 percent shooting. The Longhorns have won three in a row behind the scoring of guards Matt Coleman (13.8 points per game) and Andrew Jones (12.4).
Yet, despite the rivalry, Texas doesn't really matter. The Aggies are more focused on their own issues than any opponent.
"I just think we need to hit shots," said junior guard Quenton Jackson, who has converted just 5 of 25 attempts from 3-point range. "We have a lot of wide-open shots and we just don't hit them. I think that's the only reason we're in a slump right now. We've just got to hit shots … the open ones."
Though Buzz Williams anticipated problems in his first year at the A&M helm, he acknowledged at times he's gotten frustrated and discouraged. However, he says he's also seen a ray of hope in improved shot selection. Better shots, he hopes, will lead to better shooting. He said the percentage of bad shots taken has decreased.
"The quality of our shots has improved," Williams said. "We need to shoot a higher clip. That's not just Q (Jackson). Q's not shooting it very well at all. We all need to shoot a higher clip.
"But maybe as long as we can continue to control the bad shot percentage and practice those other types of quality shots, maybe we can start making more."
He's hopeful that will start against Texas. Jackson indicated that might be a matter of just being more aggressive and tough.
"I honestly think we, as a team, need to fight more," said Jackson, a Los Angeles native who's one of those just learning about the Texas rivalry. "I don't think we have had enough fight in us yet. When we come out we need to be ready to give 100 percent effort to the game.
"Be ready to rip the other team's head off."
Or saw the horns off, as those more familiar with the rivalry might say.
Never miss the latest news from TexAgs!
Join our free email list
PRESENTED BY