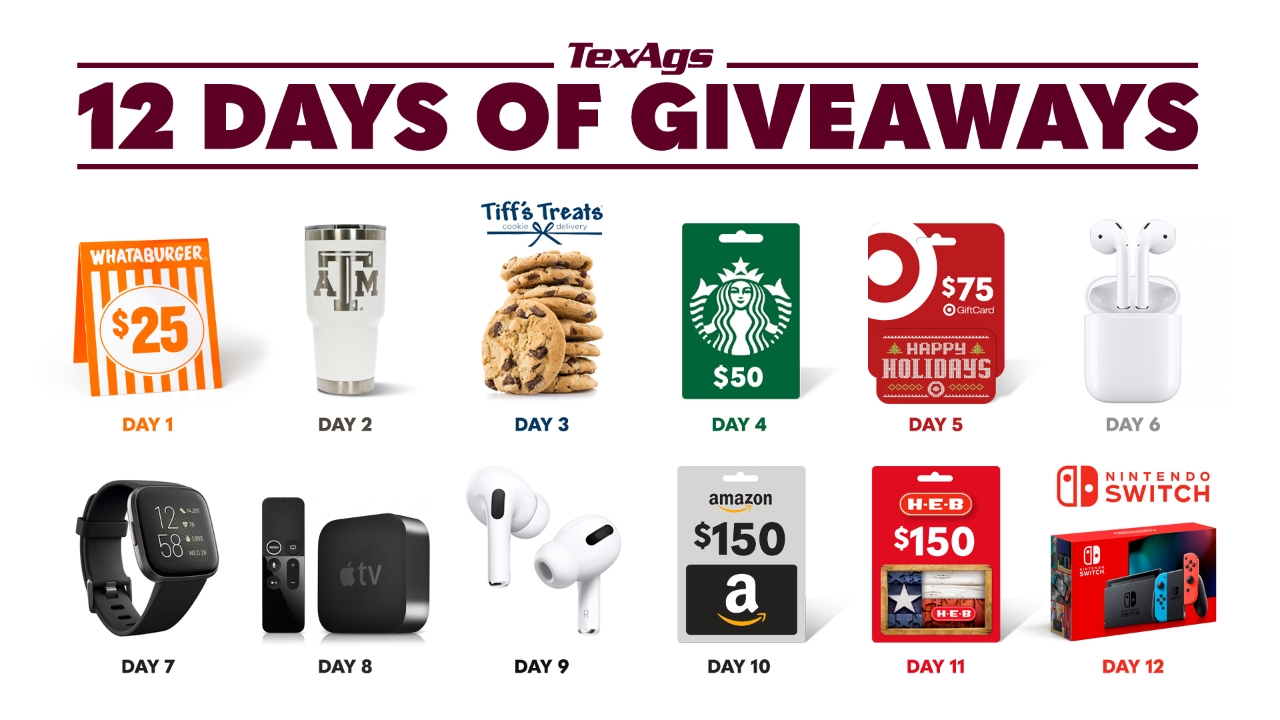 Texas A&M Football
The 12 Days of TexAgs Giveaways
---
Welcome to the 12 Days of TexAgs Giveaways!
Over the next 12 days, we'll be spreading Christmas cheer by giving away 12 prizes to TexAgs users! Each day, we'll choose two winners — one verified Texas A&M student and one Premium subscriber. So if you're already a subscriber or verified student on TexAgs, then GOOD NEWS: you're automatically entered to win.
If you're not a verified student on TexAgs yet, it's easy (and free) — see "For Students" below. And if you're not a student or a subscriber, click here to give Premium a try!
We'll announce the winners each morning and reveal the next day's prize right afterward. Oh, and if you share any of our giveaway posts on social media, you'll earn an extra entry for that day.
Day 1 - $25 Whataburger Gift Card | Winners: GregWilmore and CainKinerd
Day 2 - 30oz. Texas A&M YETI Tumbler | Winners: SeaAg99 and ClassOf2019Ag
Day 3 - Tiff's Treats | Winners: Bruce Lawson and CoastalAgg
Day 4 - $50 Starbucks Gift Card | Winners: swanny_00 and BuffAg47
Day 5 - $75 Target Gift Card | Winners: Kage00 and ashleywachsmuth
Day 6 - Apple Airpods | Winners: cobra c 74 and ZachAgg
Day 7 - FitBit Versa 2 | Winners: CopperKing and Baller On A Budget
Day 8 - Apple TV | Winners: yogi92 and themasonmichell
Day 9 - Apple Airpods Pro | Winners: southpaw03 and Brandon Witte
Day 10 - $150 Amazon Gift Card | Winners: JRVaggie and Patrickob17
Day 11 - $150 HEB Gift Card | Winners: rgarcia032 and greysgrote
Day 12 - Nintendo Switch | Winners: tmoody and Will_D10
Merry (Early) Christmas, Ags! 🎅
FOR STUDENTS:
How to register for a free Student Premium account:
1. If you don't already have a TexAgs account, click here to register (make sure to check the box that says "I am a current student at Texas A&M").
2. Once you've registered, click here to verify that you're a student.
3. CELEBRATE.
Never miss the latest news from TexAgs!
Join our free email list