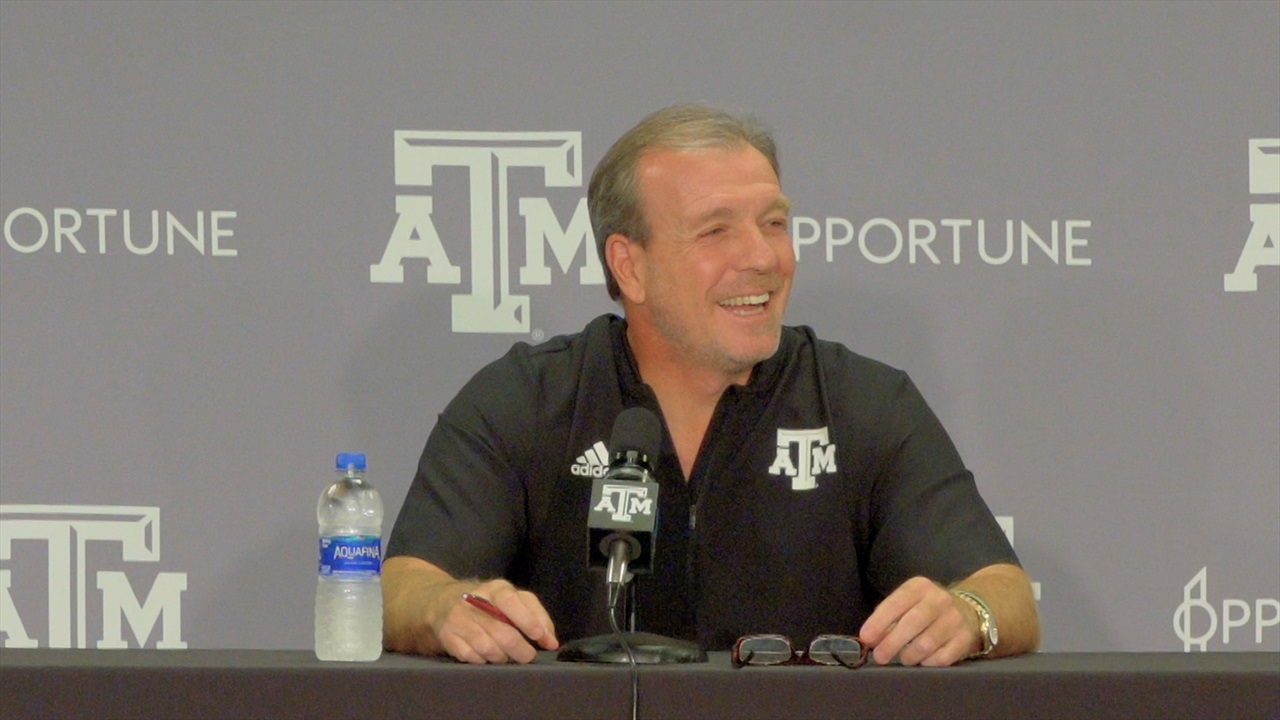 Jimbo Fisher
Anthony Hines
Jhamon Ausbon
Kellen Mond
Buddy Johnson
Texas A&M Football
Press Conference: Aggies prepping for contest with Mississippi State
---
Texas A&M has not defeated both Ole Miss and Mississippi State in the same season since 2013. With the Rebels out of the way, the Aggies turn their sights on the Bulldogs. Jimbo Fisher and select players met with the media on Monday to discuss the process for preparing for Mississippi State.
NOTE: Videos are being added to the story as they are rendered and become available.
---
The following are live, paraphrased notes from head coach Jimbo Fisher's press conference prior to Saturday's game against Ole Miss.
After looking at the film, I am very proud of our team. We persevered. There is still a lot of room for improvement. We are nowhere close to where we can play. There are a lot of young guys, and they can get frustrated at times.

Defensively, we did some really good things. We stopped the run well. We gave up some big plays, though. We got non-offensive points, which really helped us out. Those are huge. There is still a lot of room for improvement, but we did some things well. Madubuike was really, really good in the game. Buddy Johnson was huge as well; he did some really good things.

Special teams were much better in our coverages and the placement of our punts. Mann was huge. We missed two kicks, and that's something we have to get ironed out. I think that is Seth's first miss all season from under 40 yards.

Isaiah played good in our last drive, and that was a huge touchdown to seal the game. Wydermyer and Spiller were really good in that game - freshmen. Renick was really good in that game.

The two turnovers were disappointing. On Kellen's first interception, he didn't see the defensive linemen, which can't happen. We have to get air on that ball, and that could have been a big play for us. His second interception was a good ball thrown by Kellen. It was tipped and then a good defensive play.

I was really happy with our effort and attitude in that one. Now, we move forward to Mississippi State, which is another good football team. They are very strong defensively, and Moorhead is an offensive mind. They use a lot of RPO's, and their offensive line is a big strong group. Their punter can hit it long; he has kicked some 55-yard punts.

We have to keep working on our assignments and our communication along the offensive line. We had a lot more runs and more consistent runs against Ole Miss. Learning to communicate will help us grow, and it has been better.

That's why I always talk about big plays. You have to stop them. The one run that happened on the first play of the second half - we had two guys right there. We had it accounted for and perfect, and they just beat us. You say 'I only made one mistake' okay, well how big was that mistake? It's the little things that lead to big plays that cost you games. That one mistake may end up costing us seven points, which it did. Is it very fixable? Yes. You can't have those break downs. You play very well, but of the 68 or 69 plays they ran on us, four or five mistakes can cost you the game.

We had first string guys on special teams. If you don't want to play special teams, you aren't playing on offense or defense with me. That's always been my rule. We got much better in coverages this week, and the kick placement was much better. You say the stove is hot, and you know it, but sometimes, it's not until you touch it that it sinks in. Connor Blumrick is an asset on special teams, and I think he has a chance to be a special player going forward.

Inside linebacker to outside linebacker is a big change. It isn't all just linebacker — it's a huge difference. There are Hall of Fame outside linebackers that could never play inside linebackers and vice versa.

Roney Elam is unavailable. Larry Pryor is no longer part of the program. Derrick Tucker is redshirting. Carper, Beal and Clemons are banged up, and we hope we can get them back for this week. I don't know if they will, we will see this week.

We need to get Ainias in there more. Sometimes we are getting different looks, but he will be in there more, I promise you.

Isaiah Spiller did a really nice job, especially in pass protection. He has gotten a lot better in that regard. He is also getting better at catching the ball. He and Wydermyer were huge in that game. He is getting more confident.

Buddy's scoop-and-score was big. You see that these sayings that the coaches are saying and preaching as an organization can happen and are starting to really start happening.
Never miss the latest news from TexAgs!
Join our free email list