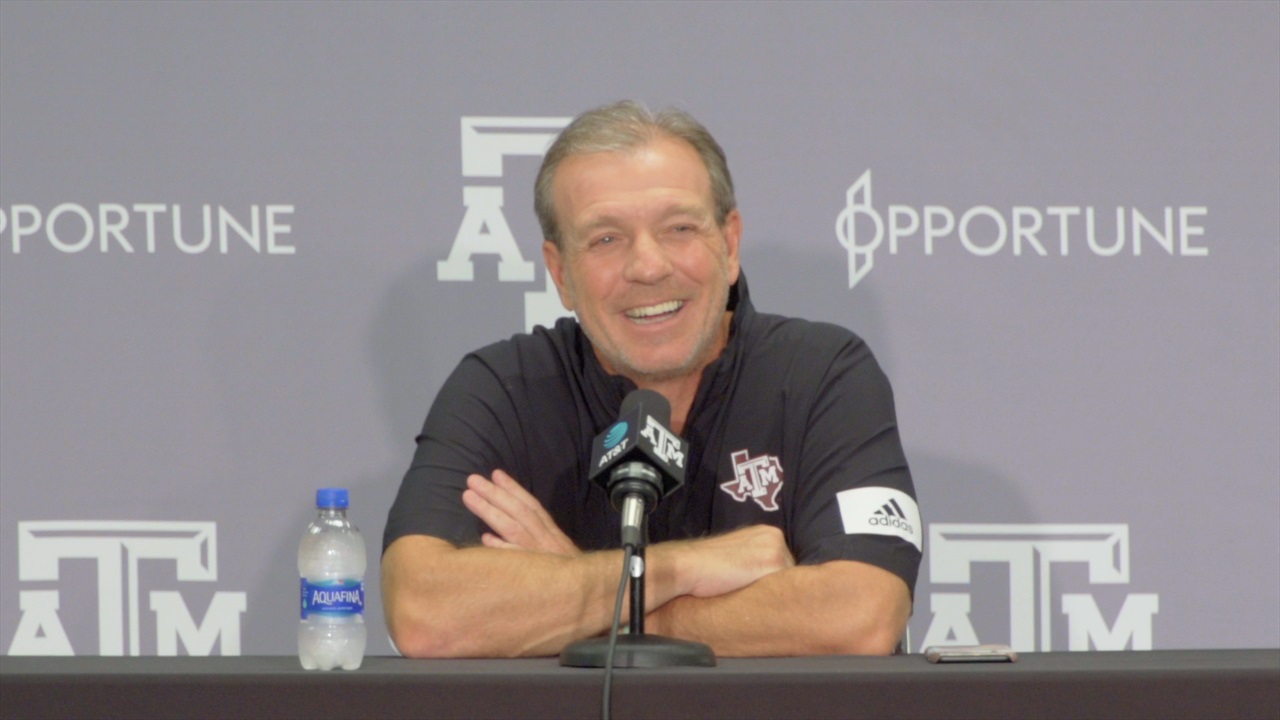 Jimbo Fisher
Jhamon Ausbon
Carson Green
Bobby Brown
Buddy Johnson
Kellen Mond
Keldrick Carper
Texas A&M Football
Rested Aggies gearing up for contest with top-ranked Alabama
---
With the bye week coming at a fortuitous time, the Aggies hope their rest and extra preparation will prove to be beneficial as they play their second top-ranked opponent of the 2019 season: the Alabama Crimson Tide.
---
The following are live, paraphrased notes from head coach Jimbo Fisher's press conference prior to Saturday's game against Alabama.
Anxious to get back to work after giving the guys a couple of days off. They were able to take off and see their families. I thought we did a good job of getting back to the fundamentals last week, and I am looking forward to starting to game plan for Alabama this week.

They have players all over the field. Tua commands things and is accurate with the ball. They have really good receivers. Special teams - Waddle and Ruggs can run it out of there. We have to cover the lanes, and we have to go to play football. They are supposed to get their kicker back this week is what I read. It should be a heck of a football game.

Tua knows what the defense is doing and can see it. You have to get some pressure on the quarterback. I don't care who you are when you take hits you are affected. He's as good as there is in college football, and we'll have to do a lot of different things to stop him.

You have to score points against them because they are going to get their share of points. They have so many big plays that they are going to get points. We have to get points and not just move the chains. We have such a big time of possession now but sometimes good teams don't because they have big plays that quickly score.

I'm not disappointed in the pass rush. We have to get better at putting the QB under pressure. You're never content at this time of year, but we have to do a better job across that D-Line.

Everybody says the offensive line, there are tight ends involved, running backs involved. Everybody has to block better. It's a whole-encompassing thing and we have to create those angles. We have missed some runs, too. We have a young backfield, and we have definitely missed some cuts too. How we run the ball and create plays is going to be a huge part of this game.

The mental side of the game is huge, and I have always used sports psychologists so that you can be in the right mind to make the plays you need to. Kids these days are taking in so much information with social media that it's more important than ever.

Alabama's defense is really good, and most of the yards teams have gotten against them are late in games when Alabama is ahead. They are a typical Alabama team. Big upfront and great defensively.

Saban has kept the same scheme for a long time, so the assistant changes aren't as important because they all adopt the same system. Some of the stuff they run over there has been there for so long.

It doesn't matter what the other team is ranked, whether it be 1, 2, or 122, you have to go out and make plays no matter who it is. Hopefully, our guys have grasped that.

We went back to drills we did in Fall Camp to get down to the details and create new positive habits. They didn't worry about the scheme that much; we just got back to technique and doing the little things right.

We have to get off to a good start and sustain it. We can't allow big plays to happen, and it would be great to get a good start. It's key to getting this atmosphere going, and this is the most special gameday environment I have ever been apart of. Getting the fans even more juiced is huge.
Bobby Brown liked A&M his whole recruitment, and I think he came here because he saw the future here and what we are doing. Bobby is really close to his mom, and that was a big part of it. He is going to have a lot of success here.

I don't know who would say that or why they said that [about the Kyle Field atmosphere]. The fans are awesome. This is a phenomenal place, and it's the most electric place that I have ever played in. The LSU game last year was phenomenal; Clemson and Kentucky too. The Auburn game this year was great, too. The fans were all there the whole time and loud. It's our job to put a good product on the field. It really is a fantastic place to play. We are in the founding stages of building something special here.
Never miss the latest news from TexAgs!
Join our free email list