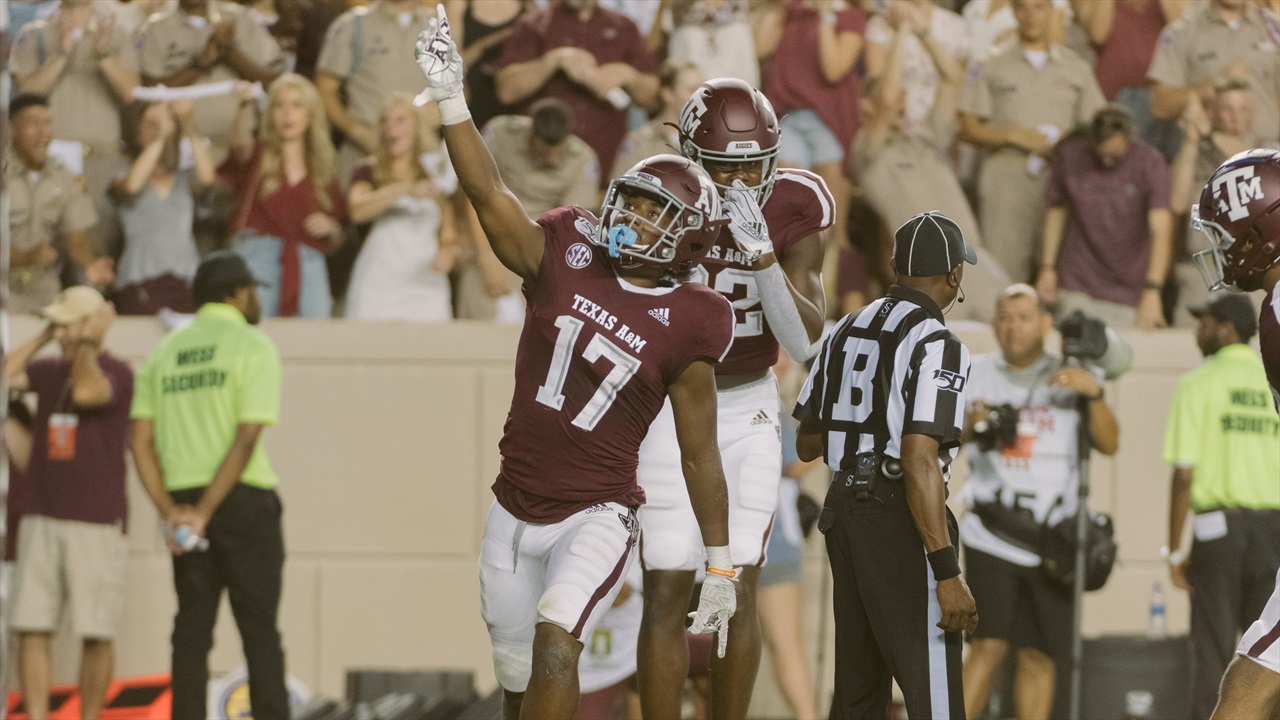 Photo by Rey Romo, TexAgs
Texas A&M Football
SEC Round-Up: Freshmen making big impact at A&M, across conference
---
"And a little child shall lead them."
— Isaiah 11:6.
Isaiah Spiller isn't too little. He tips the scales at about 220 pounds. But the freshman leads the Aggies in rushing. In last week's win over Lamar, Isaiah had 116 yards.
Coincidence? Probably. But after starting running back Jashaun Corbin suffered a season-ending hamstring injury, Spiller now looks like a godsend for the Texas A&M's offense.
"He's a guy who can make one or two guys miss, so those 3-yard runs turn into 10, 11 and 12-yard run," said receiver Jhamon Ausbon, who admitted he sometimes forgets Spiller is a freshman.
"Until he takes his helmet off and you see that baby face."
When the 17th ranked Aggies face No. 8 Auburn on Saturday they will be counting on Spiller and perhaps an increasing number of true freshmen in the starting lineup.
Indeed, as many as four freshmen — Spiller, guard Kenyon Green, tight end Jalen Wydermeyer and safety Demani Richardson — could start against Auburn for A&M. As the season progresses, it really wouldn't be much of a surprise if defensive end DeMarvin Leal and receiver Ainias Smith worked their way into the starting lineup.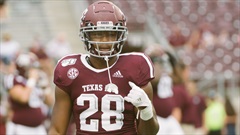 Rey Romo, TexAgs
A long time ago before targeting, gray shirts, the transfer portal or early entry to the draft, that would have been disastrous.
Once, college football coaches held a common philosophy that every freshman starter equates to one loss. Now, any coach that still believes that might as well run the Flying Wedge, the Wishbone or some other archaic offensive system.
In truth, that adage was outdated in1980 when freshman running back Herschel Walker almost single-handedly led Georgia to a 12-0 finish and national championship.
Since then, true freshman like Florida running back Emmitt Smith, South Carolina running back Marcus Lattimore, Alabama quarterback Jalen Hurts and Georgia running back Todd Gurley have excelled as freshmen.
Just this season Kentucky running back Kavosley Smoke, Alabama linebacker Shane Lee, LSu cornerback Derek Stingley, Georgia linebacker Azeez Ojulari and Auburn quarterback Bo Nix have made immediate impacts.
But A&M's freshman feast is a bit extreme. Spiller has rushed for a team-leading 246 yards. Wydermeyer, who started in a two tight-end set against Clemson, has caught touchdown passes in consecutive games.
Green is considered the Aggies most physically gifted offensive lineman. Richardson is second among Aggies in tackles.
They've proven they belong in the starting lineup. Smith may be next. He came on late in the victory over Lamar to catch six passes for 66 yards and a touchdown. He demonstrated reliable hands and exceptional running ability after the catch in his first real look at receiver.
"He has a really, really good skill set as far as ball skills, ability to run and make you miss, he has very good top end speed,"
"He has a really, really good skill set as far as ball skills, ability to run and make you miss, he has very good top end speed," Texas A&M coach Jimbo Fisher said of Smith. "There's a lot of things he can do. He's a football player."
The obvious question then is why hadn't Ainias, the younger brother of Chicago Bears safety Maurice Smith, played more often? Fisher had an answer for that, too.
"He would have had playing time earlier than this. He got injured on Thursday before our first game," Fisher said. "He had an injury in practice that kept him out of that game and he didn't get to practice the whole next week.
"Ainias is a guy we think can help us and really make plays. He had a great camp, developed and is mature for his age. He would have played earlier if not for the injury."
That might surprise those who follow recruiting and are fixated on "star" rankings. Smith was a three-star prospected out of Sugar Land Dulles High School in 2019.
He also appeared to be a lesser target because he was a late commitment. Fisher insisted that wasn't the case. He viewed Smith as a natural player who could excel at a variety of positions.
He's found a home at receiver. But will he find his way into the starting lineup? That should seem difficult because the Aggies are deep and proven at receiver.
"You'll see more of him," Fisher promised. "If a guy earns a right to play he earns a right to play. We'll mix him in there and get him going."
For A&M it's looking more and more like the children shall lead them.
Around the SEC
Who's hot: The Ole Miss defense has posted 10 tackles for loss in each of the last two games. It doesn't matter that those TFLs were against Arkansas and Southeastern Louisiana. Previously, the Rebels had posted double-digit TFLs in just four games over the last three seasons. Ole Miss is now second in the SEC in tackles for loss. New Defensive Coordinator Mike McIntyre is making a difference.
Who's not: Kentucky kicker Chance Poore is 2-for-4 on field goal attempts, but has missed his last two tries. The first of those misfires was no big deal. He was unable to connect from 49 yards with a 17-0 lead in a 21-point victory over Eastern Michigan. The next miss was much more painful. The Wildcats, seeking their first consecutive victories over Florida since 1976-77, trailed 22-21 with less than a minute remaining when Poore came on to attempt a 35-yard field goal. His attempt drifted wide right. The despondent Wildcats then allowed a long touchdown run to lose 29-21.
Keep an eye on: Georgia's running game rushed for at least 268 yards in every game. True, the Bulldogs haven't yet faced elite competition, but they've not used their starters much, either. Tailback D'Andre Swift has only 31 carries thus far. He'll get more action against Notre Dame, which has given up an alarming 230.5 rushing yards per game. Louisville's Javian Hawkins rushed for 122 yards and a touchdown against the Irish. New Mexico even accumulated 212 rushing yards. Swift may run wild.
The pressure is on: Mississippi State quarterback Tommy Stevens may start looking over his sore shoulder if he doesn't play well against Kentucky on Saturday. Stevens endured a shoulder injury on back-to-back sacks against Southern Mississippi two weeks ago. The effects of the injury seemed obvious in last week's loss to Kansas State in which Stevens passed for just 100 yards and was intercepted twice before being benched early in the third quarter. Word out of Starkville is he's made progressed and feels much better. That may be due to the fact that freshman Garrett Shrader looked good as his replacement. Stevens needs to play well to protect his starting role and to exploit a Kentucky secondary that has allowed more than 300 passing yards in each of the last two games.
Best matchup: Auburn is ranked 11th in the nation in rushing offense. The Tigers' JaTarvious Whitlow is second in the SEC with 341 rushing yards. That's impressive. However, Texas A&M's run defense is the best they will have faced thus far. The Aggies are ranked 24th in the nation against the run. They limited Clemson's Travis Etienne to 53 rushing yards. Auburn's running game vs. A&M's run defense is definitely a clash of strength against strength.
Never miss the latest news from TexAgs!
Join our free email list
PRESENTED BY