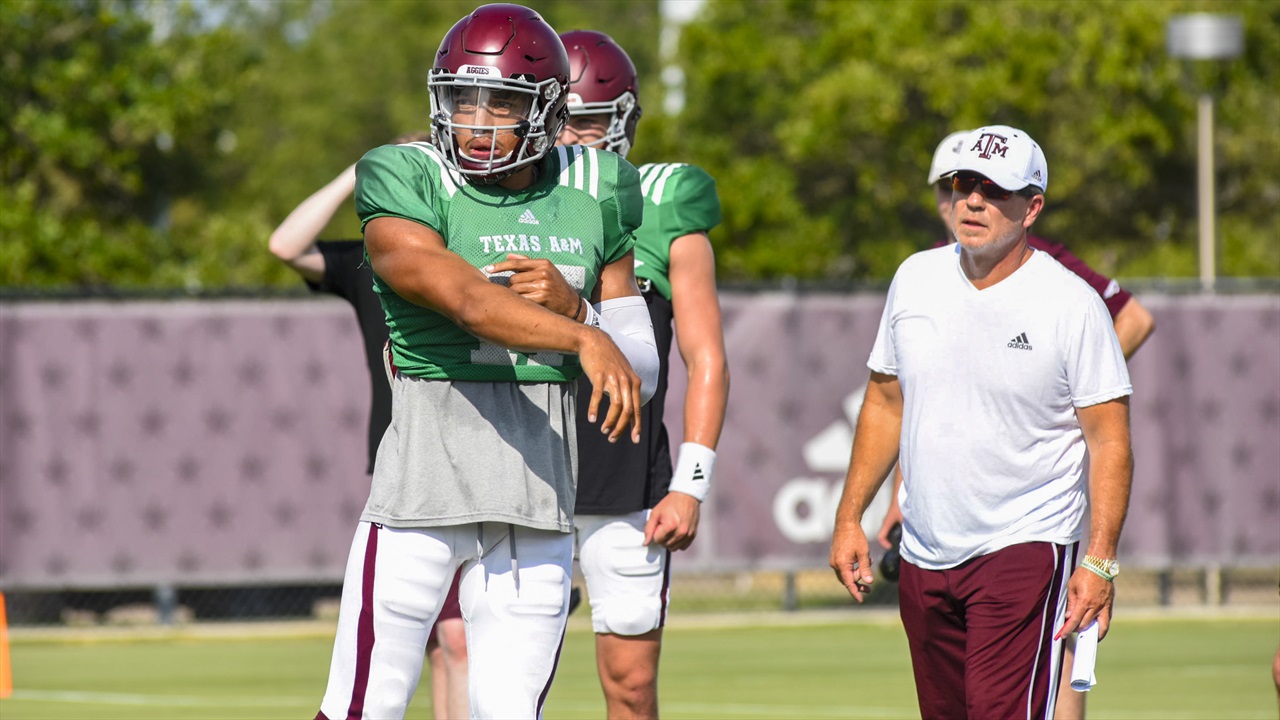 Photo by Lia Musgrave, TexAgs
Texas A&M Football
Signs of culture change abound as Aggies enter second season under Fisher
---
One day, when the NCAA finally reroutes its energy to more worthwhile endeavors than policing pasta portions (look it up) and builds the Coachspeak Hall of Fame, somewhere in the main hall we'll find a moving tribute to the word culture. Featured prominently will be head coaches describing one of their primary challenges after taking the reins of a new program: changing the culture.
Texas A&M coach Jimbo Fisher certainly earned a spot in that display during his first season in College Station. Though always careful not to disparage his predecessor, Fisher spoke openly and regularly about the challenge of infusing the Aggies with toughness, discipline and an appetite for excellence. His team often echoed those themes with widened eyes, making it clear that their new coaches were demanding more of them than they were used to giving.
So it seems telling that in the weeks ahead of a 2019 campaign in which the Aggies will run a hellish gauntlet that includes games at Clemson, Georgia and LSU on top of a home date with Alabama, players' eyes seem to have narrowed a bit. Fisher's assessments also seem lighter on the familiar angst that accompanies the slow work of convincing dozens of 18-22 year-olds who signed up to play for the last guy that your way is better.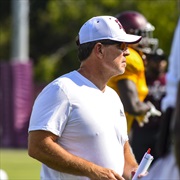 Lia Musgrave, TexAgs
Fisher certainly doesn't believe the Aggies have arrived. And his preseason routine isn't free of coachspeak, of course.
"We're learning to be more physical, which you're always going to hear me say," Fisher says. "It's something that's a true reality of really good football teams. Learning how to compete, learning how to practice, that's one of the things we're learning how to do."
That's the same language Fisher has been using since arriving 20 months ago, but the tone and tense of his phrasing is changing.
So, it seems, is the culture.
When asked about the biggest change in his team from a year ago, Fisher didn't hesitate: "Their psychological disposition. Understanding what it takes to play at the highest level. I think we're still getting there, but understanding the true commitment of, 'We're not trying to play well, we're trying to be successful and win.' It all gets back to what do you know you've got to do and how you've got to do it to the highest level. We're getting to that level, and I think that's the biggest difference in our football team."
That difference required months of investment by Fisher and his staff, including offensive coordinator Darrell Dickey, a coaching veteran who was the head man at North Texas for nine years. Dickey is familiar with the process of uprooting and replanting a football team's mental makeup.
"When we came in, Coach Fisher is implementing his style," Dickey explains. "It's very demanding. It focuses a lot on the little things and the details and how you conduct yourself all the time, and not just when you're out on the field. And not necessarily turning it on and off, so to speak. It's a total buy-in to everything we're doing."
Defensive coordinator Mike Elko, who Fisher lured away from Notre Dame, saw the staff's new approach begin to click over the course of the 2018 season. "I don't know that necessarily they were consciously not buying in," Elko says. "I think it just took a little while for it to all come together. Our kids started to realize as the year went on, 'If we do this thing the right way together, we can be really, really successful.'"
"We've been through a year of it. So as soon as these young guys come in, we hold them to that standard that was set just a year ago, and if anything, we've actually raised that standard."
Dickey also believes the new ethic is taking hold. "I think now every kid in this program knows what the expectations are and what the standards are for practice, for being on time and going full speed all the time. So I think they know what's expected of them much better than they did this time a year ago."
A&M players also insist they are now fully on board with the more exacting approach. "Everybody's buying in," sophomore linebacker Anthony Hines says, "We're trying to pay attention to the small things that it takes to be successful and it takes to compete for a national championship. So I think we've really been owning that and upping the culture."
Hines identifies perhaps the most compelling signal of a true sea change as veterans take on the responsibility of transmitting the mindset to new faces in the locker room. "We've been through a year of it. So as soon as these young guys come in, we hold them to that standard that was set just a year ago, and if anything, we've actually raised that standard."
The embrace of a new attitude is also changing the way the Aggies play, according to Fisher. The head coach's optimism is perhaps most apparent at quarterback, where A&M returns an entrenched starter for the first time since Johnny Manziel in 2013.
"Kellen is so much farther along in the discussions and the things we talk about," Fisher explains. "(He's) able to not just learn what I'm trying to say, but converse and have opinions about how we should do it, why we should do it, because I think he understands how we're attacking things now."
Mond agrees, noting that in 2018 he was simultaneously learning a new system and fighting for a job. "Sometimes in the first year, you're still trying to get a grasp of everything. It's my second year [in the system], so I really want to take a big leap kind of how I did freshman to sophomore year."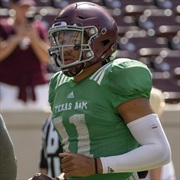 Dalton Hughes, TexAgs
The Aggie signal-caller is also quick to express his determination to expedite the ongoing process of building the program's identity.
"Now that I have respect, it's my job to not only be a leader, but to try to enforce leadership on others," Mond says. "We have a lot of guys who have grown culture-wise and leadership-wise."
Indeed, Mond's teammates consistently point to their quarterback as a sort of standard-bearer for their new mentality.
"Oh he's incredible this year, his confidence level is through the roof," offensive lineman Carson Green says when asked about Mond. "His main thing he's helping the team with is just confidence. When he gets in the huddle he's like, 'Guys, we're going to go win this rep, we're gonna win it.' He's really calmed down a lot, so for us as o-linemen, we have a lot of faith in him."
The confidence Mond's coaches and teammates describe flashed when he was asked at A&M's fall camp media day if it was going to be an honor to play defending national champion Clemson followed by Georgia and Alabama, the teams occupying the top three spots in preseason national polls.
Mond offered a half-hearted assent before adding: "Everyone's saying we've got to play them; well they've got to play us, too. We feel really confident."
If Mond's confidence is any indication of how effective Fisher and his coaching staff have been in speaking a new culture into being in College Station, that hall of fame display may need to be a little bigger.
Never miss the latest news from TexAgs!
Join our free email list