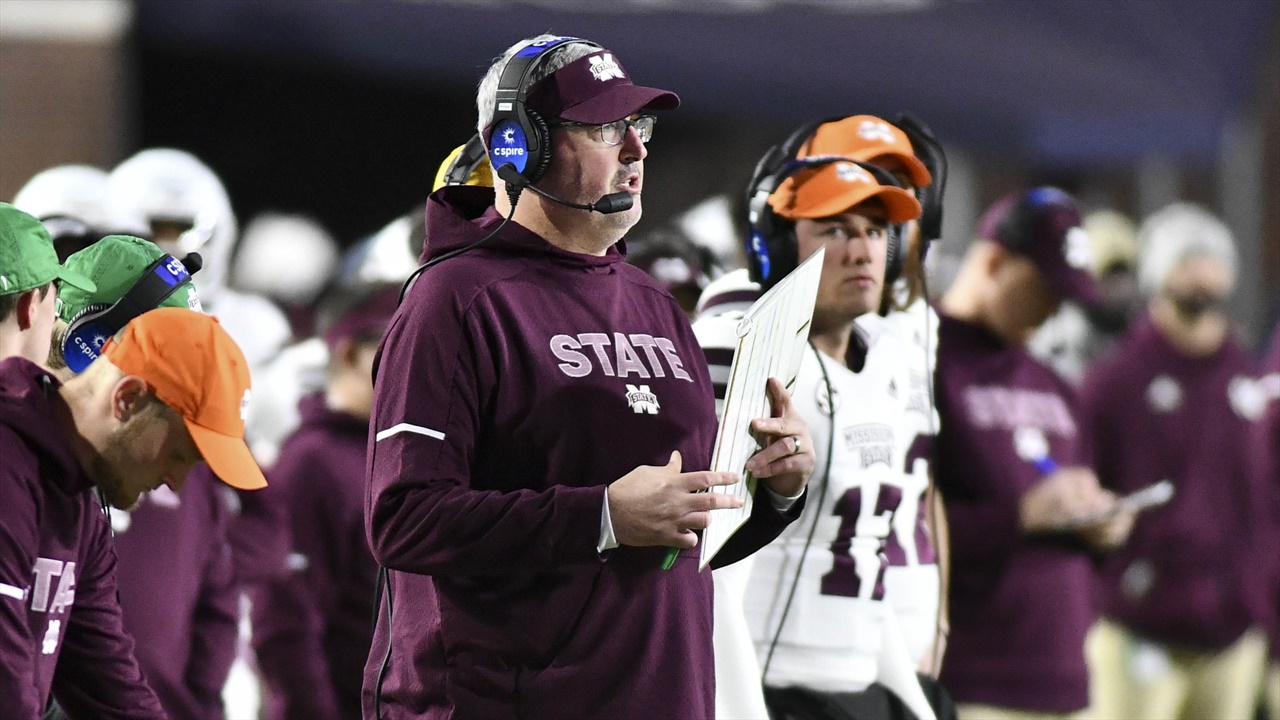 Photo by Matt Bush-USA TODAY Sports
Texas A&M Football
Mississippi State hoping to overcome significant defensive departures in 2019
---
The word "succeed" has two definitions.
One definitely applies to Mississippi State football coach Joe Moorhead. Whether or not the other applies to him may be determined in 2019.
Of course, Moorhead succeeded Dan Mullen as Mississippi State's head coach last season. Whether or not he succeeded in his first year is up for debate.
Moorhead coached the Bulldogs to a 8-5 finish. That's respectable, but it left legions of Mississippi State fans feeling unsatisfied.
Mullen had posted at least nine victories in three of his final four seasons in Starkville. Therefore, an eight-win campaign seemed like a step back, especially considering the Bulldogs' defense was ranked No. 1 in the nation. Also, the offense was led by Nick Fitzgerald, arguably the second-best quarterback in school history (behind Dak Prescott).
Moorhead's second Mississippi State team won't have nose guard Jeffrey Simmons, defensive end Montez Sweat or safety Johnathan Abram, who were all NFL first round draft choices.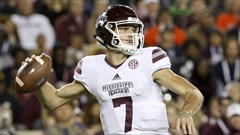 John Glaser/USA Today Sports
He must also replace center Elgton Jenkins, a second-round selection, and Fitzgerald.
Actually, replacing Fitzgerald might be the least of Moorhead's concerns. Though productive and tough, Fitzgerald never seemed to be a good fit in Moorhead's offense, which is based on down field passing accuracy.
Moorhead may be more comfortable with Tommy Stevens, a graduate transfer from Penn State. Stevens must compete for the starting quarterback job with junior Keytaon Thompson, but Stevens is considered a strong passer and obviously has a background in Moorhead's system.
Whoever emerges as the Bulldogs quarterback will be aided by productive running back Kylin Hill and a solid group of receivers that is boosted by the arrival of graduate transfer Isaiah Zuber, who was Kansas State's leading receiver last season.
However, the offensive line must replace center Elgton Jenkins and All-SEC guard Deion Calhoun.
Replacing holes on the defense is of higher importance and improbability. Last year's entire front four and three-fourths of the starting secondary have departed, which leaves gaping holes.
The Bulldogs' defense isn't without talent. Their group of linebackers are among the best in the SEC, and cornerback Cameron Dantzler will contend for postseason honors.
But the pass rush that produced 39 sacks isn't expected to be as fierce. The unit that forced 20 turnovers may not be as opportunistic. The defense that allowed just 13.2 points per game doesn't figure to be as stingy.
How that defense is rebuilt may determine whether Moorhead can succeed in his second season.
Coach: Joe Moorhead
2018 record: 8-5, 4-4
Postseason result: Lost to Iowa 27-22 in the Outback Bowl
Returning starters (at least six starts)
Offense (7): T Greg Eiland, RB Kylin Hill, WR DeVonta Jackson, WR Osirus Mitchell, T Stewart Reese, WR Deddrick Thomas, G Darryl Williams
Defense (4): CB Cameron Dantzler, SLB Willie Gay, WLB Leo Lewis, MLB Errol Thompson
Special teams (4): PK Jace Christmann, P Tucker Day, PR Keith Mixon, KR Deddrick Thomas
Area of strength: The Bulldogs' linebacker corps could be as good as any. Leo Lewis is the most high-profile member of the group, but not necessarily for the right reasons. His name popped up in an Ole Miss recruiting scandal. Still, he's been a solid player with 170 career tackles. However, the primary threat is middle linebacker Errol Thompson, who has great range and is a walloping hitter. Thompson, a junior, posted 87 tackles and had two interceptions in 2018. Also, Willie Gay Jr. had 48 tackles in six starts last season.
Area of concern: Mississippi State's front four will undergo extensive overhaul in replacing end Montez Sweat and nose guard Jeffery Simmons, who were first round draft choices, and defensive end Gerri Green, who was a sixth round selection. The Bulldogs won't be nearly as experienced or talented up front. The drop-off in production figures to be significant.
Top players
Starkville folks think [Cam] Dantzler is the best cornerback in the SEC and an eventual All-American.

Cam Dantzler, CB: Starkville folks think Dantzler is the best cornerback in the SEC and an eventual All-American. They might have a point. He broke up nine passes and had two interceptions in '18.
Errol Thompson, LB: Big and powerful, Thompson is the Bulldogs returning leader in tackles and sacks.
Darryl WIlliams, C: The top offensive linemen makes the shift from guard to replace star center Elgton Jenkins, a second-round draft choice.
Biggest loss: Three first round draft choices were lost from the defense, but the costliest departure is probably nose guard Jeffery Simmons, who opted for early entry to the NFL. Simmons generally wreaked havoc in the middle of the line. He only posted two sacks a year ago, but he could provide an inside rush that opened up opportunities elsewhere. Overall, he posted 63 tackles — a huge number for an interior lineman — and had a gaudy 17 tackles for loss.
Impact newcomer: Graduate transfer quarterback Tommy Stevens didn't leave Penn State to sit on the bench like he did last season. Stevens completed 8 of 11 passes in 2018, but don't be surprised if he winds up as the Bulldogs' starting quarterback. By going to Starkville, he reunites with coach Joe Moorhead, who previously was Penn State's offensive coordinator. Word is junior holdover Keytaon Thompson doesn't fit into Moorhead's system as well as Stevens would. In the event Thompson does win the quarterback job, look for a big impact from grad transfer Isaiah Zuber. Last season he led Kansas State with 52 receptions and five receiving touchdowns.
2019 schedule
Aug. 31 vs. Louisiana-Lafayette
Sept. 7 vs. Southern Mississippi
Sept. 14 vs. Kansas State
Sept. 21 vs. Kentucky
Sept. 28 at Auburn
Oct. 5 OPEN
Oct. 12 at Tennessee
Oct. 19 vs. LSU
Oct. 26 at Texas A&M
Nov. 2 at Arkansas
Nov. 9 OPEN
Nov. 16 vs. Alabama
Nov. 23 vs. Abilene Christian
Nov. 28 vs. Ole Miss
Never miss the latest news from TexAgs!
Join our free email list