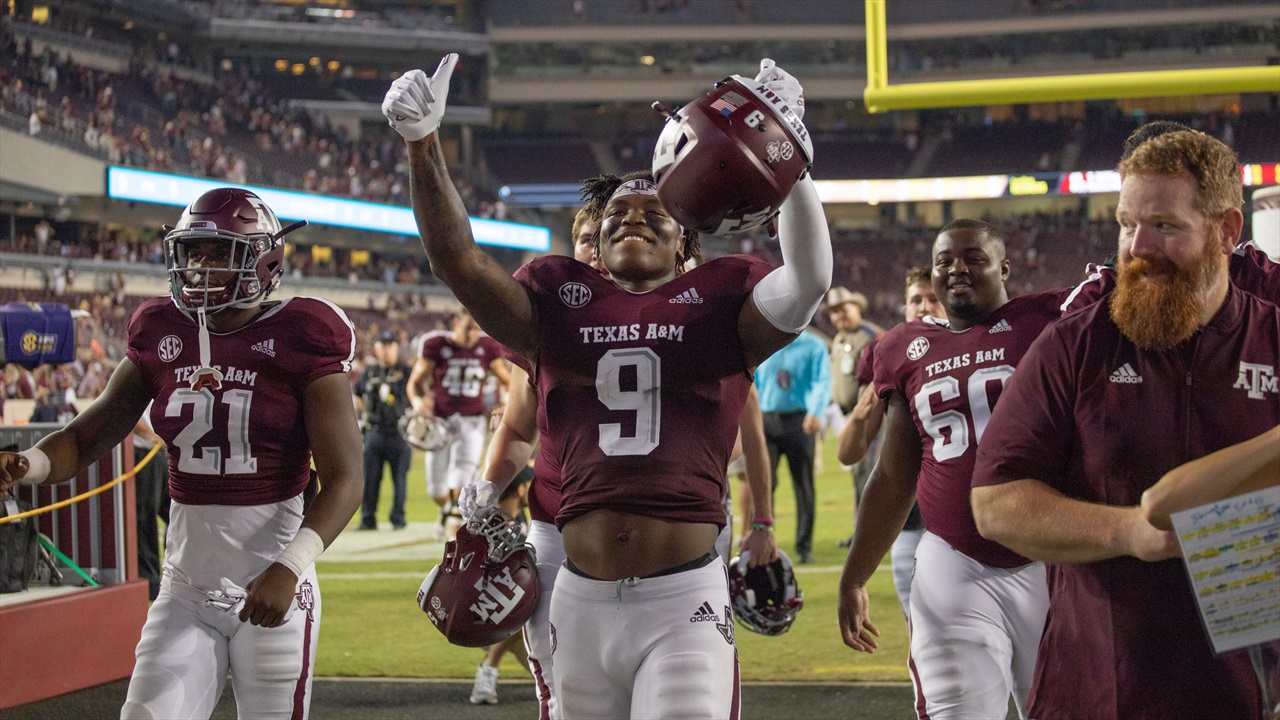 Photo by Rey Romo, TexAgs
Texas A&M Football
A humble plea to Jimbo Fisher: Please bring Leon O'Neal to SEC Media Days
---
Jimbo Fisher, we in the media don't ask for much.
All we want are injury updates, a starting lineup, a Monday press conference, honest opinions and some colorful quotes.
Okay, so maybe we ask for a lot. But since you've been so accommodating, Coach, let us ask for just one more tiny, little favor.
Please, please, please Jimbo. Please include sophomore safety Leon O'Neal among Texas A&M's three player representatives at SEC Media Days next month. It's understandable if there's any apprehension. O'Neal is just a sophomore and has started only one game. The Media Days trip is usually reserved for three of the best or most experienced players.
It would make sense if Kellen Mond were among the A&M contingent in Hoover next month. He's good and may be on the verge of greatness. He's recognizable. And he is, after all, the quarterback.
Also, it's obvious that defensive tackle Justin Madubuike is likely to be included. He was terrific in 2018 and figures to even be better this season. Madubuike is so good that this might be his last opportunity for SEC Media Days. This time next year, he'll probably be on an NFL roster.
Frankly, everyone would understand if punter Braden Mann made the trip as well. He set NCAA records, has already won national awards and is the best in the nation at his position. Mann is a polite, cooperative kid who gives intelligent answers to questions about his punting prowess.
Still, we plead for you to bring Leon O'Neal, who talks as well as Mann punts. Besides, O'Neal will be playing a vital role in the A&M secondary as the replacement for safety Donovan Wilson, the man he started in place of during the Aggies' 52-13 Gator Bowl blowout of North Carolina State. In that game, he was excellent and finished with an interception and six tackles. It could be a glimpse of great things to come from him.
Pass defense is A&M's primary area of concern. If the Aggies can bolster that pass defense, they could emerge as a legitimate challenger in the SEC West Division. No doubt O'Neal could provide some interesting — and assuredly entertaining — perspective on how and why the Aggies might improve. Surely he would also have some wonderful opinions on the team's outlook and even on opponents.
O'Neal is confident. He's fearless. He's fun.
If the Aggies truly want a rivalry with LSU, just give O'Neal 20 minutes in Hoover. He'll turn that series into a full-scale war. Surely you saw his tweet from May 30th — "Take yo L like a man chump" — in response to LSU coach Ed Orgeron still complaining about officiating in A&M's 74-72, seven-overtime victory last November.
Even before arriving in College Station, O'Neal annoyed former LSU star running back Derrius Guice by tweeting: "Can't Wait to Put Beast Like This to Sleep. Zzz" Guice fired back, and a Twitter joust began.
O'Neal might be an agitator, but he's also an orator. While others would give safe, company line-type answers, O'Neal would provide honest, colorful responses. He is just too glib to stay at home.
Lincoln spoke at Gettysburg. Marc Antony spoke at Caesar's funeral. Patrick Henry to the Second Virginia Convention. JFK spoke at his inauguration. Let Leon O'Neal speak at SEC Media Days.
Ask not what the media can do for O'Neal. Ask what O'Neal can do for the media.
Give him a stage in Hoover, Jimbo. O'Neal's quips and quotes will make our jobs so much easier and much, much more fun.
Never miss the latest news from TexAgs!
Join our free email list