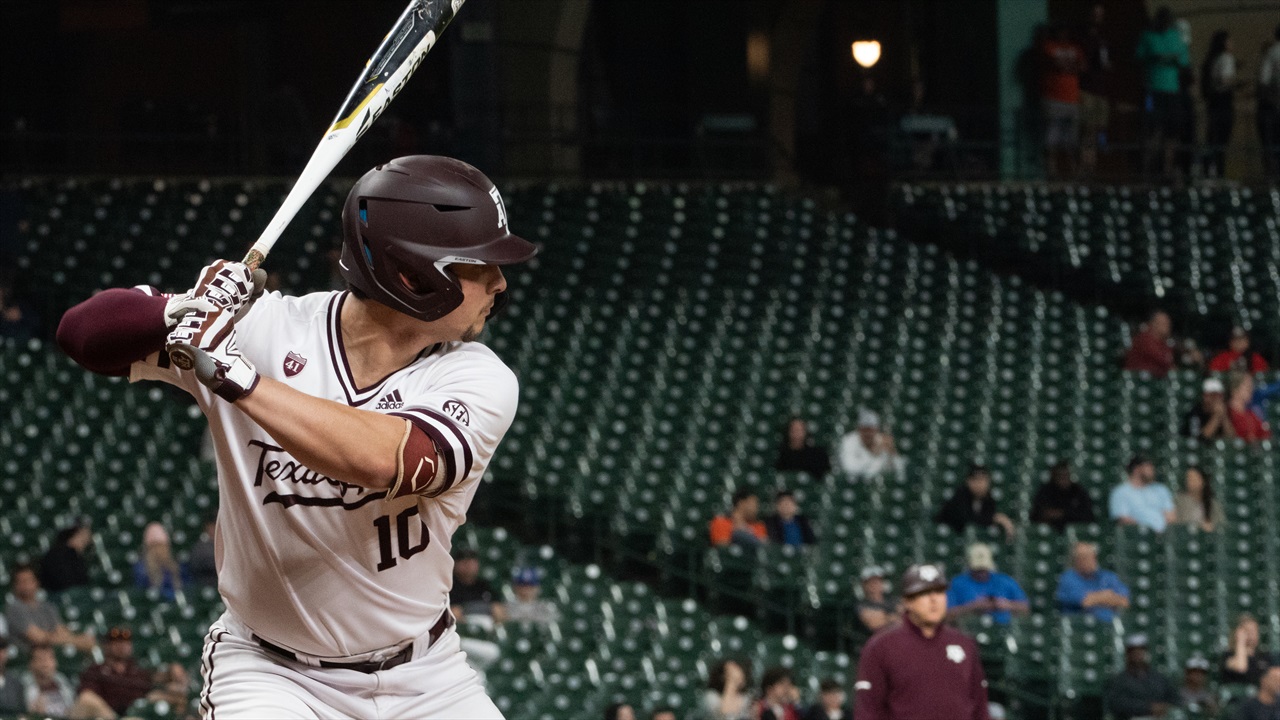 Texas A&M Baseball
Hunter Coleman's big day at the plate leads Texas A&M to 11-2 win over Fordham
---
What a difference a day makes.
Yesterday, the Texas A&M offense was nonexistent until the ninth inning and their pitching staff gave up eight runs. Today, they exploded for 11 runs on 13 hits and held the Fordham Rams to just two runs in their win in an elimination game in Morgantown.
Texas A&M would seize the lead in the very first inning. Bryce Blaum would give the Aggies their first hit of the game with a solo shot to left field. After singles by Cam Blake and Mikey Hoehner put more runners on, Logan Foster would bring home another with an RBI single. Hunter Coleman would then plate everyone with a three-run home run to put up a five spot to open the game.
Now up big with Asa Lacy on the mound, the Aggies were in a position to secure an easy win. He would mow through the first three innings with no issues, and in the fourth Ty Coleman would add a two-run shot to extend the A&M lead.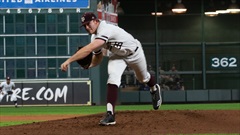 Jackie Ysaquirre, TexAgs
"It allows us to breathe a little bit," Rob Childress said of his team's early lead during an in-game interview in the fifth inning. "Hopefully we can continue to build on it."
And build on it they did. They would add another run in the sixth off singles from Hunter Coleman, Zach DeLoach and Braden Shewmake.
The Rams would score in the sixth as well, their first run of the game, on a hit by pitch and a double. The Aggies led 8-1 through six innings.
In the seventh, Texas A&M plated two more runs off of another Hunter Coleman home run. Asa Lacy would pitch the bottom half of the seventh with no trouble to wrap up his day on the mound. He gave up one run, struck out seven and walked only one, securing a win for his efforts on the hill.
The Rams would score one more run in the bottom of the ninth off reliever Brandon Birdsell, but it was too little, too late for Fordham.
Hunter Coleman was 3-4 with two home runs and 5 RBI. Braden Shewmake, Mikey Hoehner and Bryce Blaum had multi-hit games as well. The Aggies will face either Duke or West Virginia in another elimination game on Sunday at 11:00 a.m.
Never miss the latest news from TexAgs!
Join our free email list