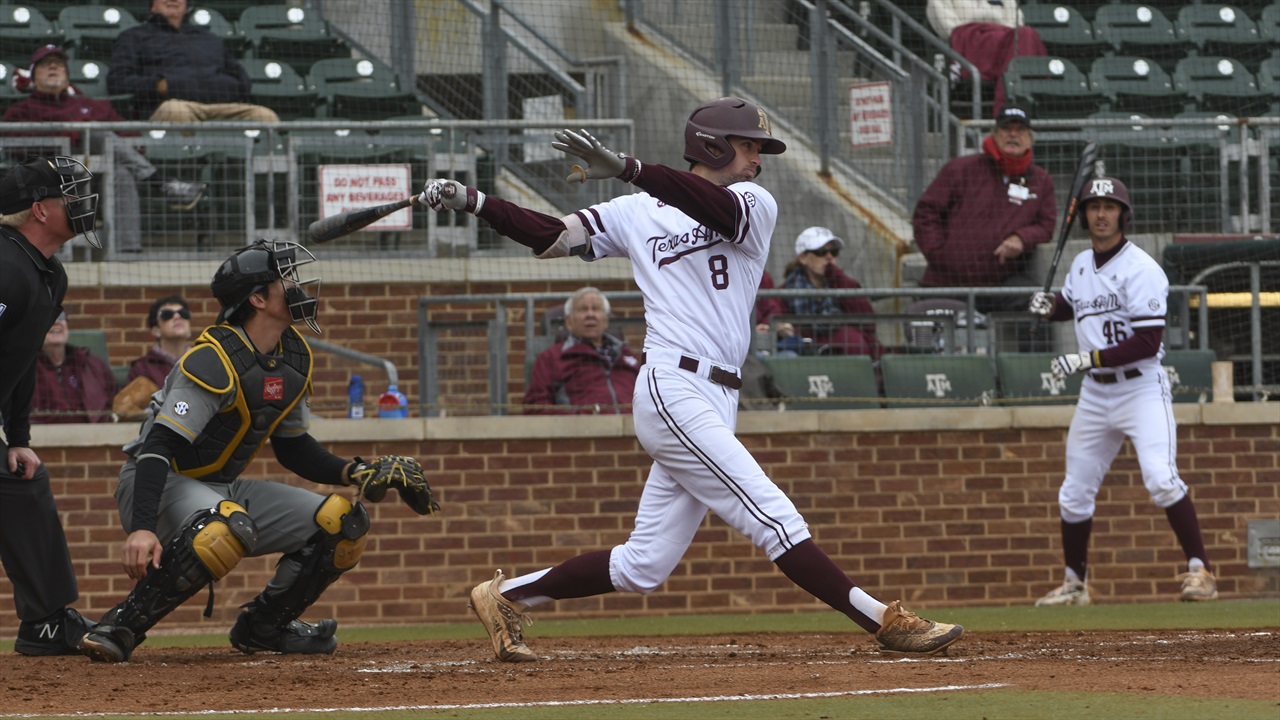 Texas A&M
Duke
West Virginia
Fordham
Texas A&M Baseball
Aggies to rely on pitching, experience in game one of Morgantown Regional
---
It is said that pitching and defense wins championships. At first glance, it looks like that should be true in the Morgantown Regional.
Texas A&M (37-21-1) will begin their postseason journey this weekend when they face the Duke Blue Devils (31-25) in Morgantown, West Virginia. Neither club hits particularly well, which will put a higher premium on good pitching and defense now more than ever.
"It'll be old fashioned baseball, where you are going to see a lot of really good arms and you have to make routine plays," said Duke head coach Chris Pollard in a press conference on Thursday.
Should that ring true, the Aggies must like their chances. A&M features one of the best pitching staffs in the nation from top to bottom. A&M's ace John Doxakis (7-3, 1.84 ERA, 97.2 IP) will be on the mound on Friday afternoon, and he threw eight innings of no-hit baseball in his last start last Thursday against Ole Miss in the SEC Tournament.
"We know we're going to get great pitching performances day in and day out," A&M shortstop Braden Shewmake said. "I think we have the best pitching staff in the country. We just gotta get them a few runs and they're going to take us home."
Duke comes into the weekend with the best team batting average (.271), slugging percentage (.405) and on-base percentage (.362) of any of the four teams in the Regional. Despite having the best hitting squad statistically in the Regional, Pollard said there is no true elite offense in Morgantown.
"Sometimes it just takes a spark. It takes one guy that gets going and all of a sudden three or four guys get going offensively."
"We just gotta throw strikes and get ahead early," A&M starter John Doxakis said. "We can't get into hitter's counts because that's when they'll be able to swing it."
Duke has not made an official announcement about their starter for Friday's ballgame. The Blue Devils are expected to hand the ball to Ben Gross (6-4, 4.41 ERA, 63.1 IP). Gross has allowed four or more runs five times in his last six starts. An offensive breakout could be on the horizon for A&M in game one.
"Sometimes it just takes a spark," A&M head coach Rob Childress said of his offense in Thursday's press conference. "It takes one guy that gets going and all of a sudden three or four guys get going offensively."
Braden Shewmake is the only A&M hitter with an average north of .300. He said that despite their issues, the Aggies' approach at the plate will continue to be the same against Duke as it has been all year.
"I feel that if we swing at the right pitches and are aggressive with those pitches then we will hit them hard," said Shewmake. "Good things happen when we hit the ball hard, so that's what we need to do to get the offense going."
Duke and Texas A&M are two clubs that are not strangers to the postseason. The Blue Devils have made it to regionals in three of the last four years, while the Ags have been to 13 straight regionals. A&M is the only team in Morgantown that has advanced past regionals in recent years.
"It helps a lot having a couple guys on the team that know what it takes to get through a regional," said Doxakis. "Our goal is to play as one unit and get through this weekend and onto super regionals."
First pitch between Texas A&M and Duke is slated for 3:00 p.m. on Friday. The game will be broadcast live on ESPN2.
Never miss the latest news from TexAgs!
Join our free email list