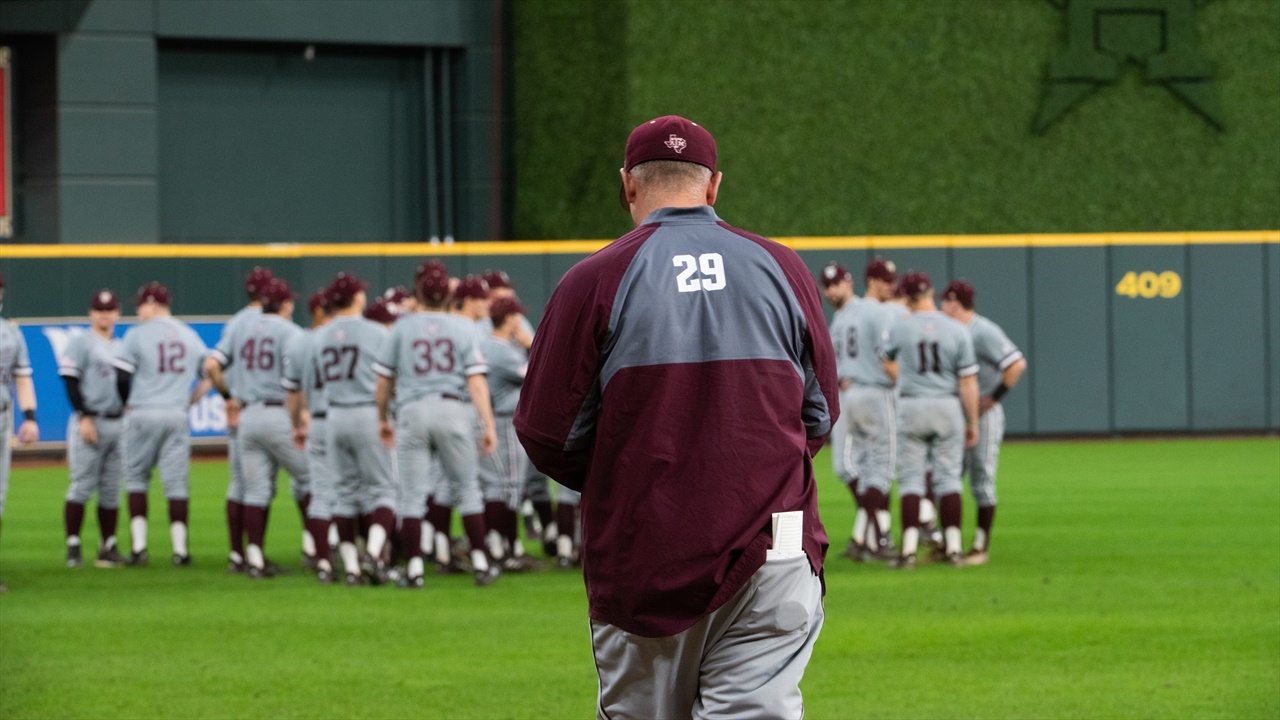 Photo by Tarah Cochran, TexAgs
Texas A&M Baseball
Rob Childress discusses series win in Tuscaloosa, overcoming Lacy's suspension
---
Key notes from Rob Childress interview
We have everything in front of us all year long. Here we are the last week of the year and it's all right there in front of us. We have the opportunity to finish as high as possible in league play and possibly host a regional.

We need to win a series this weekend, bottom line. We need to go into that tournament and stay awhile. Chance to win a ring and hoist a trophy. We need a statement series win this week and go to Hoover and play well there next week.

Arkansas is very very good offensively. One through nine, they can overwhelm you. You have to pitch well and can't give them free outs on the bases. I think our pitching matches up well with them. Offensively, we have to score some runs. We need to pitch well and take care of the ball defensively.

With Asa Lacy out, we don't know what our rotation will look like. Weber is going to plug in somewhere with Lacy out. There is no appeal process and that's the disappointing thing. There was no warning given to the kid or myself. Lacy's going to sit four games, that's the rule. It is what it is and we have to live with it, no excuses.

Chris Weber throws four pitches for strikes. Talk about true freshman like him and Menefee coming in and pitching in stressful situations like that, you don't see that. Been very crucial for our ball club. Hopefully we can look back four weeks from now when we're in Omaha and Lacy sitting this weekend was a silver lining. Asa is going to be well rested going into game one of the conference tournament and then 10 days after that for a regional.

John Doxakis was fabulous Friday night. He has been so great for us all season long but was as great as he's been maybe all year long. Moo came in and got us five outs and Kalich got it done. It was a true Friday night fight.

Kasey Kalich is the guy who finishes game. But certainly that thought crosses your mind. Moo was great for us on Friday and then on Sunday. Shewmake makes a great play, they don't go on contact and that's the difference between winning the game and going into extra innings on Sunday.

That's what we need, Logan Foster at his best. He hasn't been good since the South Carolina series. We need quality at-bats. We can't be chasing home runs. We need to fine tune some things this week and we need him to show up this weekend. We are in dire need of his presence.

Hunter Coleman was on the 27 man roster this weekend. We're getting super close. I didn't think he was ready this week against Alabama but he took BP with us every day. We gotta take baby steps with him. Let's get him going offensively before we have him play defensively.
Never miss the latest news from TexAgs!
Join our free email list