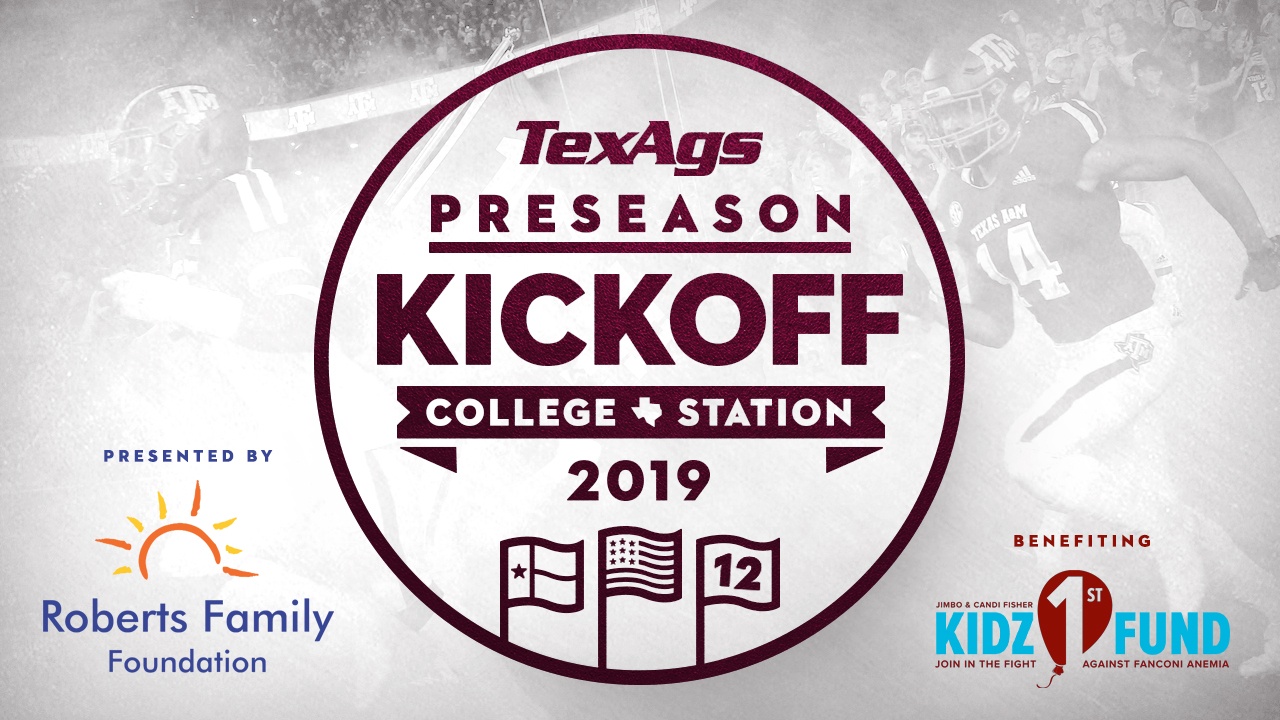 REGISTER NOW: Preseason Kickoff 2019 with Coach Jimbo Fisher
---
NOTE: The deadline for refunds is July 1st.
TexAgs Premium Preseason Kickoff title sponsor: Roberts Family Foundation

We're very excited to announce that registration is NOW open for the 9th annual TexAgs Preseason Kickoff presented by Roberts Family Foundation - featuring A&M head football coach Jimbo Fisher and benefiting Fisher's Kidz1stFund - on Saturday, July 27. Doors open at 11:00 a.m. Register NOW for what we believe will be the best TexAgs Preseason Kickoff to date by clicking on the above link.

Our Kickoff will once again take place in the Bethancourt Family Grand Ballroom on the second floor of the MSC on the Texas A&M campus. This will be another year of great food and fellowship with the TexAgs Premium and Varsity community and Aggie Football talk with the TexAgs team and special guests. You don't want to miss it! We'll have much more news coming your way on what this year's panewl sessions will look like, but we're extremely excited that Coach Fisher will be in attendance and will engage in a football conversation with Billy Liucci and Hunter Goodwin that you won't find anywhere else!
---
Kidz1stFund
For the second straight year, our Kickoff event will benefit Kidz1stFund, founded by Jimbo and Candi Fisher during their time at Florida State. The mission of Kidz1st is to fund the fight against Fanconi Anemia ... a rare blood disorder that affects thousands of children each year across the United States, including the Fisher's youngest son, Ethan. Kidz1stFund provides education and awareness about this disease, and raises money for Fanconi anemia research with the goal of finding a cure. It is the hope of Coach Fisher and everyone at Kidz1stFund and at TexAgs that you will join us in this important endeavor.
A portion of the proceeds will also contribute to the TexAgs Endowed Scholarship Fund.
---
Past guests have included:
Coach Jimbo Fisher
Dr. R. Bowen Loftin
Coach Terry Price
Justin Moore
Billy Kennedy
Bucky Richardson
Tank Marshall
Darby Rich
Domingo Bryant
Seth McKinney
Steve McKinney
Jerrod Johnson
Jordan Pugh
Stephen McGee
Aaron Wallace
Reggie McNeal
Jake Hubenak
Coach J.T. Higgins
Katy (Pounds) Lee
Brandon Leone
Coach Jackie Sherrill
Steve Solari
Doug Teague
Richmond Webb
Evan Eike
John Harris
Peter Kuo (TexAgs founder)
Preseason Kickoff Event Details
On Saturday, July 27, we'll meet at the Bethancourt Ballroom in the MSC for a program that you don't want to miss. Tickets to the event will include a catered meal, silent auction and football conversation with Coach Fisher, led by TexAgs co-owners Billy Liucci and Hunter Goodwin, and a few other very special guests (which we'll announce SOON).

We can also announce that former A&M and NFL QB Stephen McGee will do a full video breakdown "Film Room" style on A&M quarterback Kellen Mond and where he sees Mond heading and progressing in his second year under Coach Fisher.

Doors open at 11:00 a.m. for cocktails, the silent auction and mingling among subscribers and TexAgs staff. Lunch will be served immediately starting at 11:00. The official program gets underway at 12:30.

Our event is for a great cause and is also an excellent opportunity to get to know the guys and gals that you spend so much time with on the boards every day, as well as a chance to "talk ball" with TexAgs staff, Jimbo Fisher and specials guests. Keep in mind that this is our big annual fundraiser at TexAgs and that we'll put the dollars that you spend at TexAgs Preseason Kickoff 2018 to a great cause!

Cost per "plate/seat" for the Kickoff: $35 per plate/seat for Premium subscribers; $25 per plate/seat for Varsity subscribers. You can also purchase t-shirts during registration for $15 each.

***Seating is limited so DON'T WAIT! We're closing registration once the first 400 seats are filled. The rest will come from event sponsors and special guests.***
---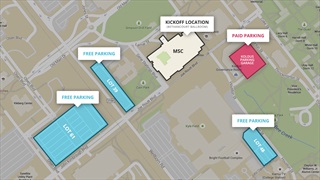 TexAgs
Parking

There will be free parking available in Lot 48, Lot 60, Lot 61 and Lot 62.

University Center Garage (Koldus Garage), Cain Garage and West Campus Garage will also be available for paid hourly parking during the event.
---
Hotel
Hyatt Place
$129 per night plus applicable taxes

Booking by phone: You can call 979-846-9800 (press #3 to make registration with front desk) and use the group code TA19.

Booking online: You can follow this link to book directly from the Hyatt Place website.
---

Friday Night hangout
On Friday night, July 26, we invite you to come hang out and have food and drinks and good fellowship with the TexAgs staff. This year, we're changing things up and while I'm sure we'll probably have a flip game or six, we'll be doing it at The Tap. Most of us will be arriving at 6:00pm, which coincidentally is also the time the bar tab will get started!

Sponsorships
If you have interest in helping sponsor the Kickoff or in providing a direct donation or donating a silent or live auction item, please send an email to logan@texags.com. We would really appreciate any additional support you feel you would like to provide!

The Varsity sponsorship is $1,500 and will include eight complimentary tickets to the event, reserved premium seating (front and center) with 3 drink tickets per guest at the table, table recognition with logo, website recognition with logo and both vocal recognition by the emcee and visual recognition on video screens during the event.

The Aggie Spirit sponsorship is $1,000 and will include eight complimentary tickets to the event, reserved seating with 2 drink tickets per person at the table, table recognition with logo, website recognition with logo and visual recognition on video screens during the event.

The Maroon and White sponsorship is $600 and is a full-table sponsorship. You will receive a reserved table (8 tickets) and visual recognition on the video screens at the event.

---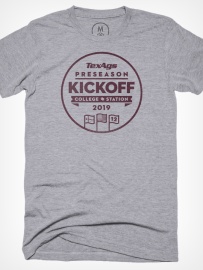 Let's recap:
What: TexAgs Preseason Kickoff 2019
Who: TexAgs Premium & Varsity Subscribers ONLY (plus any immediate family)
When: Saturday, July 27th from 12:30-3:00 p.m. (doors open and lunch is served at 11:00 a.m.) AND pre-event hangout on Friday, July 26th at a soon-to-be-announced location
Where: Bethancourt Ballroom on the second floor of the MSC on the Texas A&M campus
Why: To build a stronger community among TexAgs Premium subscribers and TexAgs staff, raise money for Jimbo Fisher's Kidz1stFund and the TexAgs Endowed Scholarship Fund and provide a rare and unique experience for all of our loyal subscribers while gearing up together for the 2019 Aggie Football season!
Click HERE to watch a quick recap of last year's event and get an idea of what TexAgs Preseason Kickoff is all about!

Click HERE for a photo gallery of Kickoff 2018!

Thanks for taking the time to read this announcement and for being a part of this community. If the last six years were any indication, Preseason Kickoff 2019 is going to be a huge success and something that you absolutely want to attend and experience!

Thanks & Gig'em,

Brandon Jones & TexAgs Staff
Never miss the latest news from TexAgs!
Join our free email list