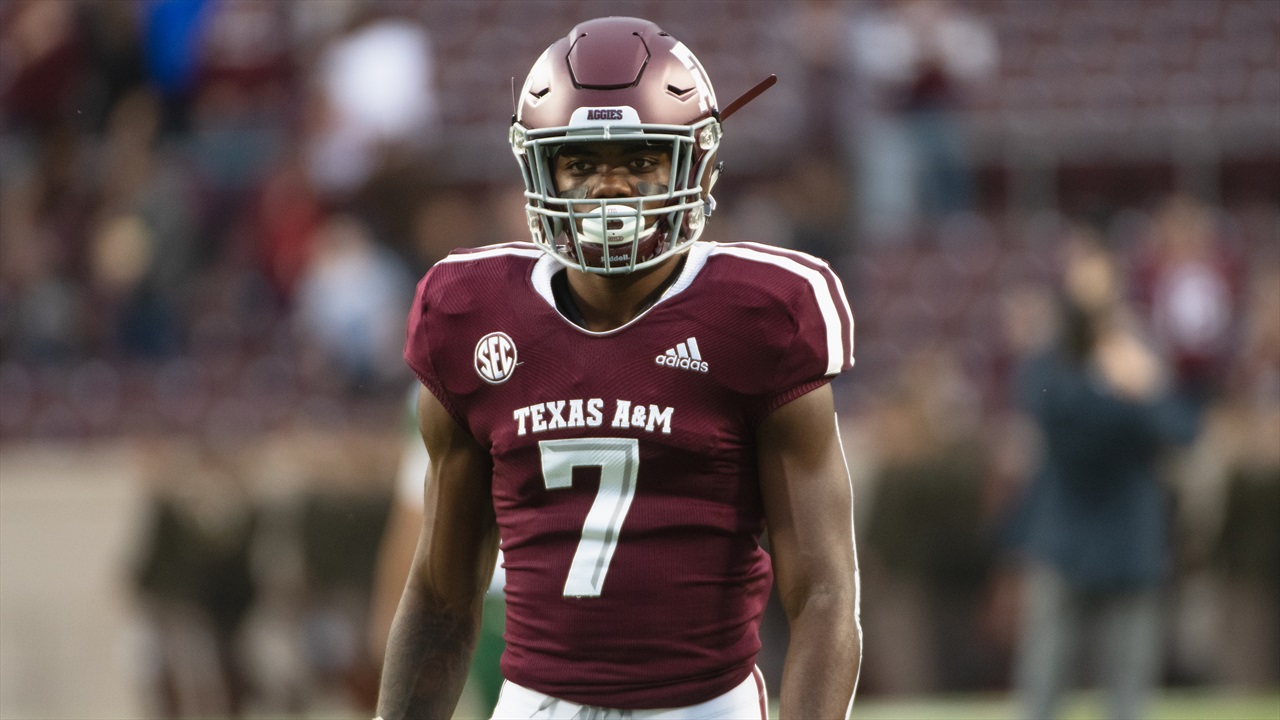 Photo by Rey Romo, TexAgs
Texas A&M Football
Jimbo Fisher pleased with state of Aggie football heading into summer
---
Breathe easy, Aggies. Relax. Come in off that ledge.
Coach Jimbo Fisher said you could.
There has been more than a little angst surrounding Texas A&M's football recruiting recently. Only a handful of prospects are committed. One is still window shopping. Two other prospects committed and then de-committed. The early signing day is a "mere" eight months away and A&M's recruiting class is "only" ranked 25th in the nation. It seems the Aggies are running behind.
Speaking to the Houston Touchdown Club on Tuesday, Fisher might have reminded the crowd that Secretariat always rallied. The Aggies, he seemed to suggest, are just waiting to show off their kick. He intends to sign a full class of 25 recruits and hinted a few may be committing soon.
"I'm very pleased at where we're at," Fisher said. "What's out there and what's behind the scenes and the communication which we have are two different things.
"Things have to be put out in a strategic plan in the right way. But we're very happy about where we're at and what we're doing right now."
"Things have to be put out in a strategic plan in the right way. But we're very happy about where we're at and what we're doing right now."
History shows Fisher's complete recruiting classes are typically ranked among the nation's Top Ten. So, if he's happy about where the recruiting process is — and what's going on "behind the scenes" — well, then you should be, too.
Fisher's comments should provide some eager anticipation and optimism for December and February.
More importantly, he offered reasons to be optimistic for the upcoming season.
A&M likely will be projected to finish second or third behind Alabama (and maybe LSU) in the Southeastern Conference West Division race. The Aggies have been consistently listed in the Top Ten of early preseason national polls.
This despite the fact that last week seven A&M players were selected in the NFL draft. Only Alabama lost more players among SEC teams.
Those departures included center Erik McCoy, SEC rushing leader Trayveon Williams and defensive linemen Kingsley Keke and Daylon Mack.
They left big holes to fill. Yet Fisher again hinted that sufficient spackling paste remains to fill those roster holes.
For example, he indicated sophomore running back Jashaun Corbin will ease the loss of Williams.
"Jashaun is strong and dynamic," Fisher said. "He's going to be a really, really good player."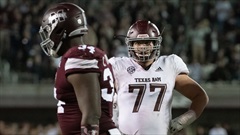 Clay Taylor, TexAgs
Fisher wasn't quite as direct about filling the hole left by McCoy, perhaps the best player on the team last season. Yet, Fisher reiterated he was highly encouraged by junior Ryan McCollum's showing in spring drills.
"He's a guy who can pull, and get out front an do things at center very much like Erik did," Fisher said. "Now, to play at that level and be that … he hasn't done it in games consistently yet. But you see the potential, love his attitude and demeanor and everything in which he did."
Fisher faces maybe an even bigger task rebuilding the defensive line. Landis Durham and fifth-round draft picks Kingsley Keke and Daylon Mack have departed.
They all were major factors in A&M's defense ranking third in the nation against the run last season. They also combined for 19 sacks and 31.5 tackles for loss.
Fisher agrees with the thought that with Justin Madubuike, Bobby Brown, Micheal Clemons, Tre Johnson and others the Aggies could be just as good — if not better — in the defensive front though.
"I think there is talented players there with the way we recruited and the way those guys developed last year," he said. "But are they going accept the roles that those guys (last year) did? Are they willing to sacrifice to play well?
"Do we have the ability? Yes. Do we have the capability to play just as well? Yes. But one thing that Kingsley, Durham and Daylon all did was they produced. We have to go do that. But can I see that? Yes. Very much so."
Fisher is confident with recruiting. He seems just as optimistic about the talent on this year's team.
That should be sufficient to ease any angst and get Aggies off the ledge.
Never miss the latest news from TexAgs!
Join our free email list
PRESENTED BY