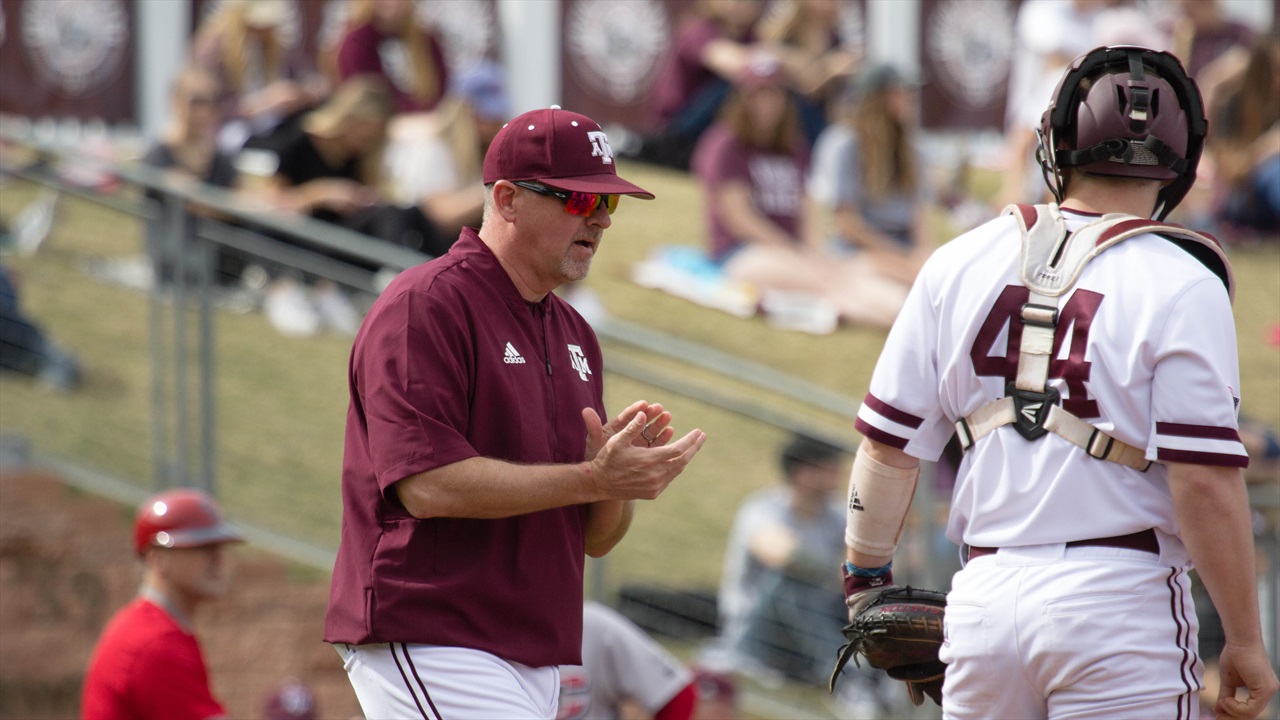 Photo by Angelina Alcantar, TexAgs
Texas A&M Baseball
Rob Childress previews Ole Miss series, discusses team pitching performance
---
Key notes from Rob Childress interview
I feel like we are in a good spot. I think I speak for the coaching staff and the rest of the team when I say our best games are ahead of us. This is a tough conference to play in. We are going to pitch and play good defense. That's what we want to hang our hat on at the end of the day.

Kasey Kalich has been so good for us. He always seems to find a way. When he has his second pitch rolling that's when it is really game on for him.

We were able to win a SEC series at South Carolina. That being said, I was really disappointed on Tuesday with only getting two hits against Houston. All we can do is learn from that game and move on. The next game is always the most important.

Christian Roa was good in his Tuesday performance against Texas State. His aggression is something our team needs. His health continues to improve. Roa is crucial to our success moving forward. However, his injury has allowed other guys to get opportunities on the mound.

Chris Webber has emerged in Roa's absence. We will start Webber tonight. We want to keep him under 60 pitches to keep him fresh and available for the weekend.

Bryce Miller is every bit as valuable to us as any of our pitchers. He has a great fastball. His heart beats slow and he never seems to get rattled. My hope is that we can save him for the weekend series against Ole Miss.

Zach Deloach can be really important to the success of this team. He will be in the lineup tonight. You can see his confidence improving. He is a good player and he knows it. I am happy that he is beginning to feel more comfortable.

Hunter Watson had a great weekend. He had some big-time hits when it mattered most. He can DH and play first base. He'll get another opportunity today because he has earned that.

We are in the midst of playing a long stretch of road games. Ole Miss is as hot as any team in the country. They don't do anything particularly well when you look at the box score, but they find ways to win games. We have played well there in the past, so I am confident in our team. We will have to be the aggressor on the road in order to win this weekend.

I am excited about Coach Slocum as the new interim athletic director. He gets it since he was coach. He understands what coaches go through and I think he will do a great job.
Never miss the latest news from TexAgs!
Join our free email list