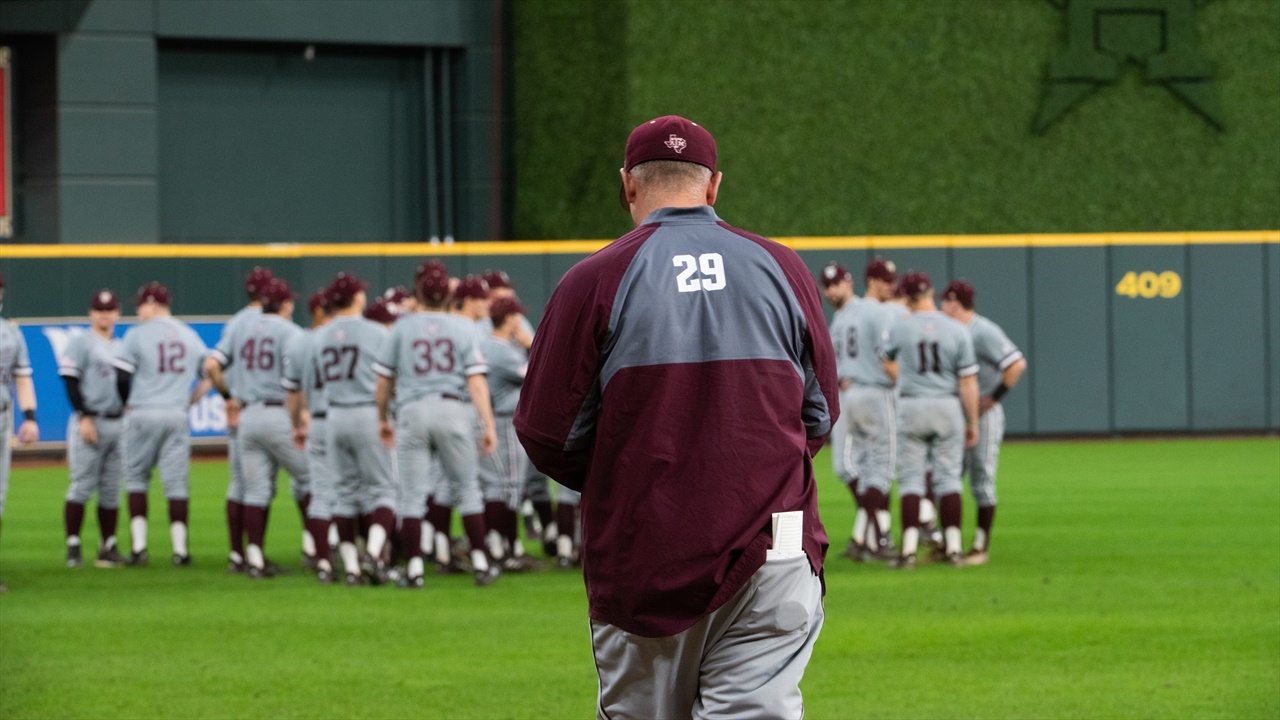 Photo by Tarah Cochran, TexAgs
Texas A&M Baseball
Coach Childress: LHP Jonathan Childress will likely miss the rest of the season
---
Key notes from Rob Childress interview
I'm looking forward to finally playing a game in the sun. It feels like we haven't gotten to play in nice weather for while so I'm excited.

I was really proud of our guys this weekend. Although we played in three tight games, I thought we played with a lot of poise. I feel better about our team now than I did going into the weekend.

We played with a lot of toughness. This past weekend's games came down to one or two plays and we were able to make them. I thought we played good baseball all the way around and improved ourselves.

John Doxakis and Asa Lacy are going to pitch for a really long time. Their careers will go beyond playing for A&M. We have a chance to beat anyone in the country with one of those guys starting.

Lacy brings the power and can be the aggressor and continues to develop his breaking balls. He is a really good tone setter for our younger guys. Doxakis is the ultimate competitor and also does a great job of setting the tone in the dugout even when he isn't pitching. Both guys are on a mission to be the best version of themselves that they can be.

Lacy is a guy who is very motivated when he gets in the stretch. He doesn't back of his stuff, and has developed his breaking balls nicely.

Jonathan Childress will most likely be out for the remainder of the season and will be on the road to recovery for next year. My heart hurts for him. He has done nothing but work hard and give his all to this program. Childress could have started his professional career out of high school, so it hurts to see this happen to a talented guy like that.

We will be leaving the Sunday role open going into the weekend. We are starting Dustin Saenz on the mound today and Chris Webber will start tomorrow.

I'm pleased with what the guys in our bullpen have done. They came into some tough situations this weekend and came through for us, my hope is that we don't miss a beat now that we are down an arm.

We are going to need to get a lot out of Saenz tonight vs Texas A&M Corpus Christi. We need to preserve our bullpen now that we have lost one of our key guys. I'm looking forward to the challenge this week presents.
Never miss the latest news from TexAgs!
Join our free email list