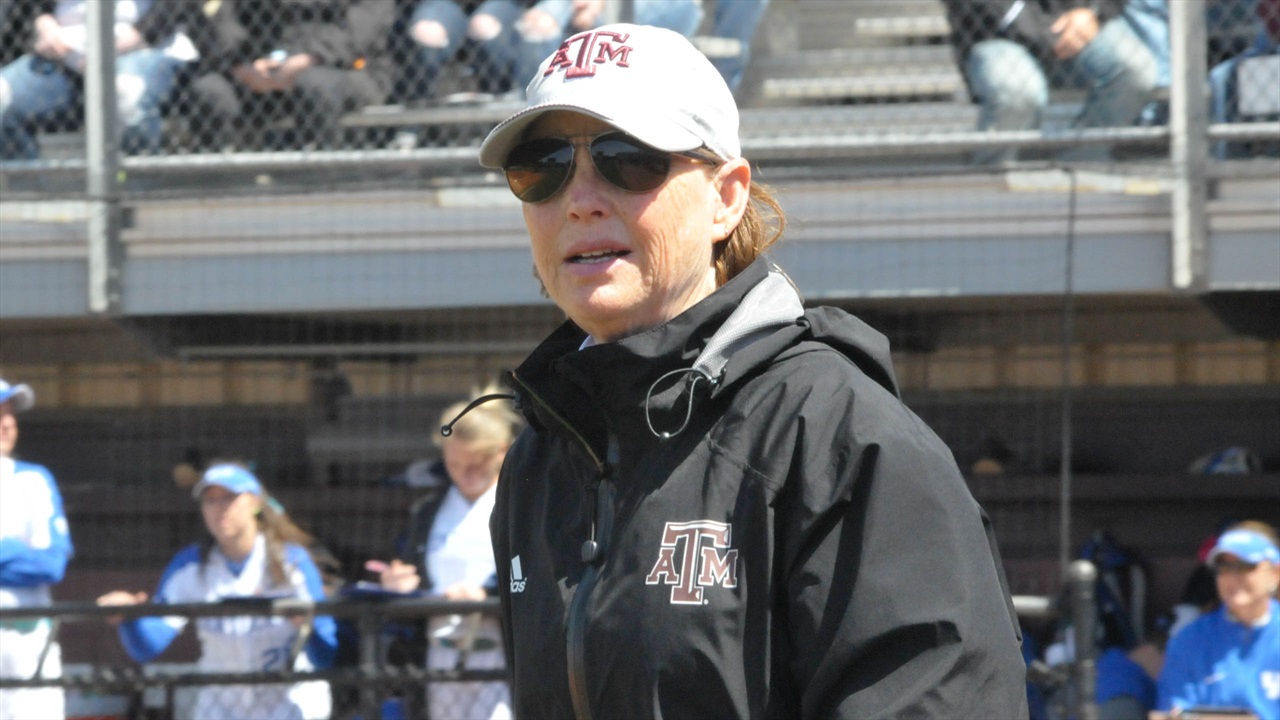 Photo by Brianna Hillman, TexAgs
Texas A&M Softball
Jo Evans praises Davis Diamond, Riley Sartain's veteran leadership
---
Key notes from Jo Evans interview
We're thrilled about the new stadium and the clubhouse. There is no question it's the best softball stadium in the country. It's a great feeling, and then to have recruits come and be wide eyed looking at it is really cool. There is not a better feeling. That fist impression means everything.

For the players, the best thing about the new stadium is the indoor hitting facility. When you have a day like today with lots of rain, we can just be in our place. Our players can be down there and hit so conveniently. The training area and rehab area are also really big features for our players.

For our fans,the best thing abut the new stadium is we have chairs with chair backs. Our concession area is also awesome. Our fans will love that.

We have a really young team. We have one every day starter returning in Riley Sartain. Fans will have to learn our players' names and faces. This is going to be a process, but our standards are high and that is not changing. Our players are working very hard.

Riley Sartain is not a natural vocal leader at all. Her first three years, she didn't say a lot. She leads by example and has always done that. She's always working when no one is watching. She is such a a hard worker, and is now very vocal for this season. She is the leader, being the lone senior. She is willing to step up and say the hard things. Her focus is being a servant leader, The young players look up to her and respect her. She's a great example to her teammates.

What's been refreshing and fun for me is how eager these players are. There are many openings in the lineup. Our players are competing and having a lot of fun in the process.

We'll pitch by committee this year. I don't know if we'll have anyone go seven innings. We want to have confidence in our closing spot, and Payton McBride is great at that. With our four pitchers, we're going to put them in inning number situations, and get a feeling on where their strengths are and how they compliment each other.

California Baptist is a really good program, but a lot of people wont recognize their players' names. They dominated Division II and have made the jump into Division I. Northern Colorado is a team that's been up and down. They have a new coach. North Texas is the same thing. With as young as we are, we understand that it doesn't matter who is on the other side of the field, it matters what we do.

In our first game, I need to see a smile on our players' faces. I don't want to see deer in headlights, I want to see big personalities and players having fun with their teammates. If I see that, we'll be just fine.
Never miss the latest news from TexAgs!
Join our free email list