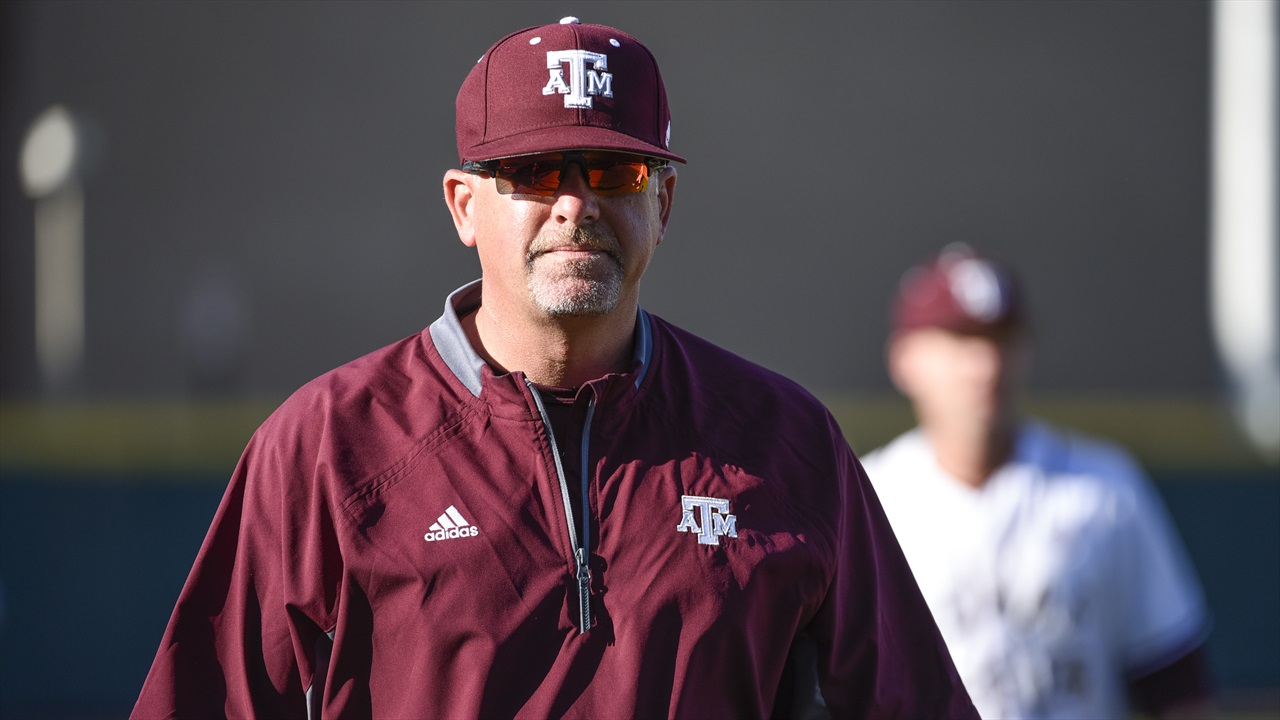 Photo by Christina DeRuyter, TexAgs
Texas A&M Baseball
Rob Childress on roster newcomers, possible impact players in 2019
---
Key notes from Rob Childress interview
The first few days of practice have been great. We're able to scrimmage. We give the guys Sundays off until the season starts, and then Monday becomes their day off. Getting everything back up to speed gets a little bit better every time we go out there and practice.

There is a lot of experience on this year's team. Not a lot of seniors, but guys who have experience playing. Then, you throw in some junior college transfers who bring experience to the table. It's been a big help. Certainly we're a little bit younger on the mound, but we've got guys that have pitched and are helping the young guys along.

It's a strong possibility that we could throw a lefty out on the mound five starts in a row. Credit to Coach Sealy for his job recruiting and gettting these guys on campus.

The kid that's ahead in the pitching group is Chris Weber. He made a big jump from his senior year in high school and into the summer. He's very baseball savvy. When we recruited him, he was throwing around 85 miles per hour, and now when he throws, his velocity is around 88-92 miles per hour.

Asa Lacy and John Doxakis will lead us, but we've got other guys like Jonathan Childress and Dustin Saenz competing. The luxury with that is whoever doesn't start, we have an x-factor we can't wait to get the ball to going into the weekend. When we make a move to the bullpen, we'll have high level guys to hand the ball to.

Jake Nelson tweaked his hamstring early, but he threw two innings Friday. He was throwing 92-95 miles per hour and throwing it over the plate. We have to do our best getting him comfortable with our signs and what we do defensively so he can just go out there and pitch. He's got a great attitude and just wants to do what he can to help the team.

Mason Cole is one of the guys we're looking to be our closer. He's throwing in the mid to upper 90s and he developed a split finger. We need to continue to develop him. Kasey Kalich was really good last all and has been really good this spring. Those guys will get opportunities early for the closer spot.

Guys that the fans don't know a lot about are Mikey Hoehner and Bryce Blaum. They're two really good players who play with level 12 energy. Mikey is a transfer from Cisco Junior College and Bryce was here last year, but had to sit out after transferring from Ole Miss.
Never miss the latest news from TexAgs!
Join our free email list