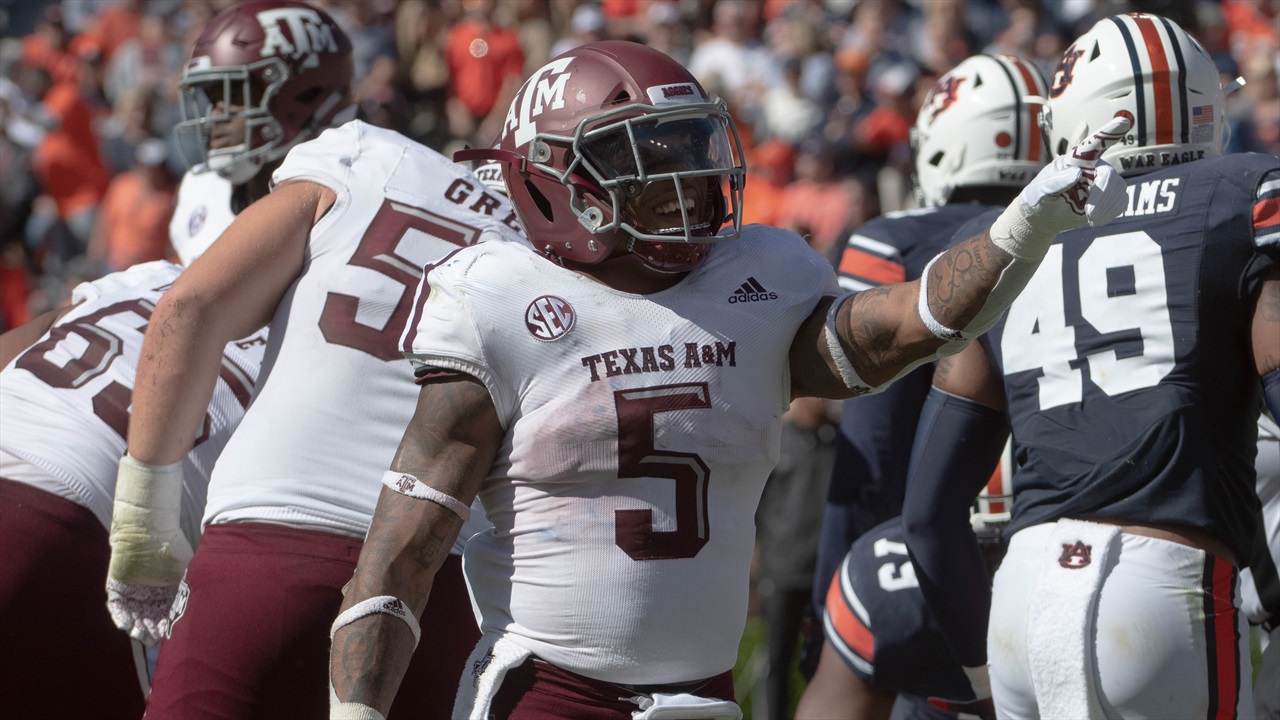 Photo by Andrew Kilzer, TexAgs
Texas A&M Football
Trayveon Williams on his record-breaking season, declaring for the NFL Draft
---
Key notes from Trayveon Williams interview
Aggieland and the 12th Man is hard to explain from the outside looking in. From the inside looking out, it's like no other. When you go to to A&M, you're not just doing it for yourself, but for the 12th Man. Everything I do I want to do it for the 12th Man. Everything I do on and off the field, I do for Texas A&M.

It was definitely the mental buy-in that was different this season. Coach Fisher said he had the blueprint and all we had to do was believe in him. From day one, I bought into the system. He had a famous saying that the player we were off the field was the player we were on the field. I took care of my body and all the little things so I could have a great season.

The first play from scrimmage against Northwestern State was when I knew this season I was different. I knew that everything I had been working on with Coach Fisher and Coach Schmidt was going to pay off.

I remember the day Coach Sumlin was fired vividly. Scott Woodward sent out a group text that we had a team meeting and he told us we were moving in a different direction. I was pissed because Coach Sumlin was the guy that gave me the opportunity. I was mad. I'm not going to lie. At the moment, I stormed out and was pretty mad. I knew that God had it in His hand and God does everything for a reason. Coach Fisher ended up coming in and we had a great year.

My favorite plays of the season were, number one was when Gilly scored that touchdown. Number two was when Quartney Davis caught that ball to go to overtime against LSU. Number three was when Kendrick Rogers caught that ball against Clemson. I will never forget those moments. Those are unbelievable moments that you will never not be able to think about.

Deciding to go to the NFL was the hardest decision my life. I shed many tears behind it. When you're in the moment and playing, you feel like it's going to last for a lifetime. Really talking to family, coaches, and players, you kind of understand it all. Realistically, being able to come back and carry the ball 260 more times is really taxing on the body, especially in the SEC.

It's going to be astonishing when the call comes that I'm drafted. I'm going to share that moment with all of my family because without them, I wouldn't be here. I'm thankful for everyone. Without them, nothing is possible.

Throughout everything, Greg Hill was always telling me to keep pushing, God has a plan for me. He told me I had a special gift and to go out and break all the records. He told me to give it all to the game and it will give it back to me.

I had Clemson by 14 points in Monday's National Championship game. I just knew it. With the vertical attack they had with Trevor Lawrence and those young receivers, I just knew it. They were having fun and that was the difference maker. I'm excited for them and I'm glad they could get that win.

It's a big stable of running backs we have. There's a lot of talent. Jashaun Corbin had a willingness to learn. He was always wanting to know what he could do to improve and increase his game in every possible way. He doesn't want anyone to outwork him. He's smooth and has a great attention to detail. I'm excited for him and his future at Texas A&M.

Scouts trying to create a profile on me would say I'm an all-around back. I've shown I can be an every-down back in the SEC. I'm excited to do that on the next stage and hopefully the right team picks me up. I'm going to give my all to the team and the organization that picks me up.
Never miss the latest news from TexAgs!
Join our free email list