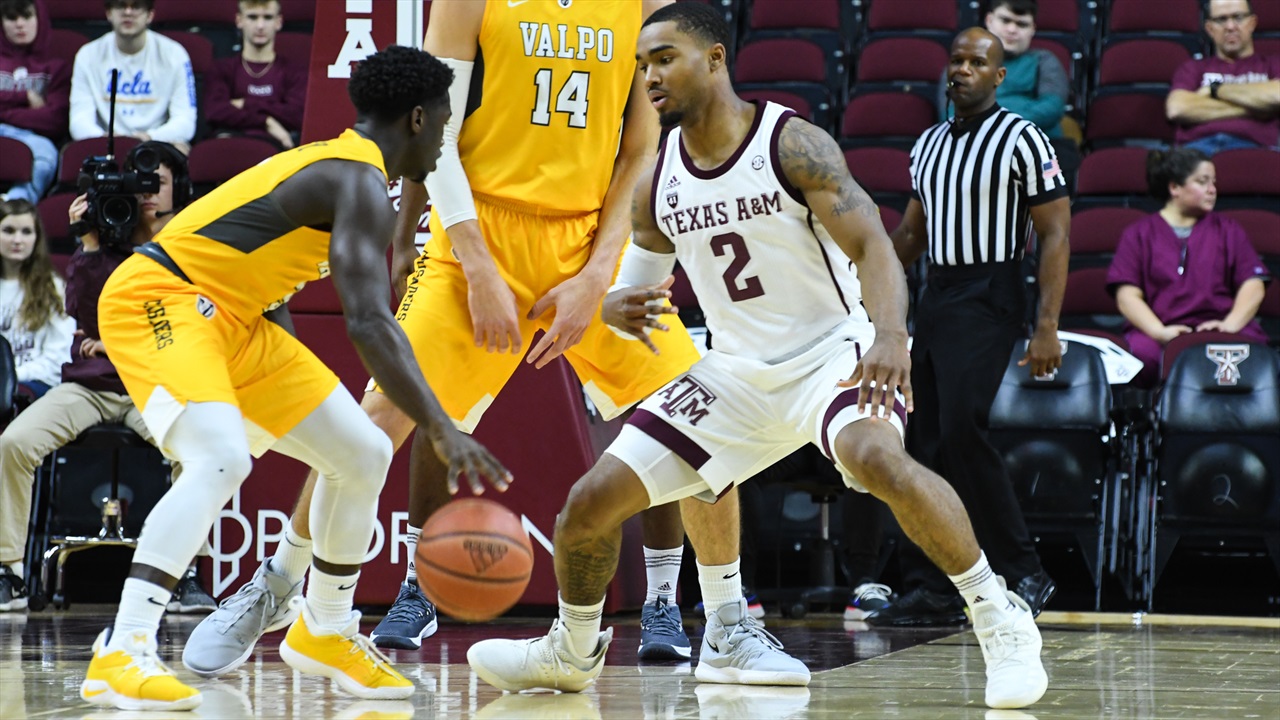 Photo by Jackie Ysaquirre, TexAgs
Texas A&M Basketball
Despite recent struggles, Aggies remain optimistic heading into SEC play
---
Timing is everything. Winning five of its last six basketball games would imply that Texas A&M is streaking into Southeastern Conference play.
Except, that one loss was 88-73 to Texas Southern in their most recent game. Consequently the Aggies (6-5) seem to be stumbling into their SEC opener against Arkansas (9-3) on Saturday at 5 p.m. at Reed Arena.
Despite that loss, A&M shot just 33.3 percent from the foul line and committed 13 turnovers, the Aggies insist they remain optimistic heading into SEC competition. They seem to feel the loss to Texas Southern does not undo the progress made in the previous five victories.
"This team has been pretty consistent with their effort the last few weeks," Texas A&M coach Billy Kennedy said. "I think our mindset is good."
Kennedy might not be worried about his team's mindset, but admits he's concerned about Arkansas' relentless pressure, which forces an average of 16.8 turnovers per game.
"It's all about how are we going to handle Arkansas' energy and style of play," Kennedy said. "That's my concern. But I think our attitude is good and our confidence is about as good as it can be right now."
Actually, Arkansas' defense is just one of many reason for Kennedy to be concerned. The Aggies' penchant to commit turnovers is obviously worrisome. So, is the fact that the Aggies are among the nation's worst 3-point shooting teams. The Aggies shoot just 29.1 percent from 3-point range, which ranks 325th in the nation out of 351 Division I teams.
Sophomores T.J. Starks and Savion Flagg were counted on to be threats from 3-point range for a team that planned to attack largely from the perimeter. But so far they've combined for just 24 3-pointers total.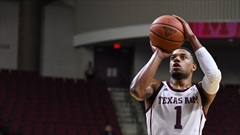 Jackie Ysaquirre, TexAgs
Accuracy behind the arc is vital because points in the paint may be hard to come by with 6-foot-11 forward Daniel Gafford protecting the rim for Arkansas. Gafford is ranked among the nation's Top 20 in blocked shots. He also averages 17.5 points and 9.3 rebounds.
"You've got to hope you can keep him off the glass and don't give him second shots," Kennedy said. He's so active. He's such a factor. We had a guy like that in Robert Williams. He's very similar. Explosive, runs the floor and affects the game on both ends. We've got to hope we can move him away from the basket some and keep him from just dominating the paint."
Despite their impressive record, the Razorbacks have not exactly been dominant. They opened the season with a 73-71 overtime loss to Texas and one game later defeated Indiana 73-72.
But they've also lost to Western Kentucky and Georgia Tech. In their last two games the Hogs posted less-than-impressive victories over Texas State (73-70) and Austin Peay (76-65).
Still, they're dangerous, and not just because of Gafford. Guard Mason Jones, a junior college transfer, is averaging 13.4 points. Sophomore point guard Jalen Harris is averaging 6.7 assists and 9.0 points. Freshman guard Isaiah Jones is averaging 15.8 points and has hit 46 3-pointers. That's as many as A&M's top three 3-point shooters (Starks, Brandon Mahan and Wendell Mitchell) combined.
Yet, even with Gafford inside and the Razorbacks perimeter scoring, Kennedy appears more concerned about his own guards.
"Our decision making and shooting the ball and making he right decisions against their pressure is going to be key for us," he said. "It's going to be a good test for our guards."
Never miss the latest news from TexAgs!
Join our free email list