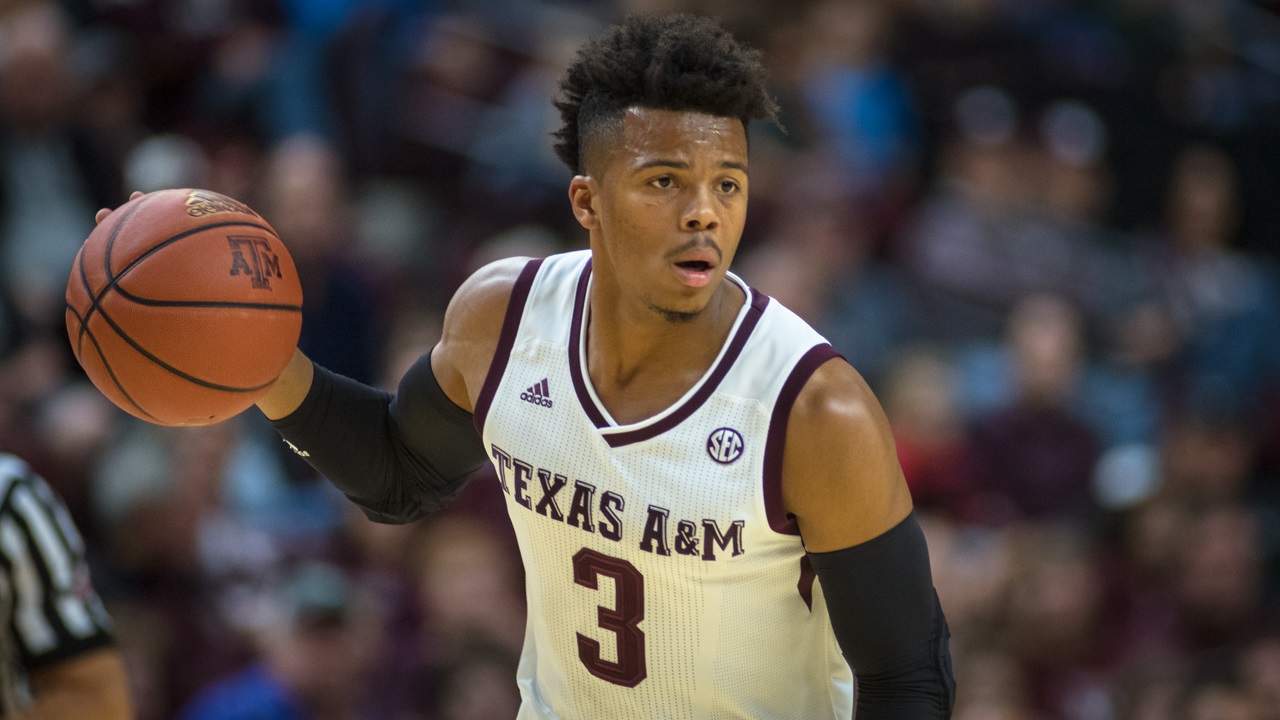 Photo by Andrew Kilzer, TexAgs
Texas A&M Basketball
Aggies' climb back into SEC race could begin with win over Tennessee
---
Texas A&M wants to repeat history. The Aggies want to avoid repeating history, too.
That might seem confusing, except it would make perfect sense to those who remember the Aggies' Sweet Sixteen basketball team of 2016.
Two years ago, A&M hit a skid of five consecutive losses in Southeastern Conference play, but got back on track to finish the regular season on a winning streak and a successful postseason run.
This season's Aggies (11-5, 0-4) again hope to get back on track and finish strong, but they want their SEC slump to end at four losses rather than five.
They hope to put an end to that four-game skid on Saturday in Knoxville as they travel to face No. 24 Tennessee (11-4, 2-2) at Thompson-Boling Arena.
"We talk about that every day," junior guard Admon Gilder said. "The key thing that year we won seven to start with and then lost five. We know we're going to have to win out basically. We have the team to do it. We have the potential. Our freshmen are getting better every day. Tyler (Davis) is doing everything he can. We've just got to listen to coach's plan and everything will be okay.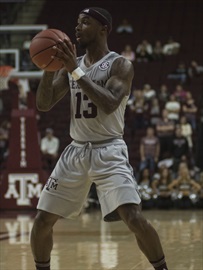 Bridgett Falcone
The Aggies can be optimistic that better results are ahead after consecutive one-point losses to LSU and Kentucky.
They've played several games with as many as three starters sidelined for various reasons, but could be back at full strength with the possible return of senior point guard Duane Wilson.
Wilson was averaging 12.1 points and 4.5 rebounds when he hurt a knee four games ago.
His return, along with the recent re-additions of Gilder, D.J. Hogg and Robert Williams, should make the Aggies a difficult team to beat if A&M stays healthy the remainder of the season.
The Aggies are hoping to get a similar effort from Wilson that they got from Gilder, who played 35 minutes against Kentucky after missing the previous five games.
"He'll be back. How many minutes he'll play, we're not really sure yet," coach Billy Kennedy said. "We'll kind of throw him in there kind of like we did Admon and see how much he can do. Everybody's different. He was good in practice the last two days. We've got our experience back no matter what, so I think we'll be a better team. Now the young guys have to adjust to their roles and be ready to play coming off the bench."
Wilson is needed to get the ball more consistently inside to Davis, who leads A&M with a 14.6-point scoring average. He's also needed to ease the defensive pressure on Davis by hitting on occasional outside shot or penetrating for layups.
"He's going to come in and give us everything he has," Gilder said of Wilson. "He's the type of player that's going to put everything on the line for his teammates and for the university in general. I'm glad to have him back."
He's also going to be needed to help on the defensive end. Although Tennessee is stout inside with 6-foot-7 forward Grant Williams and 6-5 forward Admiral Schofield, Kennedy warns that the Volunteers are dangerous in the back court, too. Guard Jordan Bowden averages 10.6 points and guard Lamonte Turner averages 9.7.
"Our guards are going to have to handle the environment and the pressure. Tennessee is one of the toughest places to play in this league," Kennedy said. "As well as they're playing right now and the depth they have on the perimeter is something that goes unnoticed. Grant Williams and Admiral Schofield are playing so well you forget about their guards. But their guards are really good players, too."
Now that Gilder and Wilson are back, A&M can be much more confident about handling Tennessee's guards. The Aggies are also confident they can avoid a five-game losing streak and get back in the SEC championship picture.
"Everything is still out in front of us," Kennedy said. "We've got a lot of work to do, a lot of catching up to do. Hopefully, we start (Saturday). We understand every game is important. We're approaching it still like we can win the SEC. That's how we're going to continue to look at it."
Never miss the latest news from TexAgs!
Join our free email list