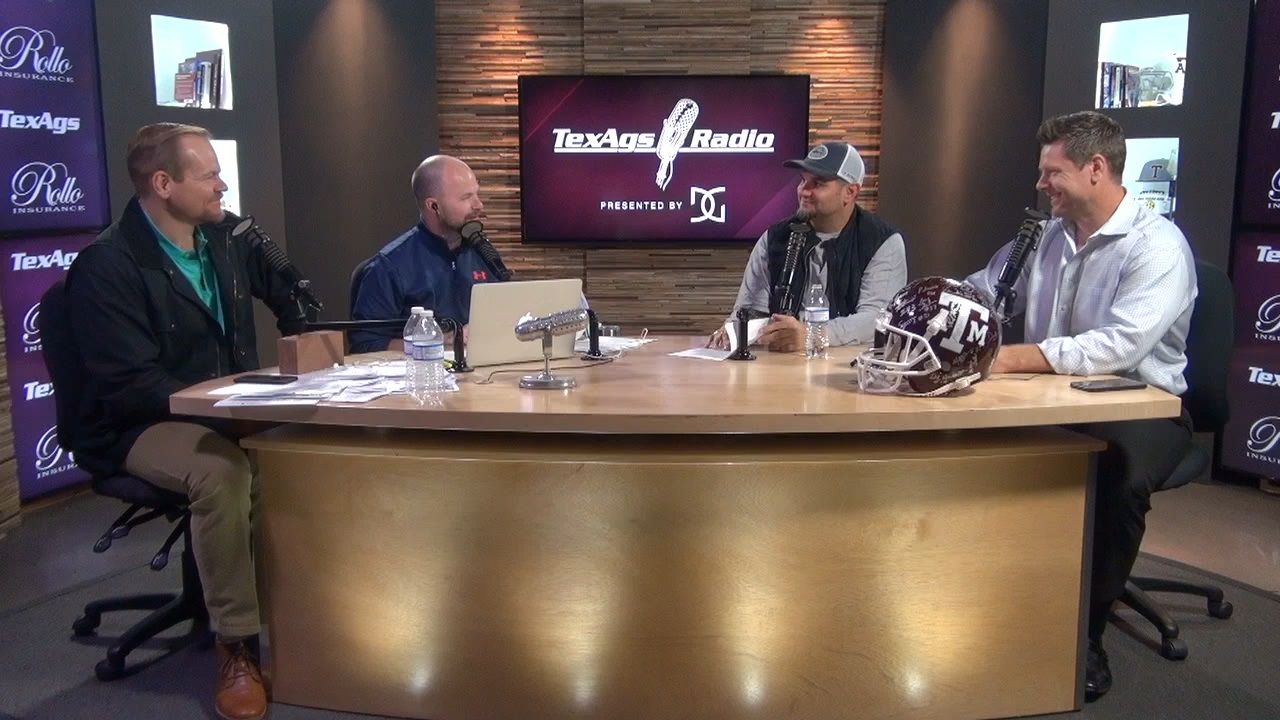 Texas A&M Football
Final Countdown: Liucci, McKinney Bros. on the Auburn loss, New Mexico
---
Key notes from The Final Countdown
Steve: My level of frustration is at an all-time high. After the LSU game last year, I was like the only one who still wanted Sumlin. You give people chances and have some faith that they can fix things. But, three years in a row is too much of a pattern. It's not going to change. It will continue to be more of the same. We have too much invested in this program to be satisfied with eight wins.
Seth: We are a long way from eight wins right now in my opinion. It's not personal. It's been three years of lackluster performance. Recruiting has been there, maybe it hasn't panned out, but we do have talent. It's just not translating to wins. I'm not expecting us to beat Alabama every year. We should expect to beat Mississippi State and Ole Miss, though.
Billy: Mississippi State and Ole Miss have been good programs since A&M joined the SEC. They have beaten a lot of teams. Ole Miss beat Alabama twice. But, this is what you sign up for when you become the head coach and play in the SEC. In a normal six year stretch, I think you want to see A&M go 8-4 against the Mississippi schools. You're 1-6 against those schools since Johnny left. The only reason A&M won some of them before that was because of Johnny. The Mississippi schools have hurt Sumlin's tenure here, more than LSU.
Steve: It's systemic, we are underachieving. You are underachieving, falling apart in November and losing at home.
Billy: The past quarterbacks might be at the top of the list of why this doesn't work out. Does the way Johnny did his thing, which we all loved, did it hurt Kenny? Then Kenny needed a change of scenery. You go back and it started there. There were recruiting miscalculations with how they were putting together the quarterback room. You had to take Kyler, he was really good. Kyler at A&M could've worked. Kyler coming in with Kyle Allen as a starter didn't work.
Billy: They've never had an experienced quarterback. There still isn't an experience quarterback here. There have been some bits of misfortune and a lot of mishandling. They are recruiting at a high level, but that's the bare minimum you have to do. If you don't think the guy can recruit top 10 classes, you don't hire him. That's just to keep pace. A&M wasn't overwhelming Mississippi State with talent. The only teams that A&M plays that I think they can just out-talent are South Carolina and Arkansas. Soon it will be just Arkansas. You need to recruit, but the players need experience. It has been a young team for most years .
Seth: Looking back, what are some of the things, beside the quarterbacks, where there were misses in talent?
Billy: The recruiting for the offensive line wasn't up to par.
Seth: We went from one of the best offensive lines in college football to one of the worst.
Steve: When you've averaging a top-12 recruiting class, you should be in the top 12 at least once in awhile.
Steve: When the game is over and you know you are going to lose, I'm out. I haven't seen the end of a game at Kyle in a while. At the Mississippi State game, the fans sucked, the energy sucked, it was so disappointing.
Billy: Scott Woodward, he knows what he's doing. He's around football everyday to be seen and to get a feel for the program. He's never had it out for Sumlin. The last thing he wanted was for this position to materialize. I think he'll make the right decision. With his political background, Seth and Steve you know the politics that go on in this place, he will be able to navigate it. The biggest thing people don't realize about him is his ability to manage to people who try to push and pull. I think he will be able to handle the personalities and people in play. I think he'll be able to sell what he believes in to the right people. He wasn't going to make a change last season because he need to get a feel for the program. He knows the SEC and he know what kind of players A&M needs. He will make the right decision and he will make it quickly.
Seth: Anyone who can get Chris Petersen to Washington is impressive. I'm not saying Washington is the worst school, but he turned down some other big schools for that.
Billy: I hope the people here allow him to do his job in a vacuum. There won't be a search committee. I just want him to be able to do that job and have nothing be compromised, limit the leaks. The best coaching hire I've seen here, John Chavis, got Sumlin in hot water because he didn't answer to anyone and did his own thing. Sumlin went out and didn't tell anyone. He knew that if anything leaked it would jeopardize making the hire he felt he needed to make. I hope people remember that.
Billy: I'm excited to see Starkel with a full week of practice. Kellen had been getting all of the first team reps in practice and a good portion of the second team as well. Nothing against Mond, but he was struggling and so was the rest of the offense. You've got to get a spark somewhere and quarterback is a great position to get that at.
Seth: Starkel's first pass had some touch on it, and it was such a breath of fresh air to see at quarterback. It was good to see him in there and it opened up the running game for the time. You got to see what a good threat at quarterback can do to a defense.
Steve: As an offensive lineman, you're trying to do your job but when you're not going anywhere it can seem kind of pointless. That spark changed the demeanor of the offensive line and you could see it as they started running the ball better. It wasn't great, but it was better than it had been.
Billy: Landis Durham with eight sacks is one off the SEC lead for sacks on the season. There are a lot of sack opportunities coming against Ole Miss and the fact that this kid has a real shot at leading the SEC in sacks is amazing. No one would have mentioned him coming anywhere close to that going into the season. He's done it with effort and he's done it with skill.
Billy: The freshmen that were leading the youth movement have gotten really quiet recently, they're hitting that freshman wall. I want to see more out of them in these last four games, especially out of Anthony Hines and Jhamon Ausbon. That needs to start against a bad New Mexico team and carry on into Ole Miss, LSU and the bowl game.
Seth: Even if the coach they are playing for is on his way out, you're still playing for the next coach who will get to choose who gets to see the field. Steve and I experienced that in the pros. Just because your current coach may not be there doesn't mean your play is not still being evaluated.
Seth: A&M wins 35-14. Starkel is my Man of the Hour.
Billy: A&M wins 41-13. Christian Kirk is my Man of the Hour because Nick Starkel and him have shown good chemistry when Starkel has been on the field.
Steve: A&M wins 35-24. Hubanek is my Man of the Hour, hopefully he gets to see the field on senior day.
Never miss the latest news from TexAgs!
Join our free email list