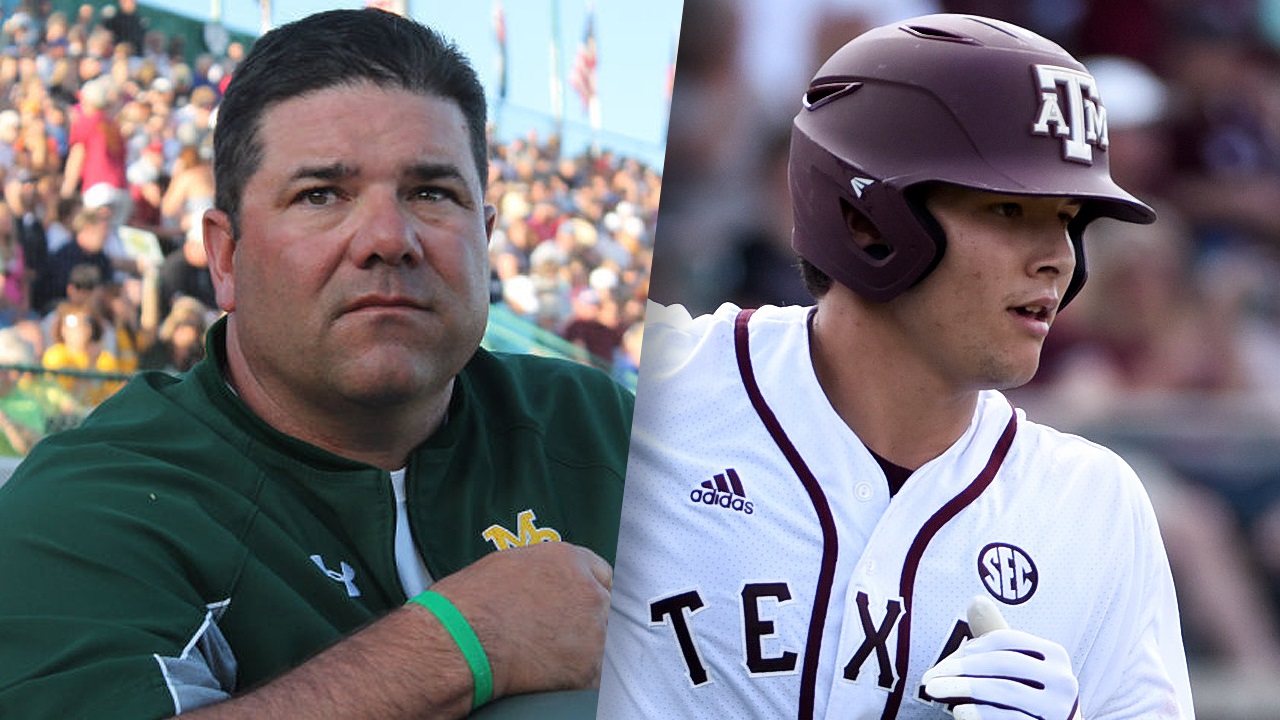 David Coleman Q&A
Hunter Coleman Q&A
Texas A&M Baseball
Hunter and David Coleman return to Omaha as Aggies 18 years later
---
Key notes from David Coleman and Hunter Coleman interviews

David Coleman


Whatever scale you want to put it on, if you did 1-10 it would be 15. These past few weeks have been a lot of fun for our family. I've heard the term surreal before and I don't think I knew what it meant, but I think I'm experiencing it right now.


I had a good friend call me after the game and we talked about the moment when that last out was made. I remember the last out in 1999 when Casey Fossum got the strikeout to punch our ticket to Omaha, but that one for Hunter on Saturday was better than any one that I've ever experienced before. To be able to watch your son catch the last out and throw his arms up in the air was great. I don't know that I've ever been so happy outside of when my two sons were born.


I know the history of A&M and the many regional finals of Coach Johnson and the heartbreaking regional final close game loses. I was there in Miami when Danny Buxbaum wrapped one around the foul pole with two strikes and two outs. Then to be there in 1999 when they punched their ticket to Omaha. I sarcastically turned and looked at the other coaches and said, 'Hey, this is easy' as we made it to Omaha in my first year as hitting coach. But I know how difficult it is and how many breaks you need to go your way.


If you pitch and play defense you can win and I think this team can really pitch. They have starters who can shut you down along with some shutdown arms in the bullpen. They've also been great defensively all year long to go along with some bats that are capable to score runs. It's baseball though, you just have to go out there and play. You just don't know what can happen, just go play.
Hunter Coleman


Honestly, I don't even really have words to describe it, but it has been an incredible journey for sure. The ups and downs, playing good playing bad overall just happy where we are as a team and getting to go to Omaha.


I think we're just a tough group of guys that always play with a chip on our shoulder. We know we're never out of the fight and we will do whatever it takes to comeback. Throughout the postseason we showed the ability to do that.


I think that Saturday at Vanderbilt, we knew we just had to do it from within. There was probably a lot of doubt at that point, but we never doubted ourselves, we knew what kind of ball club we were. I think it just took longer to show and I think it did show with how we responded to that weekend.


I think us seeing our name on the bracket was the spark we needed. We all had a bad feeling coming in to watch the selection show, but that definitely put a chip on our shoulder and reminded us that we have a lot of work to do. We were just happy to see our name called and we knew that we weren't done.


It was awesome getting to celebrate at Olsen Field. I'm glad that our seniors got to experience Olsen Field again. I didn't really consider coming back and hosting the Super Regional, I knew it was possible, but I didn't know if it was going to happen. Really glad we could do that at home and give the 12th man the opportunity in person. They were a difference maker for sure, especially on the bases loaded play.


I knew I hit that ball hard against Davidson in the 8th, I knew as long as I got the line moving the guys behind me were going to take care of it. Then we blew up with seven runs that inning so, I think that inning definitely put it on ice. Then Walker's home run in the ninth just sealed it. Then, Chafin coming out and doing what he has done all year, I knew it was kind of over at that point.


Definitely great leadership from the seniors, kind of pointing young guys in the right direction. Then their performance on the field. Blake Kopetsky has been huge, Nick Chourby is a great leader offensively and defensively from the leadoff spot. Kaylor Chafin has been just nails out of the bullpen, Walker has had huge hits all year and Joel Davis being that first baseman and middle of the order bat. They've done a great job.


I've played a first base a few times between high school and summer ball. I've bene an infielder my whole life, I played shortstop sophomore year of high school. Coach told me to start taking ground balls a month into the season just in case. When I got the opportunity I just kind of ran with it and it stuck. It's awesome getting to be in the lineup everyday and contributing to the team.


It's definitely a school story with me and my dad. he went to Omaha in 1999 and I was the one watching. We both took trip the first year of TD Ameritrade in 2011 as spectators. Now this time going back, I'll be on the field and he will be watching. We defiantly had some conversations about how cool it is and what he remembered, I think it will be an awesome experience for both of us.


It's going to be awesome getting to play there, just going to be look around and seeing the whole stadium filled all around, it'll be like a major league experience, maybe even more than that. It's going to be really cool, I'm excited for it.


My dads been telling me the same thing the coaches have been telling us. They've all made points about just relishing in the moment and not just letting it go by as a blur, kid of soak it all in. It's a once in a lifetime experience, but hopefully I get it more than once in a lifetime.


Coach Bolt has said in the locker room all week, "as much as it is put on a pedestal, it's just another baseball tournament. Lets go win it." Why nit this group especially with who we have, the starting pitching that we have and who are offense has been of late. We are set up to make a deep run, might as well go win it.
Never miss the latest news from TexAgs!
Join our free email list