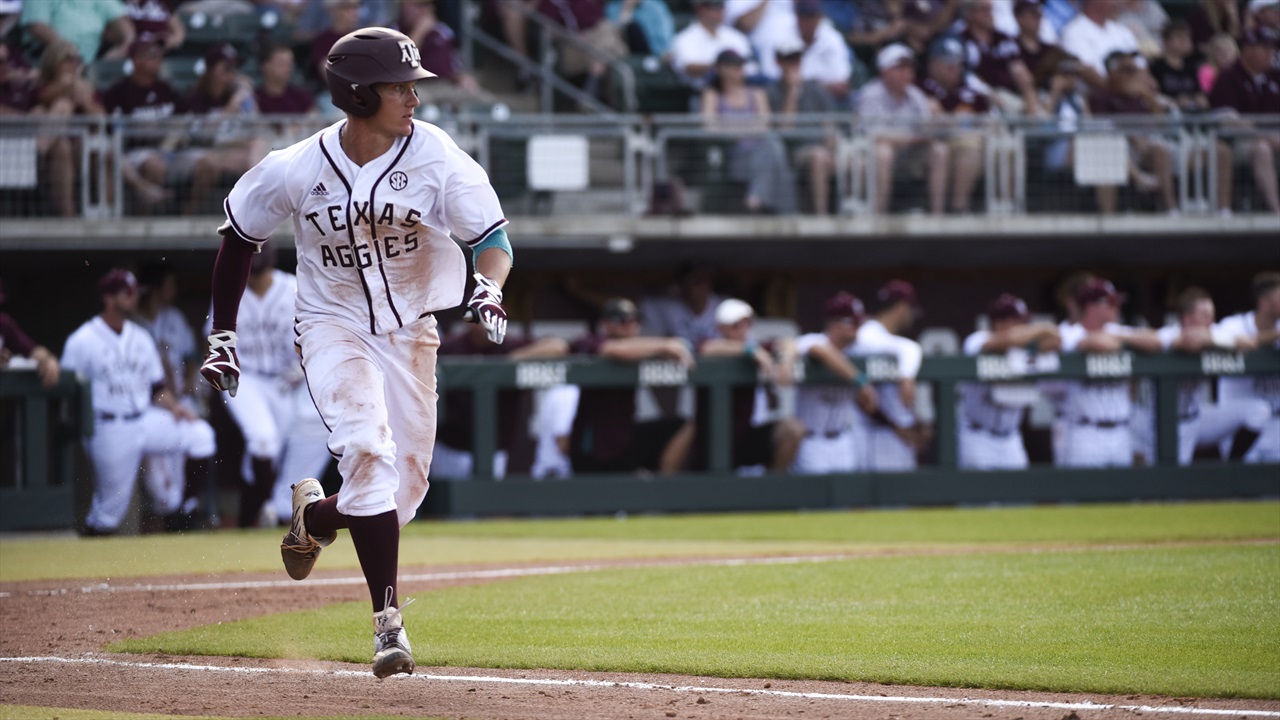 Photo by Christina DeRuyter, TexAgs
Texas A&M Baseball
Series Preview: No. 20 Texas A&M vs. Tennessee
---
Who:
Tennessee Volunteers (19-15, 4-11 SEC)
Where:
Olsen Field at Blue Bell Park — College Station, Texas
When:
Friday 2:00 p.m. CT (SEC+)
Saturday 2:00 p.m. CT (SEC+)
Sunday 1:00 p.m. CT (SEC+)
Pitching matchups


Thursday: Brigham Hill (RHP, 5-3, 3.29) vs. Hunter Martin (RHP, 4-3, 3.47)
Friday: Corbin Martin (RHP, 4-2, 3.83) vs. Garrett Stallings (RHP, 2-0, 3.18)
Saturday: Stephen Kolek (RHP, 2-2, 4.11) vs. Zach Warren (LHP, 2-4, 5.92)
Scouting Tennessee

Many college baseball pundits felt Tennessee made a great hire in 2012 when the school announced that Cal State-Fullerton head man Dave Serrano would become their new head baseball coach. His track record was impressive, with several College World Series appearances with both Cal State-Fullerton and UC-Irvine.
Since 2016, the Volunteers are a dismal 13-33 in SEC play, including a 4-11 mark here in 2017. There was speculation after last season that a coaching change was imminent.
But heading into year six, the results simply haven't been there, and many in the industry are scratching their heads over the rocky tenure in Knoxville.
Since 2016, the Volunteers are a dismal 13-33 in SEC play, including a 4-11 mark here in 2017. There was speculation after last season that a change was imminent, and no move was made.
Boosters and administrators may not be so patient if 2017 doesn't turn around quickly for Serrano and the Volunteer baseball team.
However, while the wins have not come at an acceptable pace, this team has been competitive and is very capable of beating any SEC team that's not playing clean baseball. Two weeks ago, a 1-8 Tennessee team traveled to Gainesville, Florida, and took two games from the nationally-ranked Gators. The Vols were two runs away from taking the road sweep, losing 5-4 on getaway Sunday.
Serrano's squad returned home to face first-place Auburn, taking one game and falling one run short of a series win after losing, 3-2, on Friday. In fact, of Tennessee's 11 conference losses, six are by two runs or less. While this team sits near the bottom of the SEC standings, they are competitive, and the Aggies need to be ready to play good baseball.
Surprisingly, Tennessee boasts two of the top hitters in the SEC. Senior infielder Jordan Rodgers is ranked third in the SEC in hitting with a .375 average, but more impressive is his streak of reaching base safely in all 33 games he has started in 2017. He also has some pop in his bat, with a team-leading 14 extra-base hits, including five home runs.
Another senior infielder, Jeff Moberg, was recently placed on D1baseball's Mid-Season All-American list, with a .333 average and a team-leading six home runs. Freshman Pete Derkay is hitting .324, but more impressively, he's fifth in the league in walks (24) and has a very impressive on-base percentage of .479. In fact, Tennessee has four starters hitting above .300, so the top of the lineup is dangerous.
But, the production at the plate drops off significantly at the bottom of the order. Overall, Tennessee is hitting .283 as a team compared to .285 for Texas A&M, which ranks in the middle of the pack in the SEC. The Vols haven't been as productive plating runners, only scoring 181 runs to 254 for the Aggies.
On the mound, Tennessee has struggled to find a consistent weekend rotation. Friday starter Hinter Martin has been the one mainstay.
On the mound, Tennessee has struggled to find a consistent weekend rotation. Friday starter Hinter Martin has been the one mainstay, with a solid 4-3 record and 3.47 ERA, which are very similar numbers to his counterpart, Brigham Hill (5-3, 3.29). Opposing hitters are batting at a .249 clip, and he's allowed 55 hits in 57 innings. He does force teams to earn their runs, walking only nine batters in nine starts. He has good numbers, but not the dominant numbers one expects from a Friday front-line starter.
Right-hander Garrett Stallings will be making only his fourth start of the season after his transition from the bullpen. While his 3.18 ERA is impressive, his hits (45) and innings pitched (39) show he's very hittable. Left-hander Zach Warren is projected to start on Sunday, and his 2-4 record and 5.92 ERA indicate that he's been struggling most of the season. Tennessee does have an effective closer in Jon Lipinski, who boasts a sparking 0.98 ERA and earned a win and a save in the two big victories against Florida.
Texas A&M storylines to watch
The storyline is simple for the Aggies. The recipe for success with this 2017 team is pitching and defense. While the offense is capable of getting some big hits and driving in runs, this team will not overpower opponents with offense like the 2015 and 2016 squads. A rare error by shortstop Austin Homan allowed two unearned runs in a 3-2 loss at UT-Arlington on Tuesday. That illuminates just how important it is for the 2017 Aggies to play cleanly. There's just not any margin for error this season, and the recent turnaround is directly attributable to the improved defensive play and pitching, especially from the bullpen.
In the past 10 games, the Aggie bullpen is 5-0 with four saves and a 0.99 ERA in over 36 innings of work. The relievers boast a 0.88 WHIP and have 39 strikeouts for the month. Guys like lefty Kaylor Chafin, Cason Sherrod and Mitchell Kilkenny have formed the core of what has developed into a very good bullpen and a strength of this team. During this stretch, the starting pitching has been wildly inconsistent, but the bullpen has stabilized recent games and allowed the offense to come back and win several critical contests.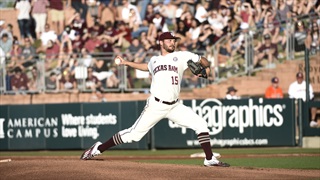 Lexie Hudson, TexAgs
With that said, a team can't win often enough with an unsteady weekend rotation. Brigham Hill has added nearly two runs to his ERA in the past month. That must change. Texas A&M was lucky to win a series opener on the road with its ace going only four innings. The team was fortunate the opponent was last-place Alabama. Typically, you don't recover from a series opener in the SEC when the starting pitcher gets knocked out of the game before the 6th inning.
Stephen Kolek and Corbin Martin have shown flashes of dominance, but for this unit to make noise the rest of the way and into the postseason, the Aggies will need more consistency and quality starts from all three of their weekend starters.
In this hot streak, Texas A&M's fielding percentage has climbed to a very respectable .976. Most college coaches will say that a team fielding number between .970-.972 is acceptable. Despite some fielding woes at the corners early in the season, Texas A&M has come on strong thanks to the improved play of George Janca at third base and Joel Davis at first. It should be noted that the coaching staff has decided to put the best defensive unit on the field at the expense of offense, and that strategy has paid off with a 7-2 SEC record in the last three weeks.
There's no question that this season has become all about pitching and defense, with just enough offense to pull off victories.
What's at stake this weekend
On paper, it appears that playing a 4-11 SEC team isn't a big deal in the big scheme of things, but that's simply not the case. First, the Aggies want to continue building on this recent momentum and playing clean and winning baseball. Tennessee has shown it can beat better teams on the road that aren't ready to play good baseball. Second, while there may not be much to gain in terms of RPI and seeding for the NCAA Tournament in June, there is a lot to lose. A couple of home losses to a 19-15 team would not look good on the resume and would drag down Texas A&M's RPI numbers.
Most importantly, the Aggies are back in the SEC race at 8-7 – just three games behind Arkansas.
Most importantly, the Aggies are back in the SEC race at 8-7 – just three games behind Arkansas, who must finish the season with a three-game set in College Station. There's a lot of baseball to play, and a three-game sweep at home this weekend would put this squad at 11-7 in the SEC.
That's squarely in the hunt for an SEC title and a possible regional host spot. Play poorly this weekend and drop a couple of games, and those two goals are all but out the window. It's mid-April, so every pitch and every game is important.
Never miss the latest news from TexAgs!
Join our free email list