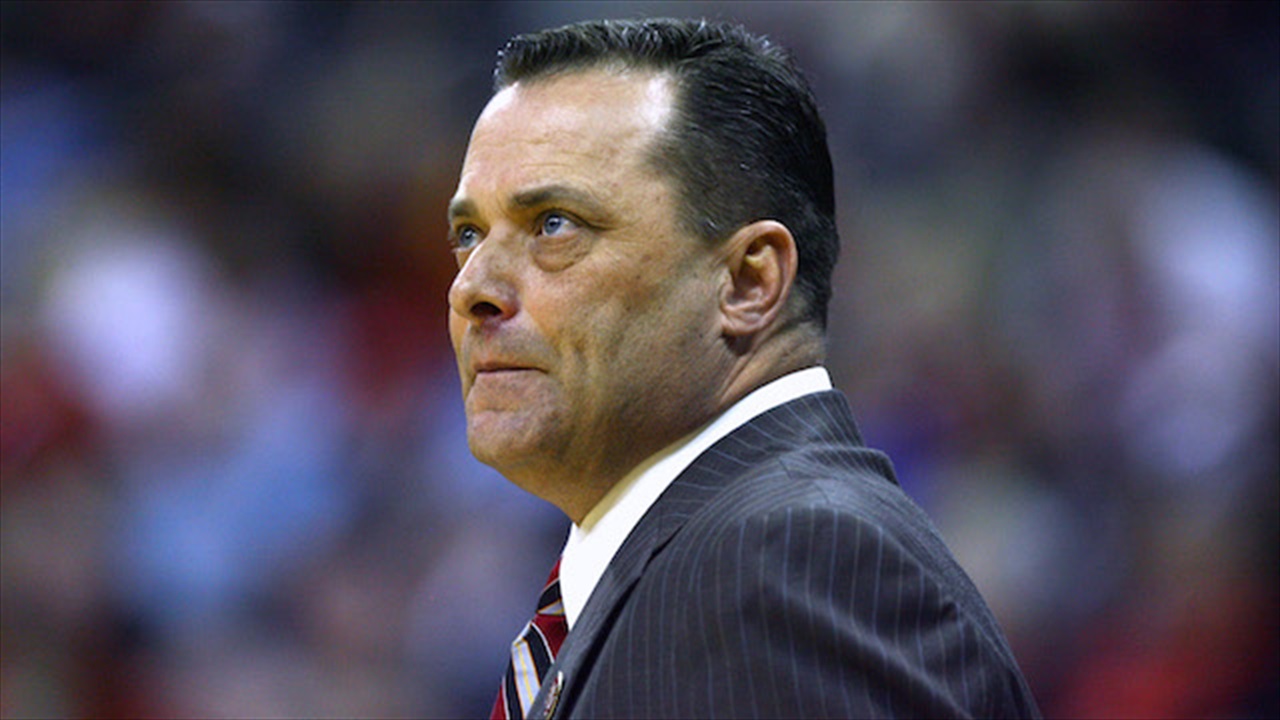 Photo by Ed Zurga/Getty Images
Texas A&M Basketball
Billy Gillispie reflects on time at A&M, taking UK job, Billy Kennedy
---
Key quotes from Billy Gillispie interview
"I'm doing a bunch of nothing. Bunch of stuff to keep myself busy and doing some basketball stuff, watching a few games. I've got some other little interests I try to take care of as far as just fiddling around. I was doing a bunch of real estate, bought and sold some stuff. I go to auctions all the time. I find stuff to keep myself busy."
"I do miss it, I am a coach. I had some unfortunate things to deal with, my sister passed this last year. Last year I couldn't really do anything. She got cancer, I have four sisters and she fought it really hard for eight or nine months and then succumbed to that deadly disease. It has been tough because her and her husband lost a son two years ago and lost both mothers four years ago, so it has been a tough deal. My brother-in-law is the best guy in the world and he has one son left, so I try to spend as much time with those guys as I could, so that has kept me busy as well for the last year. I always find something to do. I love watching games and practices, I love being around people, I always find something to keep myself busy.
With all that said, it is time for me to get back out there and coach again because I do believe I bring something to the table and I do enjoy it and it brings a lot to the table for me, so when the right situation comes along, I'll jump back in."
"What Coach Calipari has done has been unbelievable, his recruiting run for the last seven or eight years, dating back to Memphis, is probably about as good of a recruiting run as anyone has ever had I would think. That's just an off the cuff statement but I really do believe that no one has done it better over a seven or eight year period. He has a put a really good team together and got lucky last year to where a couple guys that you would have thought would put their names in the draft decided to come back, so he ends up with two fantastic classes on top of each other still there.
"They have been great all year long. It's been amazing how well they have played. Most coaches have a time period when freshmen come in, no matter how good they are, where those freshmen don't want to guard. That is the most impressive thing I have seen Cal do, he gets those freshman to guard right off the bat and that is really difficult to do because they probably haven't had to that before in their high school careers. He gets them to guard and this team is really a good defensive team and that has carried them. They're okay offensively, they get a lot of stuff in transition and offensive rebounds but he does a fantastic job of getting everyone to buy into guarding."
"In my opinion, I think Kentucky does go perfect for a couple of reasons. Number one, they are very good. Number two, I think college basketball has taken a step back the last couple of years in terms of quality of play. Back when Duke was great, there were always seven or eight teams that could win it. When UNLV was making their run there was always the Duke's, the Carolina's, the UCLA's and the Kansas'. It was a tougher run through, but this year it seems like there has been Kentucky and then there is everybody else. That is a tribute to how good they are but I think overall, college basketball has taken a step back over the last few years.
"You look at a few teams that could beat them, I thought Duke could early and who knows, they still may but I don't believe they will. I thought Carolina possibly could but I don't believe that they have the discipline to beat them. Wisconsin, I thought they might, but they have a couple of injuries and aren't playing their best right now and are probably to slow to beat them. I thought Virginia had a chance but they got injured down the stretch. There really aren't many other teams that can. They just aren't physically good enough to beat them. You say anything that can happen in a particular game and you are exactly right, but I just don't think that anybody is close enough to them, talent wise, to get them beat."
"First of all, I think this was really Billy Kennedy's first chance, I wouldn't count those first three years. It takes a long time to get things back right, that is my opinion. Again, I have watched more this year than I ever have and so I think they are doing a fantastic job. When you look back at this season, they were in the tournament, it was done and then they suffer an unfortunate injury. If they would have made it into the tournament they could have been the UAB in the first round that wins or the Dayton or the old A&M team, our first team that beat Syracuse. Who knows, once you get into the tournament, you never know what is going to happen, that is why they call it March Madness.
"This team was a tournament team. You think back, everyone talks about our run and we had a lot of fun with it, but we had to win seven games in a row to put ourselves in position at the end. We started out 3-6 in conference and finished very strongly, but in that year if any of our guys would have gotten hurt, if any of those guys would have missed the last four, five or six games like Danuel House did, we wouldn't have made it either. That was an NCAA Tournament team, just an unfortunate injury at the wrong time. They have the program on track. The recruiting is great and getting better every year as far as winning games and things like that, so the future should be very bright for them."
"I know Billy Kennedy fairly well, because of the profession. I've known him for a while. He's known me since I was an assistant and I've known him since he was an assistant. A fantastic person, a real fair guy and a hardworking guy. One of the hardest working recruiters that is out there and that is paying dividends as we speak. It was always only a matter of time for Billy to get it done and he is a very good coach for A&M to have on their sideline."
"The only guy in my two years at Kentucky that we didn't beat was Rick Stansbury. We beat them all. We only played once a year and they beat us over at his place and we were kind of injured. The second year they made 14 threes and beat us at our place. He is a very good recruiter and always has been. He recruited all the guys that took Mississippi State to the final four when they made their run a few years ago. He's won a lot of games, recruited a lot of players and sent a lot of guys to the pros."
"I have seen all four of A&M's recruits play more than once. They should be very excited about their incoming class. All the fans should be really excited about getting to watch those guys. Number one, they seem like really good young people and they are hard playing guys and would fit into any program and are good enough to play for any program. They have size, scoring ability, versatility and interior play. I think Tyler Davis is going to be fantastic and the rest will be good as well. They have won and won state championships. They have all cut down the nets at the highest level of high school basketball and I think that means a lot and will carry over.
"Going back what we were able to do, when I went there, we only had four players from the state of Texas and one of them they counted Marlon Pompey even though he was really from Trinidad. One of them was Coach Watkins' son. When I left, we had 19 players and only three weren't from Texas. I thought that was a good deal for A&M because of the culture of the school. It gave people a group that they wanted to see and I think they had a great deal of pride in playing for Texas A&M. I think it is very important at that university to have local guys, in-state guys to try to compete at the very highest level."
"You look at every team in the country, look at Kentucky with the Harrison twins and last year with Julius Randle, who went to the NBA after one year. Everyone has starters from Texas that are playing at the very highest level. You look across college basketball and there are so many division one players who are highly ranked because of the AAU stuff. Texas used to be behind because they wouldn't let their players do anything in the summer, and then they changed the rules where guys could go and play. I remember Shaq couldn't go play in the summer. I was working camps at the national level at that time where all the best players would go and my players in Texas couldn't be involved. They changed those rules and it has really helped the high school and college players in the state."
"The Sweet Sixteen team means everything to me and I talk to those guys all the time. Acie (Law) just had another surgery a week ago from Dr. James Andrews that he is recovering from and is trying to figure out if he is going to continue to play or take a different path in his life. Hopefully he will continue to have a chance to play. Joe Jones is still playing, just talked to his mom this week. I always talk to Dominique Kirk, all those guys. They were such a good group and were better people. Donald Sloan is still playing and started tearing the NBA up when he got an opportunity to play. They have all done so well and I am so proud to say that I got to coach them. People got to see them play 35 times and I got to see them play like that every day in practice and that is why they were so successful. They loved to practice, loved being around each other and knew when to play and when to get serious. I don't think a coach could have been any luckier than to coach a group like that."
"The 'turning moments' don't often come for me because I'm always thinking, 'If we don't get better we are going to get beat.' We were always striving to get better. The thing about it is that they had established in that first year, Joe Jones, Dominique Kirk, Chris Walker and especially Acie had established such a work ethic and desire to get better that they reached a point where they really thought working was fun. Once you did that, you add some players like Sloan and Bryan Davis and all the guys they added to it and they said, 'Okay, this is the Aggie way. This is how we're going to practice. We're going to have fun when we're supposed to and we're going to hang out together when we're not practicing or in class. We're going to be close.' Logan (Lee) was a very vital part of that, some guys that didn't play as much were vital to that. It was the closest group you could have. They liked being around each other and were competitive.
"I think a big moment for us was when we were 3-6 the year prior to that. I told them, 'Our schedule is so difficult. The first nine games in conference are very difficult.' We had a good preseason and we lost some close games and ended up 3-6 and from that point on we said we were going to shock the world and it kind of stuck. We won seven games and I think five different guys hit game winners. Dominique hit one, Joe hit one against Oklahoma State and I think Acie hit about five. Red White won a game for us at Iowa State and then Acie hit 'The Shot.' Heck, we should have gone to the Sweet Sixteen the year before if I was a better coach. We had a lead and then lost it and then got it back because of Acie and then they hit a big shot to beat us. We would have been there two years in row if I had done a better job coaching them. They are all very successful and have the same disposition about them in how they approach life. They are great young men you are just proud to be around."
"Kentucky didn't work out like I thought it would but as far as regret, absolutely not. It was the right move at the right time. A lot of things changed in basketball, I thought you had to be at one of those places to win a national championship and I wanted to win multiple national championships. As basketball has changed and you can get players from anywhere, I really kind of misjudged it about being at one of those places. I don't regret taking the job, it was the right move at the right time, it just didn't work out."
Never miss the latest news from TexAgs!
Join our free email list