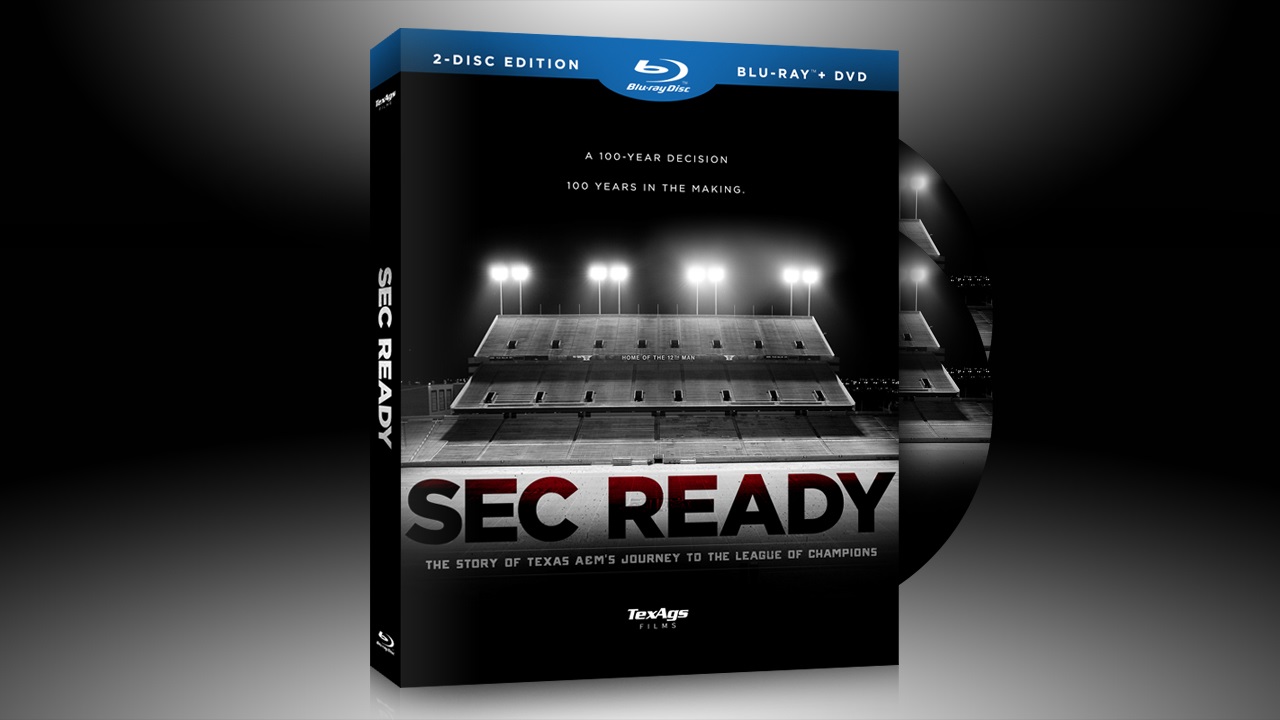 SEC Ready: Available NOW
---
When Texas A&M left the Big 12 to join the Southeastern Conference, most college football observers assumed the Aggies were destined to languish in mediocrity. Yet, on-field competition would pale in comparison to the hurdles the Aggies had already overcome to make the move. In exclusive interviews, SEC Ready, the first feature film from TexAgs Films, recounts the politics, negotiations and broken promises that led A&M to the SEC. Once there, the Aggies defied doubters, went toe-to-toe with college football's elite and proved they were SEC Ready.
Among those interviewed for the film include:
Dr. R. Bowen Loftin, Former President, Texas A&M University
Rusty Burson, Texas A&M Historian/Author
Billy Liucci, Owner/Executive Editor, TexAgs.com
Jason Cook, Sr. Associate Athletic Director, Texas A&M University
Jim Wilson, Former Texas A&M Regent
Kirk Bohls, Austin American-Statesman Columnist
Mike Slive, SEC Commissioner
Andy Staples, Sports Illustrated Senior Writer
Clay Travis, Fox Sports Writer/TV Analyst
Sean Porter, NFL Linebacker, Former Texas A&M Captain
Gene Stallings, Former Texas A&M Head Football Coach
Phil Adams, Chairman, Texas A&M Board of Regents
Cliff Thomas, Texas A&M Regent
John Sharp, Chancellor, Texas A&M
Directed by Lindsay Crouch and Andrew Cagle and produced by Brandon Jones, SEC Ready
is available for $24.95
, plus shipping.
The package includes a Blu-ray, DVD and access to an online version of the film at TexAgs.com.
If you elect to apply the online streaming code to your account during checkout, then you will have immediate access to the streaming version of the film at
texags.com/SECReadyFilm
. Otherwise, you will receive a code on your email receipt that you can redeem at
texags.com/store/redeem
. Once the code is redeemed, you will have access to the streaming version.
Get your popcorn (SEC) ready.
Director Biographies
Lindsay Crouch is a filmmaker originally from Athens, GA and is a graduate of The University of Miami. SEC Ready is her first feature length documentary film after nearly 10 years in the sports video industry. She held previous jobs at Texas A&M University's 12th Man Productions and The University of Southern California's athletics video department. She now resides in College Station, TX with her fiance, and is the Media Director for TexAgs.
Andrew Cagle is a non-fiction director and cinemetographer. He produced and directed and principal photography for SEC Ready. He has produced documentary shorts and features globally since 2010, with extensive experience in the Middle East and Africa. Andrew was a video producer at TexAgs from 2012-2014. He currently lives in Beirut, Lebanon with his wife, focusing on stories from the Arab world.
Full Credits
Director: Linday Crouch, Andrew Cagle
Executive Producer: Brandon Jones
Co-Executive Producers: Billy Liucci, Hunter Goodwin, Josh Oelze
Editor: Lindsay Crouch
Art Director: Stewart Wade
Narrator: Sam Williamson
Color Grading: Ryan Booth
Sound Mix: Daniel Karr
Script Editor: Gabe Bock
Additional Camera Operators: Kirby Clarke, Clay Taylor, Taylor Stanley
Pre-Production Assistants: Ronnie Woodard, Beau Holder, Andrew Ball, Abigail Cook
Music: Tony Anderson, Luke Atencio, The Music Bed, Premium Beats
Additional footage provided by: XOS Digital, 12th Man Productions, University of Nebraska, USC Athletics, KBTX - College Station, KXAN - Austin, KMBC - Kansas City, KJRH - Tulsa
Photography: Getty Images, Senate Media Services, Bob Daemmrich, Andrew Kilzer, Breakaway Ministries
Story Research: Brandon Hamburg, William Cannon, Trey McElfish, Sondra Schriewer, Michael Lednicky, Robert Marks, Paul Fullham, John Welch, Charles Pyryt, Jacob Nolan
Special Thanks: Jason Cook, Steve Moore, Logan Lee, Cat Ozier, Brandon Law, Andy Richardson, Rich Rodriguez, David Fitzgibbon, Pebble Creek Country Club, Texas A&M University, DFW Airport, DW Hooks Airport, University of Missouri, Austin American-Statesman, Texas A&M Board of Regents
Never miss the latest news from TexAgs!
Join our free email list