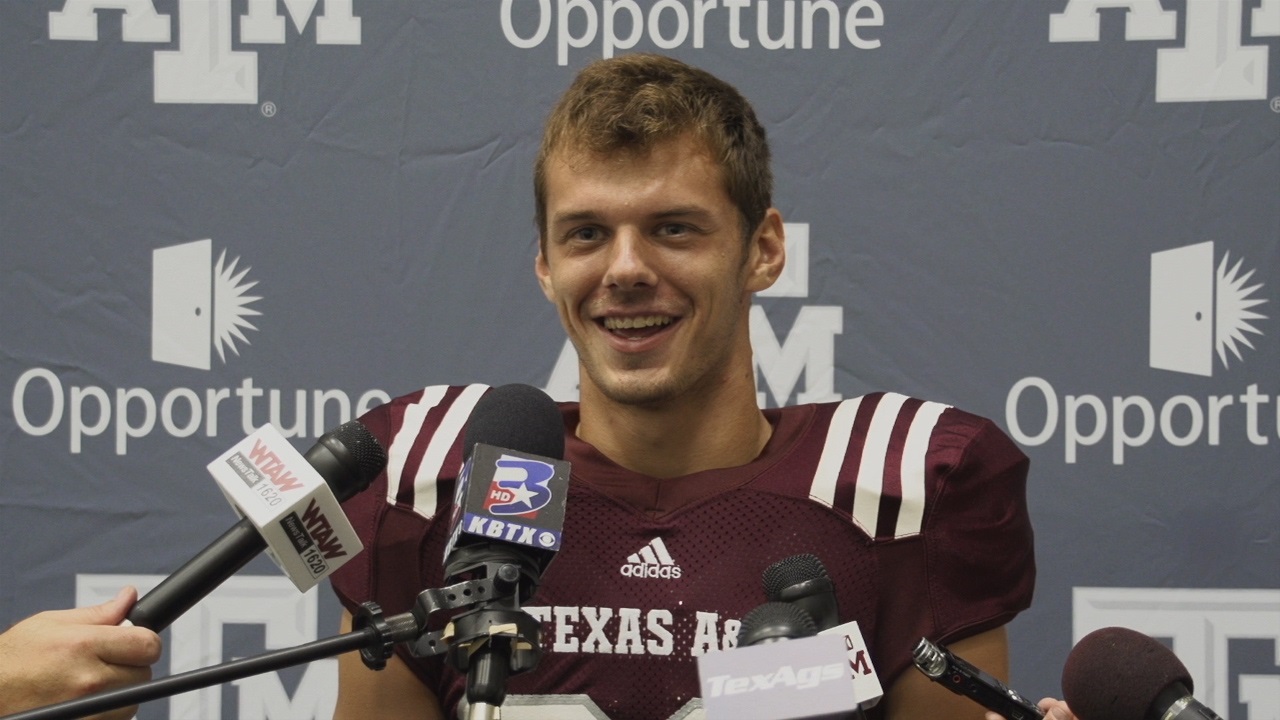 Texas A&M Football
Fall Camp Day 9: Banks, Kaser hit on special teams changes
---
Jeff Banks
On the where Taylor Bertolet is physically…
"He had some offseason stuff. I don't really want to talk about injuries. I'm excited to get him back. He'll be back here shortly. He really worked hard this summer, maybe too hard if there is such a thing — but I think there is with him. He's really growing up. I'm excited about getting him back.
"I think what's best about this situation is we are having to find out who our next guy is going to be. So, we have had an up-and-down situation so far, where we have made some good strides and then we have taken some strides back. The next 10 days are really important for who is going to be our backup and where we are going from there."
On Josh Lambo's progress especially last weekend…
"He actually did well in practice the day before. He went 5-for-5, he hit like a 53. Then he went into Kyle Field and missed the two field goals and then (Kyle) Serres came back and hit the other two. Guys step up in opportunities. Saturday will be very important for those two. Lambo's leg is a little stronger. He kicked off really well today, yesterday. I anticipate that will be something for sure that he will take the lead on. Field goal-wise its going to be who steps up the next 10 days."
On any worry about Bertolet being ready for the season…
"No. Not at all."
On the punt return game…
"Really good strides. Sabo (Sabian Holmes) has done a great job. He had a really good spring at it. He had a couple things on Kyle Field, in scrimmages like Friday Night Lights where he did fumble or drop the ball once or twice, which is part of the growing process. He has come out here and been unbelievable for 10 days catching punts. So I'm excited to see him in the action.
"We put Laquvionte (Gonzalez) and Sebastian (LaRue), because we thought as young guys those two are probably the most promising punt returners we had. We wanted to put them out there in front of everybody and Sebastian really stepped up. He's going to be in that mix of a backup role as he continues forward. But, in the future I'd look for him too.
"De'Vante Harris has done a really nice job. I think we all feel pretty confident with him and his ability after he catches it. I think that's part of it too. Then we have some other guys in the background that can catch."
On whether Trey Williams has competition at the kickoff return spot…
"Yeah, there is. Trey has got the experience and we all know that matters, especially in this conference. Laquvionte has a real shot. He's got a real chance to be in the things that we do in the return game. I think we can highlight some of that. He's got great speed. It's a great place for freshmen, like Trey last year, to get their feet wet without having to have a huge responsibility and knowing a lot of stuff. We're going to have Ben back there, we're going to have Trey back there. Two veteran type guys that are physical. They get kicked the ball, they can return it as well as anyone else.
"I think if you put a freshman back there, you've got to have a veteran to make some decisions and help that guy out, lean on him for a little bit of experience. Those are the only two guys out there when they kick it off. Coaches aren't on the field telling them what to do. That guy's there as a coach and we all know Ben has that leadership."
On whether Ben Malena will play special teams again…
"No doubt. Ben's a warrior. We won't be the same special teams group if he's not playing from a leadership standpoint, from an effort standpoint. He's at point of attack on a lot of things. Now, we all have to be smart in our decision making. That will be something I sit down with Coach Sumlin and kind of talk about as we move forward after Sunday, but it's going to be hard. He's a really dynamic special teams player, but if he's in a game in the third quarter getting a bunch of carries, then I've got to have someone behind him.
"What I've done is try to build that depth throughout the camp for the next guy behind a Ben Malena or a Steven Jenkins or someone that we think is going to have a big role in the game on offense or defense."
On TE Cam Clear's improvement…
"Yea, Cam has had a heck of a summer. His conditioning and his cardio has come light years from the spring. He was barely able to get through routes on air in the first 20 minutes of practice. He's not even breathing right now. And as a blocker, him and Nemo (Nehemiah Hicks) have really blossomed the last 5-7 days. They are much more physical than they've been and they are going against some good players on the other side, which is helping us get better.
"So, Cam's development has been very accelerated, but Nemo's has probably been more. He's come out and he's been a dominant blocker as a guy who isn't as big as Cam. He's really played well so he's done a nice job too."
On how often a two-tight end set will be used…
"I think it will just depend on game plan type stuff. It's just hard to tell. We have so many receivers and we have to continue to get depth there and experience. As we continue to move toward the passing game in this offense, you have seen a lot of different bodies come in and out of the lineup, but those two guys can catch too. So it will just depend on the opponent, their weaknesses, that kind of stuff."
On incoming freshmen making an impact on special teams…
"Yeah, that's a good question. There's a lot of them. What's hard for me is, we've got some speed in the veteran group of juniors and seniors and then we have got all these young guys. So, trying to build it where there's a veteran starting and then there's a rookie that's backing him up so they continue to learn throughout camp because sooner or later they are going to be taken over. You can't have all veterans starting and all the guys that play offense and defense play for special teams.
"I think Sean Washington and (Jonathan Wiggins), they're bot really good right now and playing well, they got banged up today. I think Darian Claiborne has shown that he can do a lot of different things, I'm excited about him. Noel Ellis as a defensive end on special teams, showing what he's doing. (Tavares) Garner has shown a lot of flashes lately. Victor Davis has done some nice things too. Mastro will be the bigger guy inside, and I think we're playing some core stuff as well."
On whether he's seen consistency from Drew Kaser…
"Definitely, and he's still getting used to the get out on Kyle Field deal. That's great, because he has had a tremendous week this week. He was really good the first week, then he got out on Kyle Field and had a bad one, averaged over 58 yards a punt on the next three. So, there are some things there that other people just can't do. He is hitting 68-, 70-yard punts out here on the regular. Even today he did.
"So my challenge is how are we going to cover that far. That's a good challenge, but he's that good right now. He's got to maintain some consistency, he's working on his hangtime and I'm excited about him. He's been the best specialist."
On whether that was the reason for recruiting so much speed...
"Yeah, exactly right."
On feeling good about the special teams units…
"Yea, I am. I'm not worried, I'm confident about this group but we do have a lot of specialists that haven't played. That's my challenge. How do I do that in practice? How do we do that as a staff? Put these guys in position without getting them hurt live. That's what we are doing. Trying to be creative, having people in front of those returners, having people rushing the kick without being on top of each other.
"Until the Rice game, it's going to be hard to be confident about it until I've seen it in action. But we'v got some guys, I know that. Once Rice comes and they get their feet wet and they start getting some experience, we are going to have a good season on special teams."
Drew Kaser
On the progression of becoming a consistent punter…
"I've worked on multiple drills. I work hard. I come out here, one-step drills, work on drop, work on flattening it, work on my extension, my flexibility, and I just try every day to be the best punter that I can be. That's really helped me out, and going over film with Coach Banks, getting in the classroom and learning has really helped me develop as a punter."
On improvements he's made in summer…
"I think that my consistency was one, hang time was another one, and my steps. I had to work a lot on steps and that led to the consistency and more hang time, and led me to be a more dominant punter for directional, which what we're trying to aim for."
On learning from former A&M punter Ryan Epperson…
"Epperson was a great teacher. I learned a lot from him over the past two years. He's a great mentor and he has taught me directional, he has taught me a lot of different things. But he really hasn't been in the system, so I had to learn a lot from Coach Banks and what he wanted."
On being the No. 1 punter and how it affects practice…
"It's a little bit better. The past two times we've gone to camp I've been competing. My freshman year I got injured with my hamstring, last year was a hard competition that I lost, but this year gives me more confidence. It lets me know that if I shank a punt or I don't have the punt I want, I can come back and nail my next one, and it's really helped me develop."
On patience waiting to be the starter…
"It's definitely been a process. My freshman year, being injured and not being able to play, last year looking like I was going to be able to play, so this year has been a blessing. I've been able to progress my punting, my technique, and really get my consistency down. So I think overall it's been a blessing and this year will be a great year."
On whether he's gotten to meet Shane Lechler…
"Not yet. Of course, be glad to meet him. He's a legend here, but unfortunately I have not been able to meet him. Unfortunately growing up in Ohio I didn't get to watch too much Texas ball, it was mostly Ohio State/Michigan, but I have watched film on him and he's an outstanding punter."
On his familiarity with the punting legacy (Lechler, et al) at Texas A&M…
"Yes, Brantley and O'Neal also. It's quite an honor to live up to, following after, so my goal is I want to be like them. I want to work hard and keep up the legacy here at Texas A&M."
On how much it helps having a coach who has actually punted…
"Tremendously. He knows what I'm doing, he's been in game situations before, he's been in real life situations, he knows if my drop is a little down, he knows 'in order to turn over in the wind you've got to do this,' ... he knows exactly what I can do or don't. We see eye to eye on a lot of things, which helps me out a lot. I think having him as a former punter, it kind of gives me an advantage over some other players because most coaches haven't been a specialist before and it really helps me out."
On switching different styles of special teams…
"Well, last year we were a pro style and this year we are a spread punt, so my get off has to be faster. He keys a lot on directional punting, and last year was not too much directional — it was just go out there and boom it. This year I've had to work on my hands, work on my get off time and work on my directional punting."
On being on a team that rarely punts…
"Well, you know, maybe a few games I'll go to Johnny and say, 'Throw a few more incompletions.' But it comes with the job and the offense. What can I say? With such a high powered offense and such a great team, I can't really complain."
On holding for PATs…
"Yes, I'm going to hold."
On whether he'll throw for any touchdowns on a fake…
"We'll see." (laughs)
On seeing more action as a punter versus a holder…
"I'll probably see more action as a holder than a punter (laughs)."
On coming to A&M all the way from Ohio…
"Well my recruiting coach at the time was from Strongsville, Ohio, which is my hometown. He called me up and we just had a great connection ever since then. I came down here for a visit in January and basically just fell in love with the place, the people and how nice they are; the weather, it was 60 degrees in January and I was coming down from three feet of snow. You can't compete with that. The coaching staff, the players down here, I just loved the whole atmosphere."
On whether he had prior A&M connections before coming down to Aggieland…
"No."