This is why I am a gym rat during the week.
I had to make my yearly Lake Meredith trip solo this year, since my buddy that usually goes with me had family and work commitments come up at the last minute. I started off early Saturday morning to get in front of the other hunters. The areas close to the parking areas get slammed on opening day, so if you are first in, you'll have pristine hunting conditions. The hunting strategy is to climb to the top of the canyons, skirt the rims, and then glass the bottoms. I passed up the first canyon north of the Plum Creek ramp, since it is easy to access and most hunters hit it. Get another canyon in, and you'll most likely not see another person the rest of the day. Oddly enough, another group of three hunters went all the way in to the fourth canyon this year, but I was already in front of them. They were the only people I saw while hunting.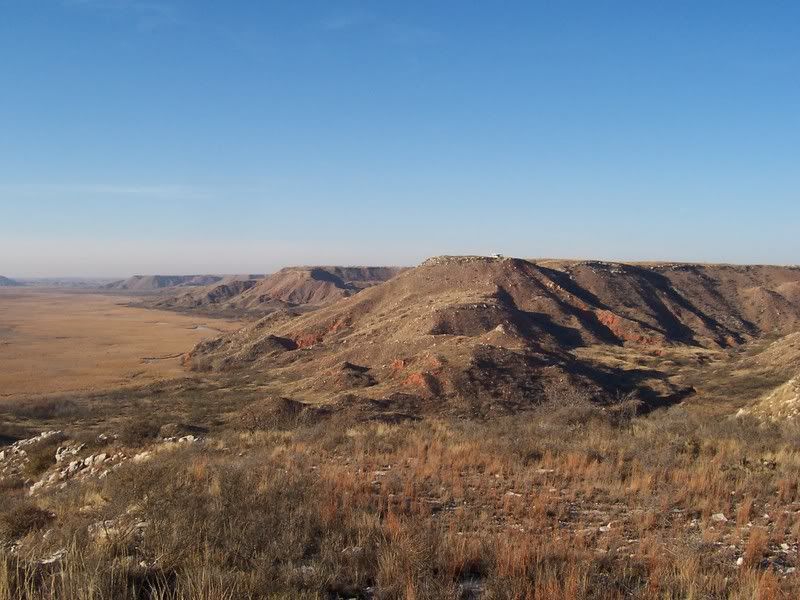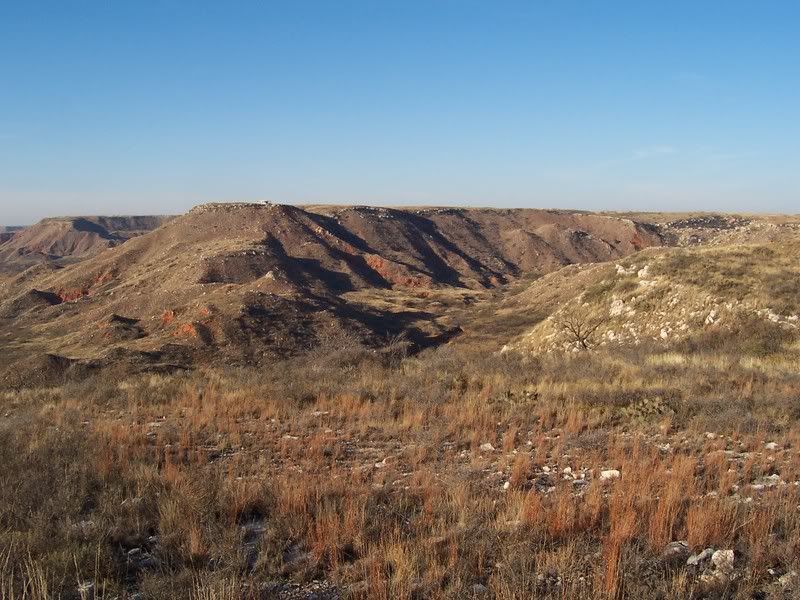 Second canyon north of Plum Creek, looking SW (upriver) back toward Plum Creek.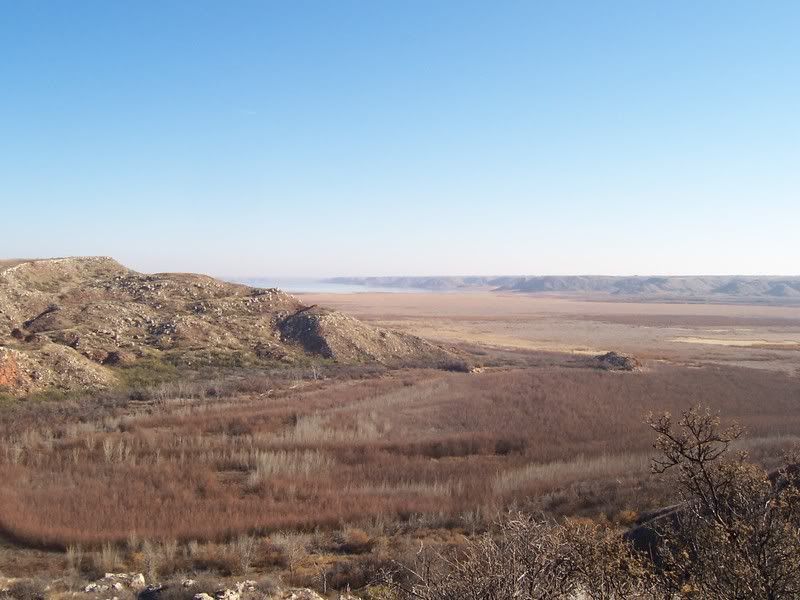 Mouth of fourth canyon north of Plum Creek, looking NE (downriver), toward Lake Meredith.
By the time I had made my way to the fourth canyon, I'd seen a few muley does and yearlings, a forkhorn muley buck, and a whitetail forkhorn. The third canyon is small, and I didn't see anything in it. Once I got to the fourth canyon, I immediately spotted a small whitetail mainbeam spike tooling around in the bottom. More glassing found a mule deer forkhorn bedded down, and I spotted a group of three huge tom turkeys. First ones I've ever seen up there, even though they are legal game during archery season and during the spring. At one point, I was glassing the bottom right below me, and I noticed something light colored. Watching it for a few minutes, I was able to finally determine that it was a bobcat. A minute or so later, I spotted another one. One was larger than the other, and I think it was a female and her almost fully grown kitten. The smaller one was playing and pouncing on the larger one. It was pretty cool to see, and I got to watch them for about 15 minutes. I think she was teaching the kitten to hunt. These are only the third and fourth bobcats I've ever seen in my life, so getting to watch them for that length of time was a real treat.
After glassing the fourth canyon for a couple of hours, I decided to go on up to Evans Canyon. I've always wanted to hunt Evans, since it is absolutely huge, but it is probably one of the most remote, hardest to reach canyons in the whole area. I made the mouth of it one year, saw its size and the time of day, and turned around and went back. This time, it was early enough in the day, and I had already told myself that I wasn't going to shoot anything that far in unless it was a real bruiser, since I was flying solo. I've also walked out in the dark before, and had my GPS to help guide me if needed.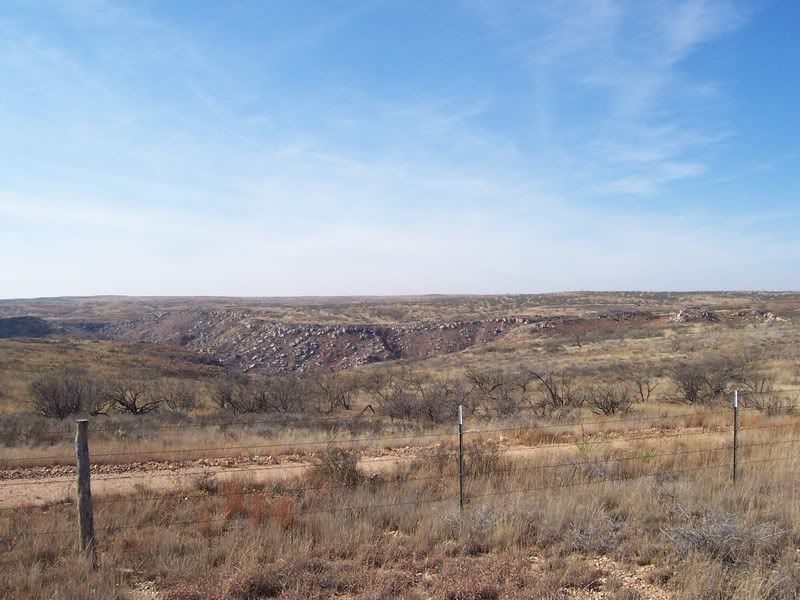 Looking SW at fourth canyon from Plum Creek, as viewed from the rim of Evans Canyon.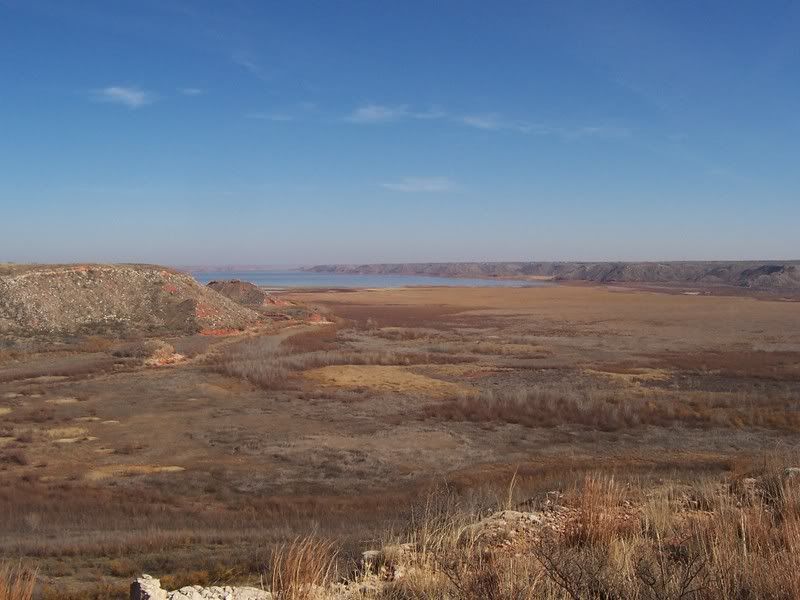 Mouth of Evans Canyon, looking NE (upriver) toward Lake Meredith.
Upper end of Evans Canyon. It curves around to the left and has a couple of forks, so there's a lot more canyon left to explore.
Canadian River Valley, looking east. Borger is just across the river.
About the time I topped out at the mouth of the canyon, I spotted a small whitetail buck below me. He was either a 6 or 8 basket rack. I glassed for a little while, then moved on up the canyon to glass a different area. I found my new spot, and started glassing. An hour or so later, I was getting ready to move on up the canyon, when I noticed a couple of deer in the bottom, up canyon and in the mouth of a small side canyon. I glassed them, and one was a forkhorn and the other a larger deer with oddly shaped antlers, but they were to far away for a clear view of them. The deer were posturing and had their hackles up and ears back, so the rut is kicking in. I backed off from the canyon, skirted the side canyon, and came up on top of them. By this time they had moved into some brush, so I didn't have a clear view of them. But they'd picked up a buddy, a nice 6 or 8, but nothing too huge, so I decided to pass on him, since I've seen bigger there. About this time, the group started to move off in their own directions. I spotted another forkhorn a few minutes later, and he had another deer with him. I could tell the other deer was larger, and I kept getting glimpses of a decent looking rack through the brush, but I couldn't tell how large he was. I watched him make a scrape, licking branch, and a rub. They moved off across the canyon, and when they got to a clear area, I was finally able to see his rack. He looked like a nice mature 8 point, although he did look kind of spindly, not very tall, and narrow. But he was the best buck I had seen so far.
They were 500+ yards away at this point, so I couldn't rally tell much, just that he was bigger than the rest. They went into a clump of brush, and never left it. I could see them moving around once in awhile, but they were in a spot that was surrounded by open areas, so I knew they hadn't left it. I decided to go up canyon a little ways, then drop in and sneak down the canyon to try to get a better look at him. The wind was blowing up the canyon, and there was a dry streambed with high banks running up the middle of the canyon, so it was perfect for me to get a hundred yards or so from him.
I made my way down into the canyon, and as I was walking down the streambed, I jumped my first covey of about 20 quail for the day. It must be a down year, since some years you bust a covey every hundred yards up there. I made my way to the landmark I had mentally marked to exit the stream, and made my way to a small hill where I would have a good view of where the deer were last located. I climbed the small rise and spotted a group of four muley does which I knew were below the other two deer. I was reaching for my binoculars to glass the area where I thought they were, when I suddenly saw him walking through the mesquite brush toward the streambed. He was about 100 yards in front of me. I glassed him, and all I saw was MASS. It was an instant decision to shoot. Binoculars dropped, rifle came up, and as soon as he hit a clear spot, BANG, FLOP.
I about crapped myself when I walked up on him. Simultaneous thoughts of "Holy Crap, this is a huge deer" and "This is going to be the suck packing him out of here" were going through my head. For reference, his inside spread is 14.75" and his outside is 17". And his neck was absolutely massive. He was so big that it made his antlers look small, which is why I was having a hard time judging his rack. He's not the largest buck ever, but he came off of public land, and I earned him the hard way. He'll look good next to my elk.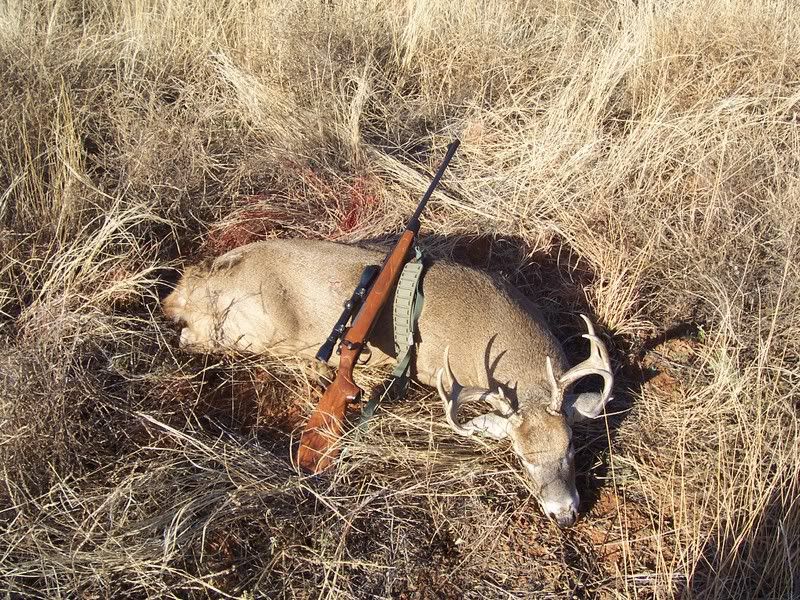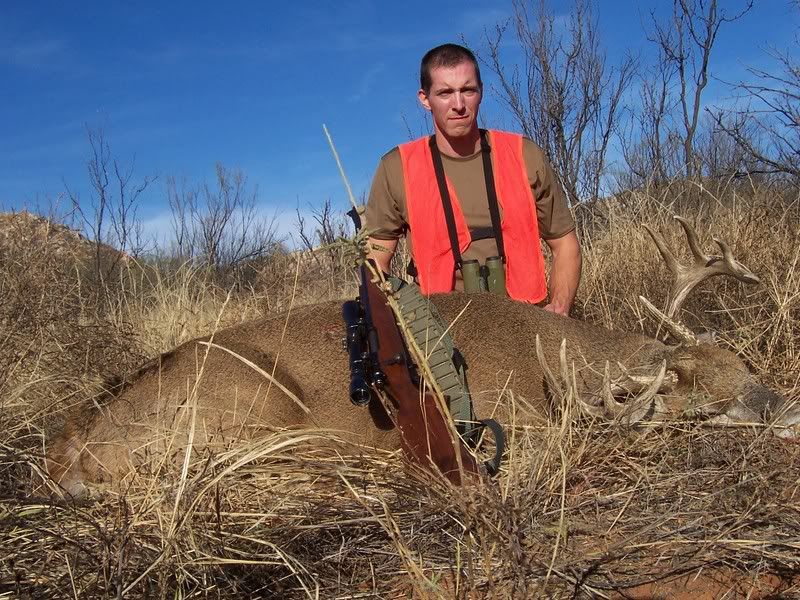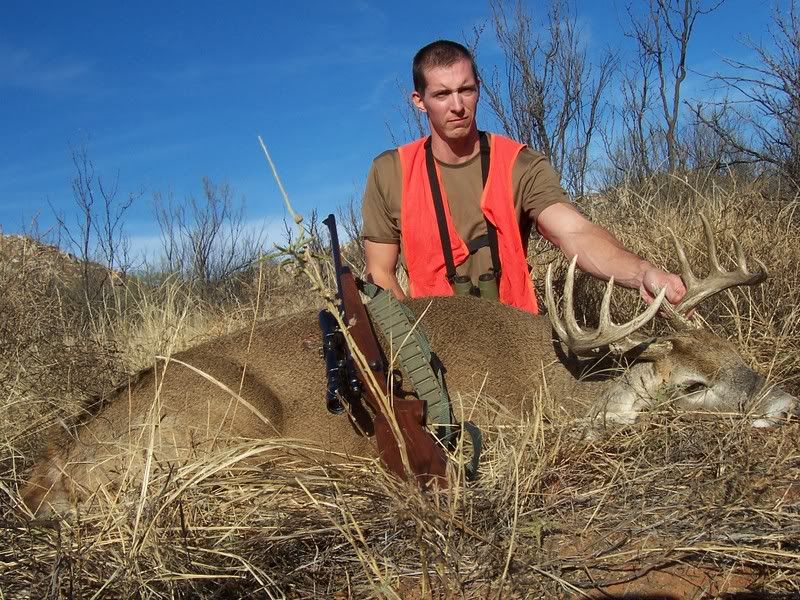 I managed to get him quartered, boned, caped, and loaded into my backpack. I had lay on my side, get the backpack on, roll onto my belly, then get on my knees to get off the ground. The pack out was about 4 miles and was absolutely brutal. Coming up out of the canyon was the worst, and I managed to hyperextend my knee at one point after I topped out. But, I finally made it out, and am dosing on Ibuprofen at this point.
My white whale is a large muley. I know they are there, they're just a lot more elusive. I've still got some vacation left, so I may get a wild hair and decide to go up again next week. After my legs, knees, and back recover.