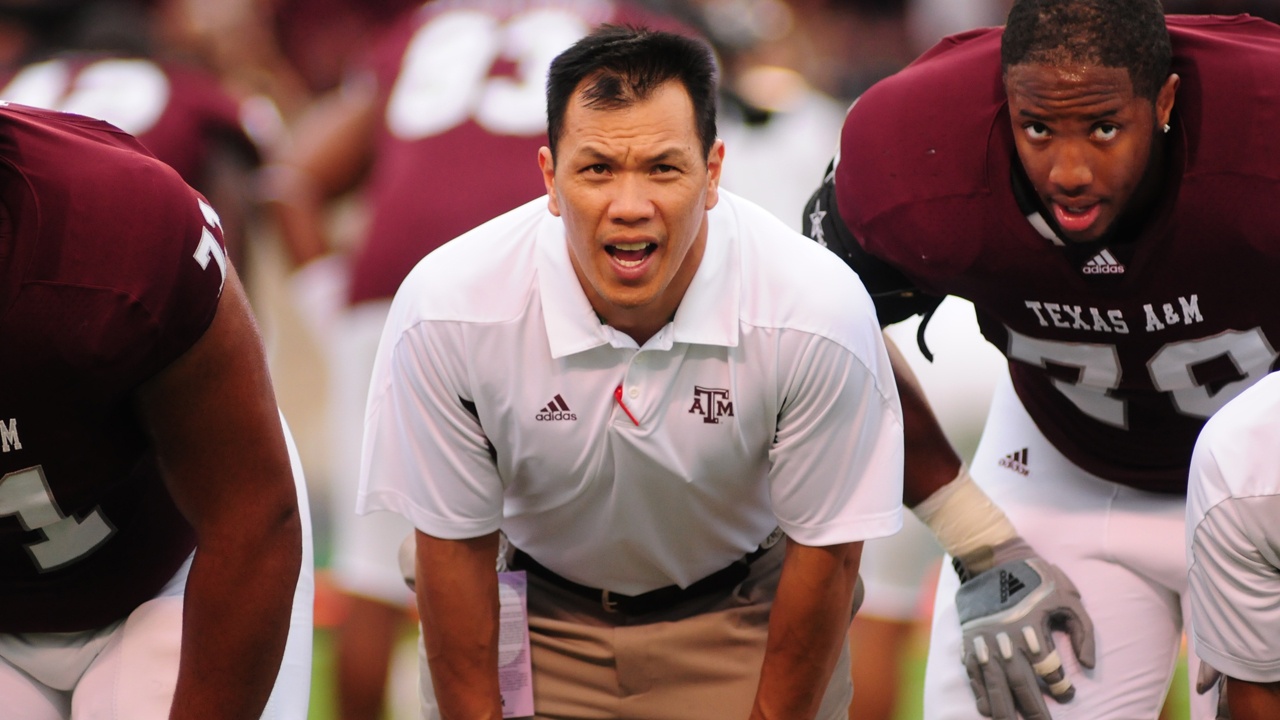 Texas A&M Football
Dat Nguyen discusses coaching career, playing time at A&M
---
Notes from Dat Nguyen interview

* He learned a lot the past couple of years during his time as a coach at A&M. He initially left his coaching spot with the Dallas Cowboys for the spot on the A&M staff because he wanted to be able to teach kids how to play. Six years ago, he said he would never coach in the college game because of the time it takes to be a really good coach. After actually experiencing the college side of things, he thinks that all of the other collegiate coaches deserve a tip of the hat because of the time and effort it takes them to be good at their job.

* There are so many rules and regulations when it comes to recruiting kids. In his opinion, having to recruit kids was just something he wasn't made for. Recruiting on the college level is not hard, but it definitely challenges your morals and your values. In his opinion, more time should be spent taking care of the linebackers that are on campus and actually on the team, rather than chasing around 16 and 17 year old kids that might not even turn out to be productive at the next level. Kids these days have a very entitled mentality, whereas he was just fortunate to have any opportunity at all to play football at the collegiate level. On many occasions, he knew of coaches talking to players during dead periods. Knowing that if you didn't continue to talk to them as well, thereby forcing you out of their recruitment, was really tough from a morality standpoint on a day-to-day basis.

* After coaching at A&M, he looked at a lot of different opportunities as far as a career path goes. He knew that he was opening another chapter of his life and knew he wanted to find something that would keep him motivated. Jerry Jones offered him a job in the Cowboys' scouting department, but he really did not want to move back to Dallas. After talking about it with his wife, the two of them decided that San Antonio would be the ideal place for him to take a job. He initially accepted a job with an IT company in the San Antonio area and in the process of moving, met one of the San Antonio ESPN radio hosts at an autograph signing. Two weeks before he was to start his IT job, ESPN radio called him and offered him a spot on the air to talk sports. It was a natural fit which led to him taking the radio job, and he's excited to see what it has in store for him.

* He was a basketball player growing up, until he fell in love with the game of football in the eighth grade. He learned the game by watching it on television whenever he had a chance. He remembers the first day people were allowed to start recruiting when a coach from Michigan showed up at his door. At the time, his parents didn't believe that someone could actually pay for college by playing football and he jokingly thinks they are still waiting for a tuition bill from A&M.

* When he got to A&M, he didn't have the instance success that he dreamed about. When you're the big man on your high school campus, which all of the recruits are, it takes a second to realize that pretty much everyone on your college team was a big man on their campus as well. He was disappointed at his performance initially and even thought about transferring from A&M on multiple occasions because he thought he would never see the field. He went back to talk to one of his high school coaches about the possibility of transferring, and they stressed to him that A&M was a great place to get an education, something that will last much longer than football. He then put himself in a position to perform, and finally got the opportunity to play. Once on the field, he was able to do very well and ended up becoming one of the best linebackers in A&M history.

* He met his wife Becky at a bar one time when he asked her to dance. She didn't really want to dance with him, and after a few minutes said she was going to the restroom and that she would be right back. Hours later, the bar closed and there he was just waiting for her to get out of the restroom. A year or so later, he ran into her again at a party. Of course he still remembered her and she had no idea who he was, but the two of them hit it off at that time, and the rest is history.

* The thing he misses most about the game of football is the preparation. The challenge of preparing yourself for the unexpected and anticipating what will happen is a feeling like nothing else. Accomplishing something as a group is one of the most rewarding feelings and is something that is hard to explain unless you have experienced it before.

* The thing that sticks out the most during his time at A&M has to be the Nebraska game at Kyle Field when Jamar Toombs took the ball 70 yards for a score. That game was a turning point for A&M as a program and was the first 'Maroon Out' game ever.