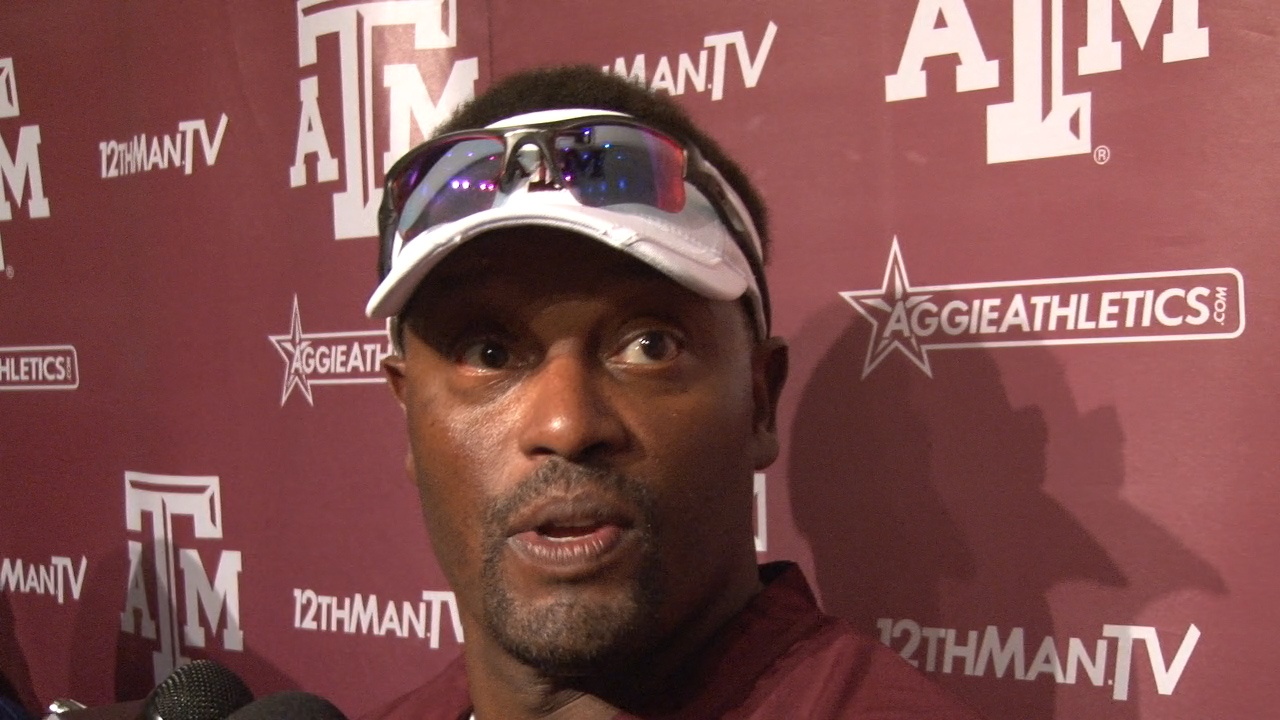 Texas A&M Football
Sumlin assesses results of A&M's second live scrimmage
---
On ones and twos, defense and energy levels

On how Johnny Manziel performed in a live-action setting...
Sumlin: "I don't know, I think today was good and bad. Like I said last week, everybody was happy about offense. The fans pay to see that and the defense was bad. (But) I thought the defense was better today. Had a bit of continuity with the ones. The twos struggled. The quarterbacks did OK. The turnovers came from a fumble going in, a hit and dislodged ball going in; we worked a lot of situation stuff — red zone, coming off our own goal line. What we were trying to do there was get two first downs and turn the field over if we had to punt it.

"There were some good things. It's hard for me, just coming off the field (to say), but we had some guys that played well. I was disappointed with the amount of energy that was out there. We're not a good enough team to just go out there and play football and go through the motions. We have to play with energy. I didn't see that today like we have been. We practiced twice yesterday. Actually, we've had eight practices this week in five days. Today would've been nine.

"So we're going to give them tomorrow off and come in and watch video. The good news is we didn't get anybody hurt today. And we got 70-something snaps. That's valuable. And as you guys can see, the goal today was to scrimmage the backups. And what you got out there was backup football today. Didn't know what the hell was going to happen. We throw it, we catch it, sometimes we don't, guy catches it (and) gets hit ... that's the reason why they're backups. And that's why we're trying to develop those guys and see who's going to come on.

"There were some guys out there that made good plays. De'Vante Harris continues to hold his own. I thought our linebackers were better today and our front was better. (Jonathan) Mathis makes a difference; we held (Kirby) Ennis today for a reason. We'll get both of those guys in there and, obviously, (Spencer) Nealy is playing really well. So there's some good things, from what I saw today. I have to watch the video and see much more."


On whether the defense is progressing to what he called the 'how-to-do' phase, out of the 'what-to-do' one...
Sumlin: "(Chuckle) Yeah, we're not a sit-there-and-watch-it defense — and we can't be. We're not going to make excuses for what we have up front. We've got to play with what we have. And so we've got to be creative. I think our defensive staff is doing that. You can see we've got multiple fronts and we're moving around. I like it being active. And it creates problems for us, particularly with that second group of O-linemen who have to block all that.

"And you see the big difference in why guys are starting and why guys aren't."


On Matt Joeckel's day and whether there's a battle for the backup spot...
Sumlin: "It's going to continue all year. I told you at the beginning, all three of those guys have played well. The key is, they're competitors. They understand. They're all still going to get better. You never know when your chance is going to come. They know that and Johnny knows that. You can do one of two things. You can take where you are in life and try to improve it, or you can hang your head and say that's that. And these guys aren't doing that.

"We've got a couple positions out there right now that, if they were competing at the level the quarterbacks are at right now, we'd be alright. There are some guys that have accepted their roles and that's disappointing."


On what role Gaston Lamascus can play this year...
Sumlin: "I don't know. As long as he can be consistent, he's got a chance to maybe help us. And that's all we're looking for. We've got some guys that, for whatever reason, are playing well and others get stuck out there and we don't know what they're going to do. And that's not good. And because of that, they won't play.

"As long as a guy is consistent with what he's doing and we can trust him and he's playing with an effort, he'll give us a chance. So whether you're on scholarship or a walk-on, the guys that do what we ask at a high effort level are going to play."


On Trey Williams and how he showed today...
Sumlin: "Well, did you like last week? Or this week? (Smirk.) He got tired today. He was tired and got run down from behind; I'll give him a hard time for that. He's a good player, and we gave Brandon (Williams) ... I don't know what his status is going to be, but (Williams) fumbled going in for a touchdown. That could be a 14-point swing. That's a scoop, pick-it-up, nobody down there and you could run 100 yards. And it's a hit he didn't have to (take). He plays so hard, he veered back into a guy, tried to run him over, he doesn't need to do that. Just score.

"All these are learning situations that we try to get guys in. But (it was) a good hit from our defense. We missed tackles early and the most disappointing thing, I'd say, was the number of penalties. But there were some things going on out there that were kind of iffy. We'll work on that."


On where Deshazor Everett is fitting best in his mind...
Sumlin: "There's no doubt he's going to be on the field. It's just where. He's a really good corner, but he's a physical guy in the middle of the field. (The caused fumble) is a play that, if he's at corner, who knows if he's going to be able to make that hit in the middle of the field. So we've got to get our four or best five guys on the field. There's no doubt he's going to be one of them. We held Steven Campbell today. He's been doing a great job for us. I think Steven Terrell is coming on. But we held Campbell.

"And we've got to just figure out who the fourth and fifth pieces are. Toney Hurd's working pretty well at nickel."


On moving to a more team-oriented phase after lots of practices...
Sumlin: "I think so. We're getting back to one practice a day. Getting through camp, really scrimmaging and going two hours in full pads last night, then coming out here today, the energy level really showed. But we've got to fight through that. That's where you have to be a tough team physically and mentally. That's the reason we did that. Just to let them know you can do it, but you've got to create your own energy.

"Our team didn't do that today and that's a learning experience. You can't play this game at a high level without emotion. We lacked that today."


On whether the NCAA's delay on the Brandon Williams decision is frustrating him and if he knows anything new...
Sumlin: "No. And it's not frustrating. We'll figure it out. I'm sure we'll hear something this week."