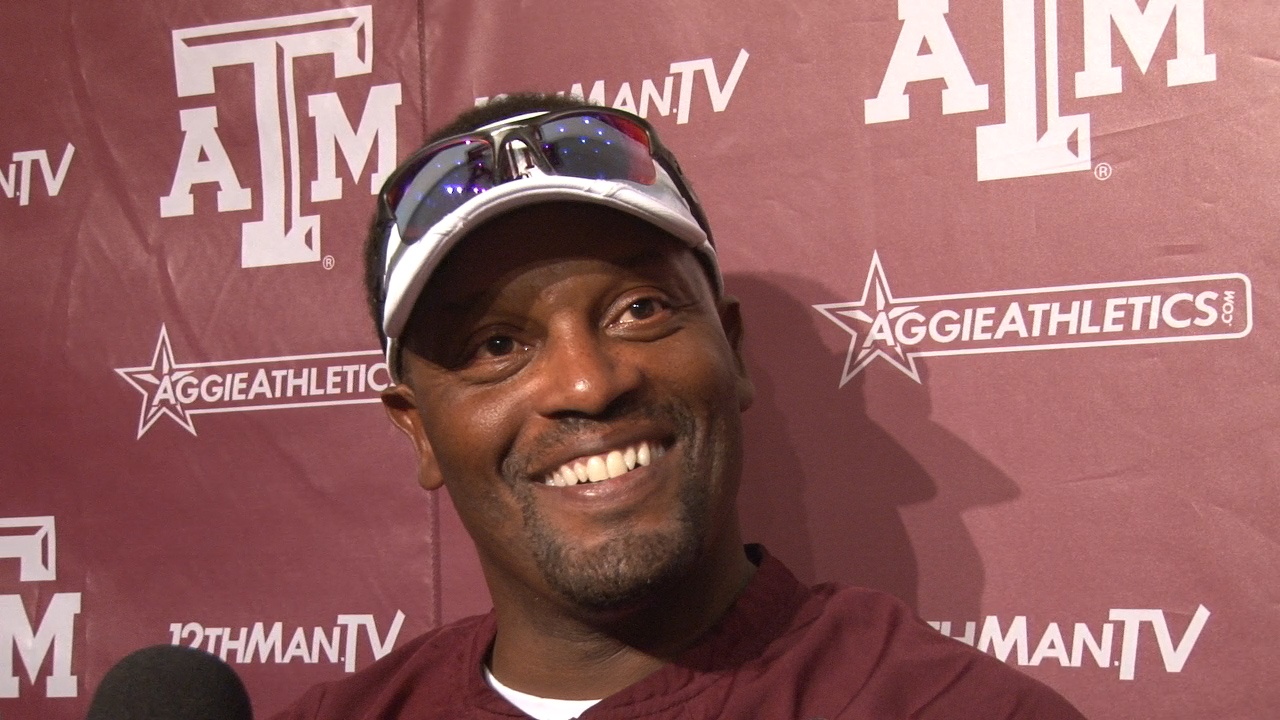 Kevin Sumlin
Kliff Kingsbury
Texas A&M Football
Fall Camp Day #12: Sumlin & Kingsbury
---
Kevin Sumlin
On how the day went...
Sumlin: "Some good, some bad. Obviously we had a couple yesterday and we went into Kyle Field and scrimmaged a bit. It was kind of closed off and gave us a chance to look at some of the guys we still have questions on, get them in another live situation. There's one last live one on Saturday and we'll probably get 25 plays a quarter out of the ones, then 40 or 50 out of the others.
"We'll find the returners and after that, we'll basically be ready to get into game preparation. And really into a routine. We don't have school next week, which is a little different for me. Usually camp ends and school starts, but we're playing a bit early. So it'll give us a chance to focus on what we want to do and what we want to get accomplished and it's a good thing for this team right now with so many new things going in."
On what Johnny Manziel showed to make him the guy at QB...
Sumlin: "Well, like I said. It's not that the other quarterbacks were playing poorly. I think they all improved. I've said it from the beginning, just watching them in the spring, them having an opportunity to really be in the system, getting the ground rules, the reads, progressions, route structure, conversions, all that stuff, working on that through the summer, I've seen guys get better. And they all got better.
"We came in in the fall and there was a real competition. Basically it gets down to this: He's played very well. Is he perfect? No. He's nowhere near where we need him to be, but he's improved. He's doing what we need him to do. And our philosophy as I've said is having two weeks. We can't continue to give three quarterbacks the same amount of reps to get ready to play the game. In my experience we've never even given two the same amount of reps.
"We had to make a decision and we've communicated with all three of those guys. They understand it and they're going to keep working at it. But throughout these competitions and throughout the fall, Johnny's moved the team and has been extremely efficient with what he's done."
On what Manziel's biggest strength and the thing he needs to work on most are...
Sumlin: "Why would I tell everybody that? (Laughter.) People read your work all over the country (he was talking to Brent Z). They might read that in Ruston. I think the internet gives people ... just in general terms, he won in high school, he's extremely athletic, he wants to be really good, he's soaking things up, he's working very hard off the field. All our quarterbacks are. I think every one of them is, as I said a week ago.
"Every one of them has some things they do well and they have some deficiencies. What he has to do is continue to do the things that he does well. He knows he can run; I think he's done a better job this fall by staying in the pocket longer instead of just escaping early and running like a crazy man all over the field. He's improved in that regard. I don't necessarily want to let everybody know. They can watch film, they'll figure it out."
On how Jameill Showers and Matt Joeckel have responded...
Sumlin: "They're good. They're just playing like anybody. I told them it's different than a lot of positions — you can't move them from MIKE to WILL linebacker, from X to Z receiver, go play corner or nickel. There's one quarterback. So they understand and, just like everybody else, they're a play away from playing. So they have to prepare themselves not only to be able to compete, but prepare to win games. And the playbook doesn't hardly change in the middle of a game. You've got to be into it, you've got to be in tune with it.
"Do you have to accept it? Not necessarily. But you have to deal with it. And understand that if or when you get your opportunity, you've got to be ready to take advantage of it."
On how he keeps Manziel's expectations down and his focus on Louisiana Tech...
Sumlin: "It's pretty easy, because you're the only guy that thinks about (other things). He's just worried about today. Twenty-four hours ago, whether it was Sam Bradford or Case Keenum or Drew Brees, they never said, 'You know what? I'm worried about what's going to happen the next four years.' That makes no sense. Anybody who's ever played the position knows that there's plenty going on in your mind. You've got a lot of things you've got to deal with.
"Winning. We're all judged on winning. They've got to do a lot more and that's just the nature of the position. Quarterbacks are an extension of the coaching staff and, just like me, we get way too much credit when we win and all the blame when we lose. And that's the way it is. Quarterbacks are the same way. As a young quarterback, coming to grips with that is ... the quicker you can deal with that, the better off you are without it putting too much pressure on you."
On Manziel's offseason trouble and how it changed things...
Sumlin: "Johnny's done a lot of things with us internally since June 29. Because of that, you're coming up on two months since that incident. There's been a lot of things he's had to do internally, first of all, to get back in the team's good graces and be able to compete. He's handled that and probably done more than a lot of people even know. And there's something to that.
"There's a respect for the position. You've got to be able to lead yourself before you can lead the team. In order to do that, you have to have respect. So internally there's been some things he's had to complete just to get back to this point, just to get back to being able to put the uniform on again, and he's continued to do that. So that's where that is."
On how the tempo has been...
Sumlin: "I'm never pleased. It's never fast enough to me. But it's getting better, yeah. It's getting better. It's going to have to. For what we do, it's going to have to. We're going to have to be able change speeds, but we're going to have to play fast."
On any wideouts joining Uzoma Nwachukwu and Ryan Swope on the first team...
Sumlin: "I think that Eazy and Swope need to continue to (work to keep their spots)."
Kliff Kingsbury
* Manziel just came back to camp making really quick decisions, taking care of the ball, making plays every time he got in. He was moving the ball and scoring points; ultimately, that's what you want. He took the film study seriously. He did 7-on-7, voluntary team work, and he made some gains through that. He came back and he's made some great progress.
* He was making some plays in the spring but getting reckless with the ball. He came back this time and continued making routine plays and making special plays with his feet. We just wanted to reel him back in from the spring and he showed up and was ready to do that. He's been really good so far. No question his grasp of the offense is better and he's making better decisions. He has a lot of potential.
* He's the starter and he's going to play. This isn't a rotating QB type of system. He's got talent around him and so he has to make things happen. He thinks he's the best player out there every time he steps out; he wants the ball in his hands and he wants to do things with it. He'll have to get the ball to the playmakers on the roster and let them do something with it. Reeling him back in from the spring, he showed up making that routine play and that was the goal for him.
* Having the young guys come in at receiver has really helped. Thomas Johnson, Edward Pope and Sabian Holmes have stepped up big and made the competition a lot better. The coaches haven't whittled the WRs down to eight yet, but they're getting there.
* Derel Walker got injured a bit in the spring, fell off there, but came back strong and healthy and he's doing well.
* The other QBs had great practices tonight and didn't blink an eye. They both know they can be a starter at any point and they're capable of making plays. They haven't dropped their heads and the coaches are still confident in them.
* Christine Michael is versatile. You just want to get him the ball however you can. He's picked up the receiving part of the position in the offense well and he's looking healthy.
* Nehemiah Hicks will have a big role in this offense. He does a lot of things that will be tough on defenses. Keeping him healthy is important and he's an exciting one.