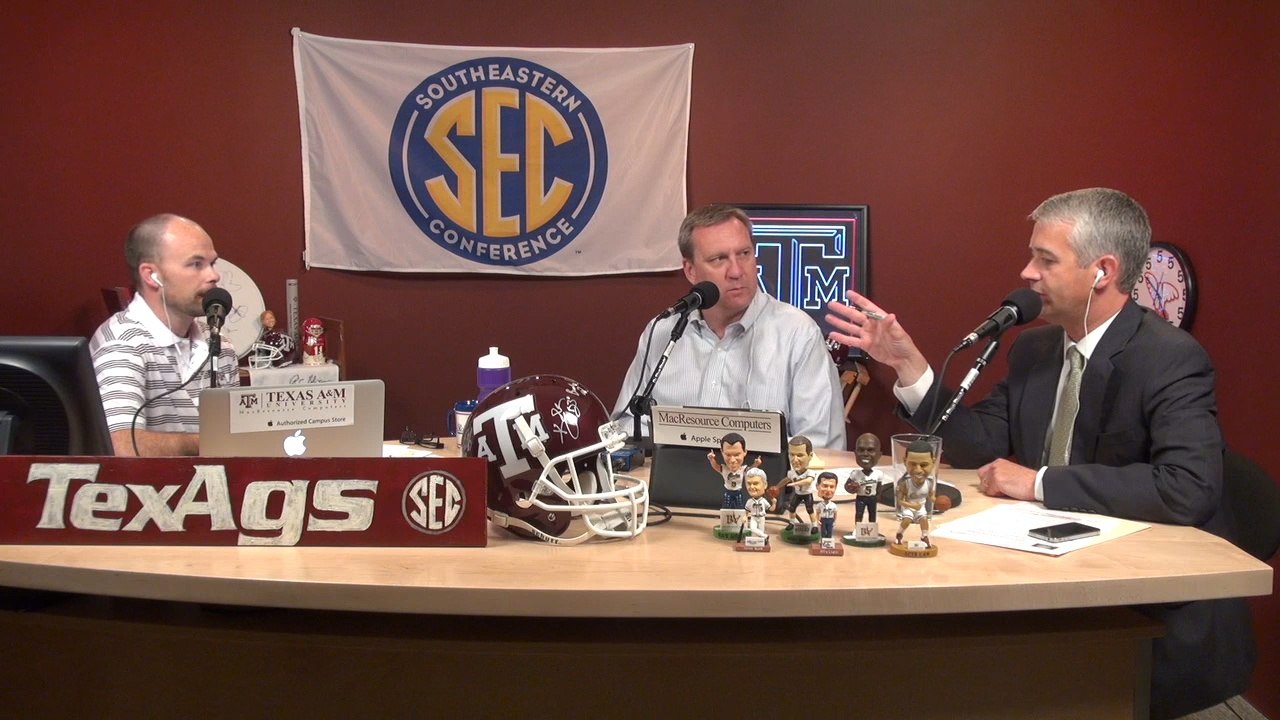 Jason Cook talks Gameday commercial, 12th Man mark
---
Notes from Jason Cook interview

* There is so much that is about to start happening on campus including things like Gig 'Em Week, the start of the semester and then the start of football season. Throwing the Florida game on top of all that is going to make things absolutely chaotic in College Station.

* The fact that Sumlin took six hours of his time to enhance his relationship with the Gameday grew could possibly be the biggest benefit of having the Gameday commercial in College Station. Sumlin could possibly have a career in television once he is done with the whole coaching thing because he was extremely smooth and didn't miss a beat during the commercial shoot.

* The MSC has been closed for three seasons, and people kind of forget what it was like for it to be open on game day. There are going to be a significant number of Aggies that will be in town for football season that didn't get to see the MSC this spring, and that alone will bring even more life to campus. The MSC is going to make the experience on a Friday afternoon even better as well. The MSC is a great place to tell the Texas A&M story and will be a big draw to the masses coming in.

* He got home from the Gameday commercial shoot at four in the morning and now realizes that he can no longer run on three hours of sleep. The commercial shoot was a great event and a great evening that showcased the always strong fan support of the Texas A&M faithful. Contrary to some media reports, there were almost 5,000 people in attendance at the event. The 12th man is always going to show up to events and they really blew away all of the ESPN representatives in attendance. The entire College Gameday marketing team was in attendance, as were the senior vice president of marketing and the director of marketing for ESPN.

* It was great to see the guys like Chris Fowler and Kirk Herbstreit come out and be an active part of getting the fans excited. A&M put on a great show for the entire gang, especially for it being a Tuesday night during the end of summer.

* The exposure that A&M is going to get from this commercial is unprecedented. It's tremendous, free exposure for Texas A&M that is centered around one of the greatest traditions that Aggies participate in. It's not a commercial about Texas A&M, and rather is a commercial at Texas A&M with the Gameday crew in the middle of midnight yell. It will start running early in the college football season and run the entire fall on all of the ESPN channels.

* The Aggie Field of Honor commercial has been all over the place and has provided great exposure for A&M. ESPNU Roadtrip is going to be in College Station for the Florida game which just adds to the mass amount of attention A&M is receiving right now. All of this exposure wouldn't have happened without the SEC move, and much of it wouldn't have happened without Kevin Sumlin.

* Not many business are boasting a 23% licensing gain in a single year which is what A&M was able to accomplish recently. Again, all of this can be contributed to the SEC move. A&M recorded a record $3.2 million dollars in licensing revenues this past year which represents about $60 million dollars in sales from a retail standpoint. A&M has been able to leverage the SEC brand to help themselves which is just another example of 'being part of the family'.

* The A&M brand is a very strong brand, and it's evident that it doesn't depending on winning football games. In the past four years, A&M has been working more with national retailers and currently sits at Academy's number two selling brand nationwide. A&M has also made inroads with Walmart and Target, as well as many other nationwide retailers.

* College Colors Day is a national celebration put on by the Collegiate Licensing Company. The goal is to get people to buy into the tradition of college sports by wearing their colors on Friday August 31st. However, A&M will celebrate a day early because of the Thursday night game against Louisiana Tech.

* Locally, a project called Campus Point is being worked on right now. Campus Point is going to be an area across from campus that is going to have a hotel mixed with a conference center, along with some retail shops and high-end lofts. College Station doesn't really have a downtown area, and hopefully Campus Point can fill that void.

* A lot of people are looking to retire or relocate their business to College Station, which shows that a ton of great things are happening with the university and the community as a whole.

* This month's 12 for 12 features the arts. Believe it or not, A&M has a vibrant arts community and has a lot of former students doing things like working on movies in Hollywood. The College of Liberal Arts graduates more undergraduates than any other college at A&M.

* A&M is very aggressive about others use of the 12th man mark. They can't keep individual players or coaches from mentioning the 12th man, but as soon as an organization starts using it as a marketing ploy, A&M steps in. He has been in conversations with D.C. United about their use of the 12th man mark.