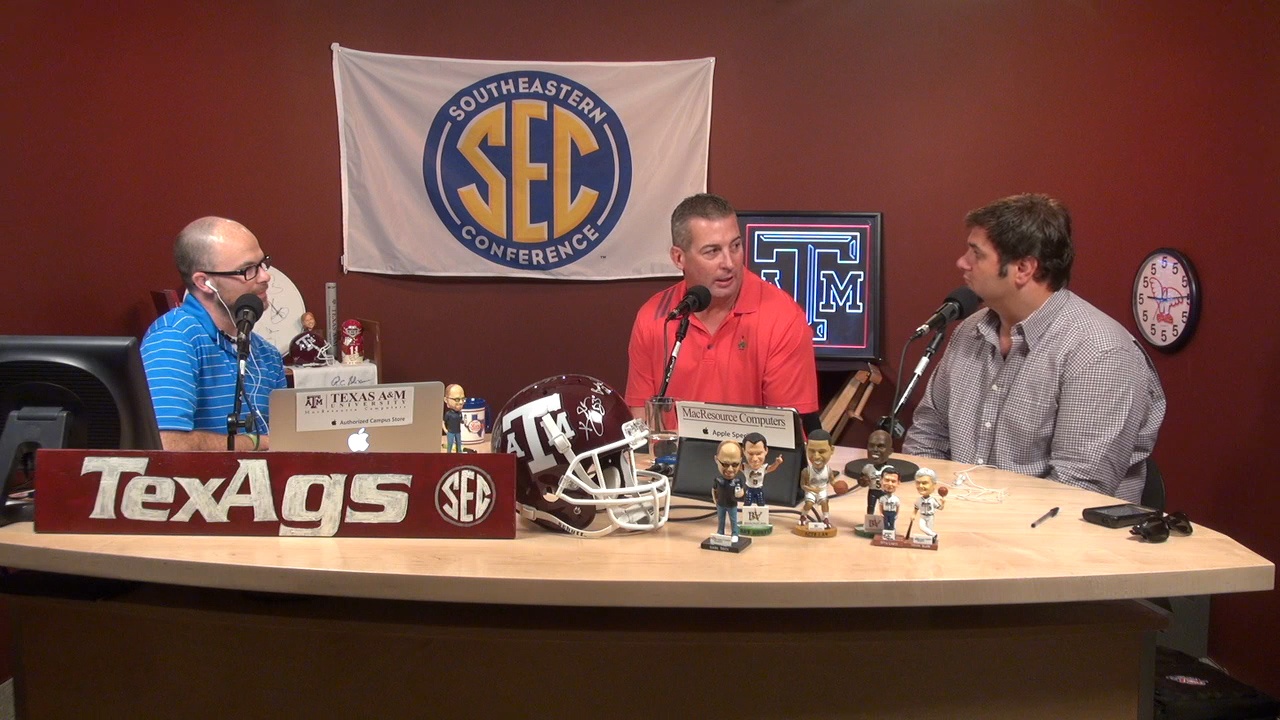 Texas A&M Football
Bucky Richardson discusses Kevin Sumlin, A&M playing days
---
Notes from Bucky Richardson interview

* He has a big day ahead of him. He brought his daughter with him to take a tour of campus and to see some people at the school. This is definitely the most important recruiting trip of his life (jokingly). He will then be throwing out the first pitch with President Loftin at the Brazos Valley Bombers game tonight.

* He's just as excited as everyone else for the upcoming football season. It's been an offseason of change in a lot of different ways and he's very excited to see what Coach Sumlin has been able to accomplish since he took the job. Sumlin has a confidence about him that resonates not only with the players, but with everyone that is invested in the A&M football program. He's heard Sumlin say many times that the SEC is going to be tough, but winning should still be expected.

* The key to the success the University of Houston had under Sumlin had a lot to do with how he is able to relate to the kids that play for him. He knows how to get them motivated to lay it all on the line every down that is played. Whatever is done during the week and during the offseason has to be geared towards getting the kids ready to play on Saturday afternoon, and Sumlin does a great job of that.

* Having a quarterback who is experienced is pretty important. If whoever wins the job can go in and manage the game well and play better than people expect, it will go a long way to making the team better as a whole. In this offense, the quarterback holds the keys to the car and getting the ball to the right guy every time is crucial to the failure or success of this type of offense.

* People get so excited over recruiting classes, but what needs to be remembered is that none of these guys have play a down of college football. No one knows how any given recruit is going to react once the pads are put on, and that is why he likes to evaluate recruiting classes once the player are a few years into college.

* Watching the evolution of the modern offense has been an interesting thing to look at over the past decade or so. When he watches games, he finds himself watching the defense a lot out of habit. The idea of having a five-wide set would have been crazy back when he was playing. Initially, he didn't think he would like running the run-and-shoot offense that was ran when he was a member of the Houston Oilers because he wasn't sure if he could do it or not. Once he was there, he realized that it was a good offense for him because it spread people out and allowed him to get into the open field and use his legs.

* His phone started blowing up after it was seen on the Golf Channel that John Daly has one of his Oilers jerseys hanging on a wall in his house. The two got to know each other pretty good in the 90's while he was in Houston.

* He would think that Coach Sumlin and Coach Kingsbury will take advantage of the fact that the quarterbacks are all decent on their feet and use them to run the ball from time to time. It's nice to have a quarterback that can extend a play and possibly gain a few yards rather than taking a five or six yard loss. That's an asset that is good to have in today's game and can been seen in how Tim Tebow ran the offense at Florida a few years back.

* Obviously, the first game he played in at A&M really stands out as a big moment in his career. He initially thought he was going to be redshirted that year until Coach Sherrill came over to him late in the first quarter of the game against Southern Mississippi and told him that he was going in on the next series. It took him about 15 seconds to digest that he was about to go in and then he couldn't find his helmet which freaked him out even more. He's very glad and thankful that Coach Sherrill gave him the opportunity to play in that game.

* The Texas game in 1987 also stands out because it was for the conference championship. Growing up in Baton Rouge, he had a sense of the rivalry, but didn't truly understand it until he got to A&M. Winning that game and then beating Notre Dame in the Cotton Bowl is something that he will always remember.

* Going into the game against BYU, A&M felt like they would be able to hold their own against the Cougars. They were a little upset that they weren't playing in a January 1st bowl game which sparked the team that much more. Looking back, the week of practice in San Diego leading up to that game were some of the best practices that he ever was a part of.

* Before that first big run against Southern Mississippi, a lot of people who were listening to the radio broadcast thought he was on the USM team and not the A&M team because no one had ever heard of him. It was one of those situations that you try to prepare for as best that you can, and when your name is called, it's time to perform. After all of the years of practice and preparation, you hope that things work out for you when your time comes, and for him it certainly did.

* He still keeps in contact with a lot of the guys he played with while at A&M. He sees a lot of them in College Station on game day which is pretty neat.

* He is convinced that the SEC is where Texas A&M belongs. From the pageantry to the tradition, A&M fits into every aspect of being an SEC school. Getting to play LSU again is going to be nuts and should be a lot of fun. When Kyle Field is redone, they need to make sure that there are about 120,000 seats so that everyone can get into the LSU game, because that's what they could sell if they wanted.