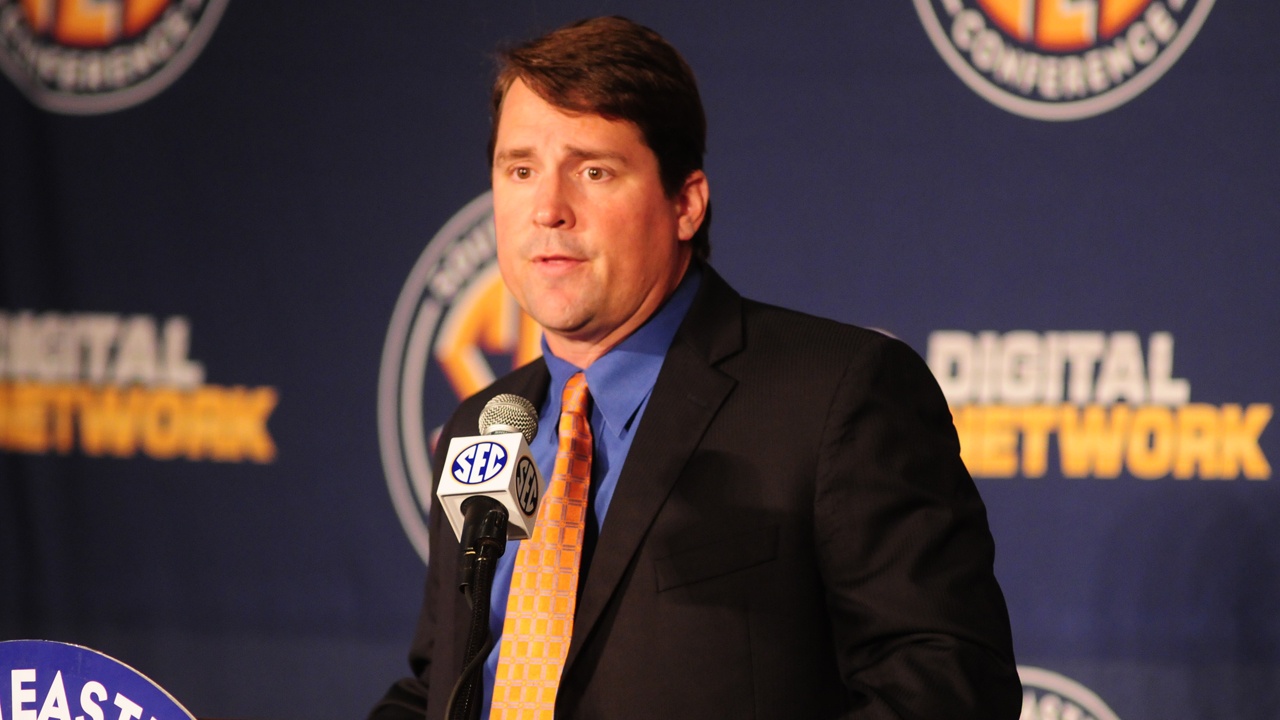 UA: John L. Smith
UA: Tyler Wilson
UA: Knile Davis
UA: Tenarius Wright
AU: Gene Chizik
AU: Emory Blake
AU: Corey Lemonier
AU: Phil Lutzenkirchen
UF: Will Muschamp
UF: Mike Gillislee
UF: Jon Bostic
UF: Lerentee McCray
UK: Joker Phillips
UK: Larry Warford
UK: Matt Smith
UK: Collins Ukwu
LSU: Les Miles
LSU: Z. Mettenberger
LSU: Odell Beckham
LSU: Eric Reid
MSU: Dan Mullen
MSU: Tyler Russell
MSU: Gabe Jackson
MSU: Johnthan Banks
Mike Slive
Mike Slive & TexAgs
A Stallings Sitdown
Texas A&M Football
SEC Media Days: Muschamp, Miles & more speak out on Day 2
---
A six-team onslaught created a buzz on day two of SEC Media Days. Arkansas, Auburn, Florida, Kentucky, LSU and Mississippi State took the podium to talk football. TexAgs was there with full-length video. Also included below are
Beau Holder
's complete transcripts from each of the six head coaches who spoke to the media in the grand ballroom at the Wynfrey Hotel.
Arkansas' John L. Smith
It's a pleasure to be here. Definitely blessed to have the opportunity to be back at the University of Arkansas. We have a real good football team that possibly has the capability to be a great football team. We have a great senior class. We have great coaches I've had the pleasure of working with in the past. Knowing that our administration is going to do everything possible to give us an opportunity to win, and our fans, Hog Nation is the best in the country.
All those things being said, it's a great, great opportunity for me to come back to the University of Arkansas. As I came back for spring ball, the energy around the players has been exceptional. They took the adversity that they had, locked up, came together and said they're going to be better because of it. That's what they've done. They've had great energy, they've worked hard.
Walking in the door, it was unbelievable, the reception that I got. That being said — and I told them — this is a program. This is not about somebody leaving or coming. This is one program. We're all a part of it as coaches, players, fans, a student body, we all have to relish our position as part of this program. We have one goal and we're not bashful about reiterating it — to win in Miami, to be a national championship football team. That's our goal for this year.
Q: You've got a unique situation in that your contract doesn't even last an entire year. Are you feeling any additional pressure under that? And talk about the offensive potential your team has.
A: The pressure part of it, I've never been a big believer that that has anything to do with it. As coaches, the pressure comes from within. It comes from staff meetings and what we expect to get done. We're going to put that on ourselves. We expect great things to happen to us.
We have three offensive players as great as any in the country and we expect them to be that. That's nothing new. We expect to score points and be good offensively; on the other side of the ball, we have to contribute there as well. Doing the job there will make us a championship football team. In this league, 'the first one to 49 wins' doesn't happen. Defense wins. We need to be one of those teams that plays defense, or we won't win.
Q: You mentioned winning in Miami. How difficult was it knowing that a potential national championship team, with the Petrino stuff that happened, relating to the players and getting them back on track?
A: I don't think that was hard at all. They understood. Everything they've done over the last four years, what it's taken to get there, they believe in the system and in their place. Walking back in the door reaffirmed that it's going to be pretty much the same, to the extent it can be. You can expect the same things from us that you have in the past. So, as easy as it could be.
You grow with some adversity. They fought through adversity in the spring. As with our fans and coaching staff. I expect us all to be better because of that. The transition has been as easy as it could be.
Q: How surreal have the last eight months been for you?
A: (Hearty laugh) My wife and I talk about it from time to time, 'Wow! Has this been a rollercoaster,' particularly as of late. But any time you get to go back to your alma mater ... leaving was hard, but doors open in life and they close, and a door opened. I've never been one to stand outside and wait for it to close. I jumped in. That's been my philosophy on life. I feel like I'm a blessed individual and I'm honored to be at the University.
Q: Would you like to be the Arkansas coach for more than one year.
A: Well, certainly! Do I look stupid? (Laugh, and a stare). Don't answer that!
But that is to be determined, by our athletic director and our administration. What that number (of needed wins) is, I don't know, I don't know if anyone's put a number on it. But I'm knocking on wood that I get to be here next year.
Q: You seem like an 'I have nothing to lose' type of guy. Why is that in your personality?
A: Life's an adventure, let's make sure we take advantage of that adventure and don't miss anything. I can look back and, when my granddad came to this country and he was 12 years old, his parents put him on a boat and said 'Go to America.' What kind of adventure is THAT? Maybe that's where it comes from. I don't know. But I think life is like that. As coaches we need to understand that you're only here for so long. Don't look back. Don't be a 'Gosh, what if?' guy. What if I'd worked harder, done this a little better? Don't be that guy. Take advantage of everything you're given in this life.
Q: On the Arkansas-Missouri budding rivalry...
A: It's a natural geographic rivalry for us. If we continue having to play a cross-divisional rival, to me it's a no-doubt. We get to develop that rival. For us, being a cross-divisional with South Carolina doesn't make a lot of sense geographically. With Missouri, I see that developing into a huge rivalry for us. And, hopefully for Missouri.
Q: How do you handle recruiting in your situation?
A: We make a big, big push to ensure that players in Arkansas stay in the state of Arkansas. No coach can guarantee anyone that he's going to be there next year as well. If they want you out the door, you'll be out the door no matter how you are. If you're committing somewhere, you better be committing to a school. To a program. To what that program wants to get done. That's how you sell it. If you want to commit to something individual, then commit to something individual, but that's not what you're doing here. And I believe that.
Q: From a distance, what was your reaction to the Petrino story when you first heard about it? Is there any comparable situation in your career you can compare it to?
A: No, there isn't, to answer the last one first. It's just one of those things that happens. What was the first question again?
Oh, my wife would keep me updated on the situation as it was taking place. I would try to follow as closely as I could, but for the most part it was just her giving me an update every evening. That's kind of how I followed it from the outside. Surprised? Yes. Shocked. That's a part of your family. You helped raise their kids. It's all of those things. You just pray for him and that the best things for everyone can take place and it's something that can be remedied.
Q: Any newcomers you can expect to play a role this season?
A: The first you'd expect would of course be your junior college players. Demetrius Wilson would be the first. He's going to help out with our wideout situation. Don't be afraid to see some young guys in there too, they're going to help out as well. There's a lot of those new guys we'll have to count on, particularly junior college players to step in immediately. Now, granted, as coaches you try and get your best players out there and contributing as much as they can. Some guys may do double duty. Kiero Small is our fullback and we may try him at linebacker because he can do both and he might have to. You try and get your best guys more time.
Q: How do you change your team's mindset to be more competitive with Bama and LSU?
A: Again, I think that comes back to what takes place in the spring, what takes place in the summer, what takes place before you line up with those guys. Our mental capacity and mental ability to believe we can compete and beat those guys, which I believe our kids do, and to work harder. Work harder in the weight room, work harder in the summertime, work harder to be what they are. They did get after us last year.
From the standpoint of our kids, they're accepting the challenge. They have to be tougher, mentally to begin with, believing you can beat those guys, and then physically by working out in the weight room and going out there. It'll take care of itself.
Q: There's been talk that Missouri may replace LSU as the season-ender. Thoughts?
A: I don't know what's going to take place in the future with schedules. You know Missouri will be in there somewhere. For it to come down to the last game of the year, that might help make it a bigger rivalry immediately. Everybody saves that bigger rival for the last game. But I have no knowledge of that taking place. As far as the LSU game, that was our necessity to a degree (to play at Little Rock, a neutral site). It's better to sit at home and make them travel a distance, so we'd love to have them at home. Our players love Little Rock, but we may play them at home.
Q: Was contact between you and Arkansas initiated before or after Petrino was officially dismissed, and how? And had you had any conversations with them and Patrino about football?
A: Can we move on to the next question, at least one with intelligence? (Grin.) No! We did not have any interaction until Bobby was gone. The actual who-reached-out-to-who, it was my talking to the coaches and vice versa. That's where it came from. (Second question is repeated.) Oh! (Smirk.) I had. Yes, we'd talked and it was basically about our football team at Arkansas and what was going to happen in his life from hereon out.
Q: How are you a different coach than the last time you coached at this level as a head coach?
A: Well, I think we continue to grow and I'm a big believer in that. You continue to grow all the time as a coach. As I look back at Michigan State, that was a situation ... I try not to take anything for granted. That was a situation you go through, I'm not making any excuses, I was fighting a couple battles with cancer and with the president who hired me leaving. Don't take anything for granted! That's why the short contract (at Arkansas) doesn't really bother me.
Q: What's it like to have Tyler Wilson as a leader on your team?
A: You're going to get to talk to him, but Tyler is awesome. The way he blossomed in the short period of time (four months) that I was gone, he's exuding confidence now. He's starting to just blossom and exude confidence. He's very confident and at home in what it is we're doing on the offensive side of the ball. What they're doing on the field, what they're doing watching the video, his whole knowledge of the game of football ... having a guy like that is tremendous. And all our other guys, to some degree, as well. Energetic, hard-working individuals. You look at these guys and say, 'I'm going to go back and be with these guys? ...Yeah.' That's not a hard decision to make.
Auburn's Gene Chizik
Very lucky, very blessed to be here for my fourth SEC Media Day. I'd like to publicly thank so many people for their outpouring of love and prayers and emails and phone calls to the Auburn family since that tragic night, June 9, when three young men were shot and killed and two of them were former Auburn football players. I do want to say thank you. I don't think it would be right to stand up here in my first opportunity, publicly, and not do that. So many of you guys gave our community and university, families and football team a lot of strength and encouragement. Thank you.
I'm very proud of our football team. In the midst of some very difficult times, they've really bonded together and tried to move forward. They are, without question, still dealing with some of those issues. We must keep moving in a positive direction, but again I want to say thank you to so many of you.
On football, I'll start by going back to the Chik-Fil-A Bowl on Dec. 31. It was a very big moment for us. We beat a good Virginia team; it was a good win for our team. It gave us some momentum as we propel ourselves through the offseason. There's no question it puts some of our young guys on the map in terms of confidence. Since then it's been a real good thing watching our guys grow. A year ago today, as I stand up here, we're in a much stronger position now than we were a year ago. One reason is that after so many years, we've developed some depth. And we've got a bit of experience. We have 16 returning starters, but also guys that in many cases have been pushing starters for a job. Look over the previous three years, we have guys pushing for jobs. The depth and experience is the reason that's happening.
Five or six of those returning starters are seniors starters. That isn't a lot, but to whom much is given, much is expected. We feel like their leadership is key. It's been paramount. And this class has been very successful. They've averaged 10 wins over three years, they're undefeated in the postseason and they have championship rings on their fingers. We're going to lean on them.
Another thing I'd like to note in the offseason is our new offensive and defensive coordinators. Scott Loeffler has come in and run a bit different offense than before and he's a great quarterback development guy. It's been a great transition. Brian VanGorder, who we've hired from the Falcons, has made a great transition as well.
I stood up here four years ago and talked about building a foundation at Auburn that lasts a long time. There's no doubt we're doing that. Your fourth recruiting class, which we're putting together now, is important in cementing the foundation you've laid. It's important for where we want to go. We've tried to stack our last three or four classes on top of each other to build in the right direction. Our administration has done a great job of giving us the resources to be able to recruit. Our goal is to be tops in the country. Our administration has done a great job of helping us with resources.
Overall state of the union address with Auburn football, I feel really good about where it's headed. Very proud of the team's resilience and where we've come since Dec. 31. I'm looking forward to the season, it'll be full of excitement.
Q: How is Loeffler's QB development experience good for the quarterbacks?
A: It's important for every quarterback on our football team. It was imperative as I looked at who our coordinators could be, that was a huge point of emphasis. That's been kind of his forte. Even though he's a young coach, that's what he's been known for. He was at Michigan for seven years with Lloyd Carr. He's been very good for our quarterbacks. They've embraced it and I think this is something that, moving forward, is going to be really good in terms of us going out and recruiting other quarterbacks, knowing Scott has been a proven guy when it comes to that position.
Q: How do you ensure you don't drop off after starting strong and falling off last season?
A: That's why you practice. There's no question. You can win games and it can be an ugly win. But what I'm proud about in so many ways is, when it comes down to the end of the game, our kids have found a way to win. Since I've been at Auburn, games that are decided by seven points or less, there's a good chance Auburn will win. It's been ingrained in our team that those are the games we're going to win. Whether we win by 24 or seven, we're going to go back and review and assess what we can do better, but it's all about winning. It's important to start strong. It's a tough month of September but we're going to want to start fast and we'll keep practicing to make sure that happens.
Q: Corey Lemonier is one of the better pass-rushers in the league, but can you comment on his ability to stop the run?
A: He is a very good pass-rusher and he has the art of pass-rushing down. He's very good at it, his body is built for it. What we've done in the spring is work with Corey in understanding the importance of the run game. You have to do both. He's still got room for improvement. He's a very good football player, but like the rest of the guys on our team, he has room for improvement. He understands the importance and he'll continue to work on it. He's one of the most hard-working kids on the team and he's been that way since he got to Auburn.
Q: Talk about Kyle Frazier and your QB situation in general.
A: It's up for grabs. It's all about who can take over and lead Auburn to where it wants to go. Kyle is in strong consideration for that. We felt the need to play him last year strategically when the game was on the line, so he's got that experience. This year as he competes for the starting job, playing in front of 90,000 is not new to him. Clint Mosely is the same way. He got a lot of snaps. That battle will be decided in two-a-days. I'm not going to put a timeline on it, but I will say, the sooner the better.
Q: What's your opinion on the commitment process and would you like to see some changes made?
A: The bottom line is that recruiting is tough. We're in a very tough league and recruiting is, arguably in the SEC, very competitive. Competing on the field and off the field. Getting commitments from young men, it's obviously not binding and you can't do anything about that. You've got to recruit guys and hope their word is what they say it is. They get caught up sometimes and two weeks later they don't feel the same way. That's how recruiting is. We're big boys and we know what toe expect. It's happened to us. I don't think anything will change about the commitment process.
Q: Thoughts on Missouri and A&M?
A: I haven't heard a whole lot. The things I've heard right now ... I don't think people are giving Texas A&M and Missouri nearly the credit they deserve. I'll start with Missouri. I think Gary Pinkel is one of the best football coaches in the country. What he's done there, in 11 years, turning them around and making them competitive.
Texas A&M and Missouri aren't coming here with their hat in their hand, saying thank you. They're going to come in and compete. Look at Kevin Sumlin's body of work. It speaks for itself. This is a great league. It's a tough league. We all know that. But to think they're going to come in here and have their eyes opened in football, that's insane. These are two dang good teams with dang good football coaches. These are great teams with great players, great coaches, great venues, they're a perfect fit for our league. There's this notion that they're going to come in and struggle. They'll have good years and bad years like anyone, but they'll come in here and compete. It's a good fit and there's some good football added to our league.
Q: What does opening against Clemson in the Dome do for your program?
A: We play games of that magnitude a lot, so that's nothing new to us. But opening in that kind of venue is important to our fan base. Playing a program like Clemson that's had such success under Dabo is big for our players. For playing a team that's not in your conference, the Auburn Tigers vs. the Clemson Tigers is a well-fit game. It makes sense. It's exciting for our players.
To have that game at the beginning of the season is interesting for our guys. We haven't necessarily had a game like this since I've been here to open the season. It's a team that's really had some great success. They do a great job, it'll be a great test for us early. They're loaded on the offensive side of the ball, they have returners coming back, and they have a new defensive coordinator. Venables has been a force to be reckoned with. Great game for Auburn. We're looking forward to it.
Q: Thoughts on the four-team playoff and on putting Auburn/Alabama in the East and Missouri/Vanderbilt in the West to get it right?
A: I won't speculate on that second one. Geographically it maybe makes sense, but you sit in those meetings and you hear about all the factors. Geography is not necessarily the reason to do anything without all the factors. As for the playoff, I just played a championship game in 2010 to prove I belonged in the national championship. Do I want to play another one? No. But in 2004, yes, if we went undefeated and didn't get a chance. You can poke holes in anything. But they kept the bowl games intact, they get to stay as a reward and that's big for the players and coaches. I also don't think a four-team playoff diminishes, by any measure, the intensity week-to-week, trying to get to those four. Essentially, every week is a playoff.
At the end of the day, 12 years from now, this system that we have now, when they put that in years ago it looked great. Then we decided there were holes in that and we needed to fix that. To be honest, that's what's going to happen with this. can think of some scenarios right now. If No. 1 and No. 2 are in the same conference and they play a championship game and 2 beats 1, 1 will become 4 and they'll have to rematch again in the next game. But I do think it was well-thought-out and there was a lot of movement in the right direction and it's going to be exciting for everyone. It was a fine job, well-thought-out in terms of everybody, the fans, the players.
Florida's Will Muschamp
Q: Can you talk about the leadership you expect to have on defense?
A: Our guys exemplify the work ethic it takes to be successful n this league. We have a very close-knit group on that side of the ball. I feel really comfortable with our leadership and where it is because those guys have a high expectation of themselves and what it takes to be successful.
Q: On the new kickoff rules...
A: We run well as a football team and we try to pin them back on kickoffs, so we've talked about kicking it to one direction. It's something we worked on in spring and we'll continue to in fall camp.
Q: How do you think A&M and Missouri will fare?
A: I think very well. You look at Missouri, the job Gary Pinkel's done has been outstanding. In '06 they were a game away from competing for the national championship. They create a lot of space plays and a lot of run-pass issues with James Franklin. They do a really nice job. Defensively, they've had a first-round draft pick the last four years on the defensive side of the ball. They recruit well, they evaluate well and develop their players really well. They're very different offensively, as is A&M, from what we're used to in our league.
Kevin and Kliff, what they did at Houston, they put up video game numbers. They get up to the line fast, they give you the impression that it's a pro style offense with the amount they run. They have a great recruiting base in College Station. I think both will be just fine.
Q: What will the SEC learn about the quality of high school football players in Texas?
A: There'll be a great respect on both sides. I work on a great state for players and high school coaches and the number of players out of Florida is comparable to Texas. Both states have great respect for each other, there are great coaches in both states and great players in great states. When you have that kind of recruiting base, it makes your job a little better than some other places. We're looking forward to that game on September 8.
Q: What did you learn in your first year as a head coach? Do you feel more pressure this year?
A: No more pressure at all. Pressure is what you put on yourself. I put a lot on myself, Year 1 or Year 10. I knew the situation we had going in, and we had two scholarship QBs — John Brantley and Tyler Murphy. I knew that if we kept John healthy, we'd be OK. But we didn't. Whether you're a head coach or assistant, that is difficult. It is frustrating. I feel more prepared now just with the things that come across your desk.
When I was at Texas, Mack Brown said something to me when I asked if I was ready for that job — he said, "You're not." He said he'd been a head coach for years and he wasn't ready for the job when he took it. Every job has its own positives and negatives. Each one is different.
Q: Talk about Georgia's offseason and expectations.
A: Really, I worry about Florida. I'm not worried about expectations, I'm worried about what we're going to do and how we prepare ourselves as we start August. That's what I'm worried about.
Q: You open the season with Bowling Green and then eight straight SEC games in nine weeks. Do you remember anything like that?
A: In our league, it's all hard. I look at it as 'they have to play the Gators.' I don't worry about things I can't control.
Q: Thoughts on the new playoff?
A: As long as it keeps the bowl system. The bowls are a great reward for the teams. Go to a place, stay in a nice hotel, most kids don't get to do things like that. So you have to figure out what you like and what you don't like. Moving games back and not drifting all the way into January is a good thing. I didn't have a lot of opposition to our old system. I was on both sides of it. We beat Oklahoma when I was at LSU, then when I was at Texas we didn't get in in '08. There'll be argument about how they select the four teams, but I have no issues with it at all.
Q: Talk about Charlie Weis' job.
A: I talked to Charlie yesterday. We really felt like if Brantley could stay healthy, we'd be fine. When he got hurt we had a true freshman walking in to LSU. In sports, confidence is so key. Against Alabama when John was healthy in the first half, we were moving the ball. When he went down, it handicapped us a bit. Some of our other inefficiencies started to show up when we lost that experience. But our coaches and players continued to fight through and never lost our effort in those situations.
Q: Do you like playing LSU every year or would you rather see it rotated?
A: Thirteen coaches will come up here and explain why they want a 6-2 scheduling format or something. But I'll say that LSU is a great program and it's good for us to play them. They played for a national title last year. Both programs are functioning on a high level. A 6-2 format will ensure that Florida plays Auburn more than once every six years. Steve Spurrier told me at the SEC coaches' meetings that when he was at Florida, the Auburn game was a big deal and he couldn't imagine only playing them once every six years.
That's what the commissioner is for. Commissioner Slive has to take opinions from everyone, often selfishly geared toward one school, and put them together and come up with a plan that works for everyone. That's what he did, it's in everyone's best interest, so we support it.
Q: Talk about keeping Florida going here.
A: We have a great recruiting base, we have access to all the players we need within 300 miles. We stay up with facilities and what we're trying to do. We've had great head coaches throughout the years. It's a great place to live, so you're able to attract great coaches to come, and the continuity of Steve Spurrier over a 12-year run did a nice job, then Urban Meyer came in and was here for six years. Only three head coaches in that span and not a revolving door is nice.
Q: You talked about how important it is to get confidence that builds on itself. How big are those first two road games?
A: It's a long year, so regardless of the outcome in those games, you have to continue to play. But I know that's been a big motivating factor for our guys. We didn't play well in our stadium against our rival last time we played there. It's important to play well against Bowling Green. And then on September 8 we can get a leg up on the rest of the SEC. It's important for our players to show up in shape and have an outstanding mindset, and I know they will.
Q: Kevin Sumlin was asked a lot about Sept. 8. What do you expect going into College Station?
A: It's an SEC-like atmosphere with a great fan base and great tradition. Our guys are looking forward to going and competing in College Station and they'll be ready to go.
Q: How are things depth-wise behind Jordan Reed?
A: We have five scholarship guys at the position (TE), which is what you need.
Q: As far as your players use social media, what is your opinion on it?
A: We don't have a lot of rules, but No. 1 is don't embarrass the program or yourself or your family. We have a service that monitors it. We ask them not to talk about football on there. Unfortunately we have some knuckleheads that don't understand the implications of what they do and they put it out there; then we handle it quickly. If a guy doesn't handle it right, then he won't be on it.
Q: Being a former Georgia player, moving to the GA-FL game every year, do you see the tradition staying as it is?
A: It's a great game. It should stay in Jacksonville. There's great tradition there across the river and we've had some great games there. Coach (Vince) Dooley never complained about it being there.
Kentucky's Joker Phillips
We are excited. I know everybody in this building is because it's football time. I got a call from my eighth-grade nephew Josiah yesterday, excited because he'd been to football practice. Being here today means it's football time. I'm sure you guys are excited also because you don't have to chase stories as much, they'll come to you. We're excited about this upcoming season. What makes us excited is how we finished last season. Our last four games last year we were 2-2; for some reason or another, there were a lot of true freshmen and true sophomores who were thrust into playing time and playing significant roles on our football team.
You saw a lot of those guys making huge plays for us. That's what gets us excited. Although we didn't reach our goal of getting our program to a sixth-straight bowl game, we did win our last game, which was a goal. It had been three seasons since we'd won our last game. We had lost to Clemson and Pittsburgh. We were able to reach that. We had, academically, another good spring. We continue to finish strong academically in the summer.
Recruiting, we signed a full class last year of 25. All 25 of those guys are on our campus. Of those 25 we had 13 in our football camps on our campus. I think that is huge for us and for Kentucky. We have an experienced staff that understands how to evaluate. We think we understand what we're looking for. We're taking a similar model to what we did when I was at Minnesota — take long, lean athletes and bring them into your program, then watch them grow. We have a guy here that was 205 pounds and grew, and now he looks like an SEC defensive lineman. Minnesota kind of took that model from Wisconsin. I have a good friend that's the head coach there, Bret Bielema. They do not have high-ranked recruiting classes even in the Big Ten, but they always finish high in the Big Ten.
This staff understands what it's looking for. We have two new additions to our staff, Mike Cassidy ... he was the DBs coach 35 years ago when I was at Kentucky and he's been trying to get back here all these years; another we were able to go out and get was Pat Washington, a guy who played quarterback in this league, had 13 years of experience in this league. He has a history with the coordinator we have in place, which is big. Our players are working extremely hard to prepare themselves for this season.
Any questions?
Q: What does it mean to your team in their confidence to end the season like they did? And what do you want to improve on?
A: It's huge for our confidence, especially when you're as young as we are. A lot of young kids making plays for us late in the season, probably four or five true freshmen playing on defense and making plays in the last game of the season. It was huge, and our players gained confidence. It was huge that they were able to make plays and that the guys who were redshirted who were in the same class as them gained confidence. They want to experience the same things their classmates did. We have 26 freshmen and sophomores now, and we feel like we have more quality in our program.
Our upperclassmen, we're putting a lot on their shoulders to lead us in the locker room. They definitely have the respect and the numbers on the field to tell the freshmen and tell the sophomores, 'This is how we do things.'
Q: Thoughts on A&M/Mizzou? Should the SEC expand even further?
A: We tell our recruits that 'the best conference in the country just got better.' Those are two quality programs. Those guys are doing an unbelievable job. I don't need to give them advice. They understand how to compete at a high level. As for expansion ... my job is to make sure I win games at Kentucky. Not to worry about that. We have a fantastic commissioner who will make sure when the time comes, if we have to, that that will happen.
Q: What's your recruiting process to replace the big names that leave?
A: You have to replace those type of people every year. We lost our best player on defense the last couple of years, a guy who had to step up after Sam Maxwell, one of our best, left. We expect someone else to step up. A lot of it has to do with recruiting. We brought some quality guys on campus. We've done a good job of evaluating. Now those guys have to go out and do it. At quarterback we feel like we're as deep as we've ever been, talent-wise. As good as we've ever been.
Q:
A: Another goal for 2011 was winning our last game. And as coaches, it was about how we won the game. We would not have been able to play the way we played on offense if we did not play great special teams. They had to go 70 yards or more when they went in on offense. We would not have been able to play the way we played on offense if we did not play great defense. Those are the reasons we won and the things we are able to sell to our players and our program for times to come. We ran the football, we protected the football. We gave up two big plays, one was for a touchdown, and on one we created a turnover right afterward. The way we won the game, that gives us an opportunity to grow as a program.
They now understand what it takes to win. You don't always have to put up 600 yards of offense or put up 35 points. You have to do the little things. That's part of our plan to win at Kentucky.
Q: Football has been a second fiddle at Kentucky. Did the basketball team winning the national title reinforce that perception or does it help you?
A: I'm a Kentuckian. A longtime Kentuckian. A letterman, an alumnus. Everybody has things they want to sell in our program. I'm selling our basketball program. I'd be crazy to try and fight that. It was unbelievable advertising of our logo, every time they went to the next round and the next round and the Final Four. It was huge. We want to hitch our wagon to our basketball program. Who doesn't want to see John Wall, DeMarcus Cousins, those guys play? Most of these football players think they're basketball players anyway. We've got them on our campus, we've been able to sell that we've had tons of NFL signees and tons of bowl games as well.
Q: Can you talk about your inter-divisional rivalry with Mississippi State? And also, would you entertain discussion about a nine-game conference schedule?
A: It's been a good series with them. Coach Mullen has done an unbelievable job and had our number. We've got to get to where we can compete better with those guys. I, personally, really like the format we have now, the 6-1-1. It lets us continue to play Louisville and gives us a chance to also schedule three other out-of-conference games.
Q: Are you satisfied with the four-team playoff?
A: I am. As long as you don't have to win your conference to be a part of it. With four teams, you take the top four teams in the country, 99 percent of the time, two of those teams will be in this league. I like it.
Q: On the status of HB Josh Clemons...
A: Josh Clemons was a guy who started for us, another young player who started for us, played really well in the first two games and got the start in Week 3 against Louisville, tore his knee in the South Carolina game past the time to redshirt. He missed the rest of the year and will now be a sophomore, but he's a guy that will work about two days a week to get back ready for the season. The quarterback and running back positions will have the most competition for us in the fall.
LSU's Les Miles
The summer is over, and the number of fast-pitch softball games and youth baseball games. Now, media days. For me, it's that time where everybody turns their attentions to football and you get those questions where you say, "Hm, good point." Our football team is looking forward to getting on the field. The conference needs to welcome both A&M and Missouri. They're a great add to our conference. Mike Slive has done a great job in positioning this conference for the future. He puts us in position to have great bowl games, postseason play and the four-team playoff.
Our program is coming off a great year. When you do that, you need to recognize that we had great support. I'm very fortunate to represent a great school. My athletic director allows me to hire and provide great service for my team. We're doing a great job graduating our players, a 77 percent graduation rate considering the number of juniors going to the NFL (from here). Our summer has gone well in the heat. I'm looking forward to getting academics squared away and finishing strong. We're in position to put the team on the field that we need.
Offensively, Zach Mettenberger is going to give us a real nice quarterback. The key to him is sitting back and not putting the cart in front of the horse. He's a confident guy with leadership. The approach he's taken with this team is very obvious and I think if he stays that way, as long as he improves, we'll like his play. A veteran offensive line will allow us to play with an aggressiveness in the passing game. We'll have a talented, hard working group of wide receivers. We're as talented at running back, with big backs that have experience. I'd like to see two backs take the lead there. Ware, Ford, Blue, Hilliard are in competition. And obviously then we'll have a fresh back in the game.
Our tight ends and fullbacks need more receptions. We're looking forward to more from J.C. Copeland, our fullback that brings a nice athleticism. He's down in the high 260s and that's a nice reduction for him. Chase Clement is our tight end and a number of guys behind him. We want to get the ball to them more. Offensively we'll have balance, running the ball and throwing it, running it efficiently and throwing it efficiently, and making big plays. The changes will be that the quarterback will not carry the ball as much, so you'll get more throws, and the deep ball thrown more and better.
Defensively, excited about John Chavis in his fourth year, consistently continuing to get better. Our defensive line has the kind of guys that can step forward and make it difficult on an offense to move the football. We'll be good at linebacker and having Kevin Minter at the center of it to call the plays. We have guys that have played big games and been through the gamut in this conference and understand how to make big plays. Special teams, we have kickers and punters, Brad Wing, our big leg in the punting game, James Harrison, an All-SEC freshman on kickoffs and a true freshman snapper. Our special teams will have speed under kicks and quality returners.
It's fair to say that in all three phases we'll have an opportunity to play very well. We'll take it a day at a time, a game at a time and try not to get too far in front of ourselves, and our team can achieve greatness. They're looking forward to coming off last year, they've had a great spring and a great summer and they're ready to have a great year.
Q: The new EA Sports commercial got popular pretty quickly. Did you have any creative input in that?
A: I did not. I certainly enjoyed the experience. A very talented producer and crew all around. The lines were narrowed so I could perform them effectively (smirk). I thought Mike the Tiger stole the show, we didn't get along all that well on the set. But it was interesting. He's like a son. A tiger son.
Q: What are your thoughts on the A&M rivalry and how well the Aggies can compete in the SEC?
A: The Aggies bring a very capable team, a very lucrative recruiting area, they bring the experience from a quality conference. They'll step in and compete at a very even pace very quickly. I think we look forward to them and it really makes the conference stronger. The national viewing audience now comes partially from Texas and the great west. The addition of both teams was really good for the conference.
Q: Did you watch the BCS game once and put it behind you or watch it a hundred times?
A: I've seen it a couple times. There weren't ... that many plays for us on offense ... but I can tell you that our team had a great year and played 13 straight very, very good, quality opponents and won. We didn't play our best in the last one. We understand that. That was last year. We also remember and we look forward to playing like we play. It's about us and things we need to fix and I think our team sees that.
Q: All this spring, when you spoke to LSU fans, what happened to the team in that game, how do you explain that to them rationally?
A: I have to be honest with you, what happened was we played our 14th game and didn't play as well as we did in the first 13. We were the same team, certainly, and we played a very quality opponent. We were conference champions. I think we realize the things we didn't do well in that game and we look forward to taking the field again. Again I say it this way, it's about us and the things we need to do.
Q: What did you make about Tyrann Mathieu's Twitter rant?
A: I didn't really get it, but I realize there is a verbal squabble at times. But our guys certainly want to compete as a team and he probably represented that. I'll tell you that no game is won on a Twitter page. It's a nice, pleasant pastime just like Media Days (another smirk)...
Q: On potentially meeting Florida in the SEC title game this year...
A: It'll be interesting. Anytime you play a crossover opponent and it's a team you end up coming back to play in the conference championship, that'll be an exciting rematch. Certainly the key is to earn your way to the championship game and there's plenty of quality teams we'll have to work to defeat and game plan before Florida and after Florida. They're a very talented team. Again, they're our crossover, permanent opponent. We look forward to playing them.
Q: Which two running backs would you like to see take those lead roles this year?
A: I'd be hard-pressed to tell you right now. I like Ware, I like Ford, I like Hilliard, I like Blue. I want two to step up to keep legs fresh and let them be comfortable shouldering the load more often than not.
Q: You mentioned playing 14 games. In your mind, is that too many? How concerned are you with a possible playiff and playing 14, 15, 16 games?
A: It'll be interesting to see. I bet most conference championship teams will have played in a playoff, and that playoff will be a piece of how it fits into the two games after. It's a determination we'll make at some point, I believe, where everybody will have to play a conference championship. Then it does become more, it becomes 14 and 15. The issue then becomes the window that doesn't encumber an academic schedule and really increase the risk of injury. In my opinion you have to have 10 days between the last game and the championship game just to heal them up and get them ready.
So if you're going to play on January 1st, those bowl games must take place well before that. What the country's asked for is a little bit more playoff and a little bit more games and it'll eventually work out for a good effect.
Q: Was last year the toughest schedule you've faced as a player or coach?
A: We played everybody but the Green Bay Packers. But we enjoyed it. It was a great challenge of a schedule and we did it 13 times.
Q: When you play Townson, will you mention Stony Brook (from the College World Series) to your players?
A: Will I mention Stony Brook? (pause for oddity) ...No. I think our players realize that anyone can beat you and that if we're ready to play in the first games, we'll be ready to play in the later games.
Q: Would you expound a little on the Texas A&M thing? Do you have a preference on finishing the season with Arkansas or would you rather see Texas A&M on the schedule at the end? How much has the Arkansas series sat with you?
A: I think we're looking at what would be natural rivals. Arkansas certainly has been a very competitive game for us at the back end of the season. I recognize that A&M and LSU have a great history. The reality of a season that plays in the West of the SEC is that there's plenty of rivals to go around and you're going to have to space those things out to make it equitable. I don't know how we're going to play Arkansas and A&M on the same week, so...
Q: How comfortable are you throwing the ball deep?
A: I can only tell you how Zach Mettenberger has been with us. He's been a hard-working young man. With the responsibility of the starting job, it's obvious to most around him that he recognizes the opportunity he has and the team has and he's working at it day-by-day. He recognizes that there's an opportunity for him that will help our team. I like to throw the football. I'm a balanced guy. I want to throw the ball deep and throw it efficiently. I think our guys were around 60 percent completion last year. The only difference this year will be that there'll be less quarterback carries.
Q: When you were recruiting Mettenberger, did you call Mark Richt?
A: I certainly review those guys we recruit, and I got the review of the incidents (with Mettenberger at UGA) and understand what happened there. I recognize that people make mistakes. He's a guy that, since that time, has really done the right things and deserves an opportunity. Since we've had him, he's been a really quality teammate.
Q: (Another question about the QB situation)
A: ...Kind of the same thing I just said (media chuckles). We suspect we'll see some more pass coverage and have the opportunity to run a little bit more because our quarterback can throw it. It'll be more in the learning curve, but he's not a young quarterback. He's had the junior college slate and been with us for a year in the transition. It looks to me that he's ready to go on the field. He's not that freshman or sophomore that really doesn't understand the game. If we don't put too much pressure on him, he'll be fine.
Q: You seem satisfied with the four-team playoff. Do you have any reservations about any of the details?
A: Over time, the great scrutiny of this country on that selection committee will be significant. They'll have to get it right and they'll have to defend it, and I think that's correct. They'll find people from backgrounds that aren't conference-driven, or that if they are conference-driven, they'll vote for the best teams regardless. It's important that the person on the committee have integrity and be able to go beyond conference allegiance. College football is too important to get it wrong. I think they'll get it right.
Q: On Russell Shepard...
A: I think he's looking forward to having a great season. He comes from a humble approach and he's looking to work hard. He's extended himself beyond high school reputation and ... I think we'll see him have a much-improved senior year.
Q: Do you have a preference in how your team approaches using the 2011 BCS game as fuel?
A: All that matters is they recognize the accomplishment they left on the table and they want to play better and finish. Recognize that we certainly didn't play our finest game at the end.
Q: It was agreed that this year's Alabama game would be at night. Did you have any input in that? And how important is it to you?
A: I can tell you that we enjoy playing night games in Tiger Stadium. It's a place we like to compete at. I can tell you that our AD and powers to be suggested this would be the best time for us. I agree with them. But we look forward to playing a very quality Alabama team on that weekend in Tiger Stadium.
Q: On Mettenberger's arm...
A: I did not have the good fortunate to drop in on the Manning Camp, we had a camp on our campus at the exact same time. But it was a nice complement to the young guy. He's completing passes and running the offense, not just showing up and being a strong-armed guy, knowing his role.
Q: Could you contrast, on and off the field, what you see as the most significant differences between the Big 12 and SEC?
A: There's great competition in the Big 12 Conference as well. There's a ... the venues are very comparable. Both A&M and Missouri's venues will be fun places and exciting places for other teams to travel to. I think there's a ... the best teams in that conference can play with anybody in the country. They will add to us. They have great experiences in the conference they come from and they'll be able to compete in this conference. I think there'll be a learning curve, I think they'll have to realize there's a different degree of defense in this conference, but I think both schools will be alright.
Q: Can you see A&M's style changing a bit as they get accustomed to the SEC, and do you see it seeping into the way Texas high schools play?
A: I think the high schools in Texas play a great brand of football and there's no way that will change significantly. There'll be a greater sharing of football in Texas when they really involve themselves into visiting LSU, visiting Arkansas, and I think A&M will really be able to represent Texas in the SEC and it'll show in their recruiting as well. It's a great conference and A&M will represent that state and be able to say, 'If you want to stay in Texas and play there...'
For Texas high school coaches, they'll see 'This is a nice choice for my player.' We've been in Texas pretty routinely. I just think we'll be in Texas more.
Q: What do you expect from Odell Beckham this year?
A: We bring players (to Media Days) that have leadership ability and talent and who we plan to have significant impact on the season. So when you bring an Odell Beckham, you suspect he may be your leading receiver. Being here, being able to articulate it, think it through and have you ask him questions, will be a benefit to him in the season.
Q: As a coach and a father, do you worry about health-related consequences of playing football?
A: I absolutely do. I think it's important that you recognize chronic trauma. As long as you're taking care of the kids and healing them and pulling them out when they have concussions or symptoms like concussions, then they have a chance to be able to keep playing. We have a responsibility as coaches and trainers to address that and I certainly think we're doing due diligence on that. It's a serious issue and I have two sons that play football; I recognize its importance. I have 85 sons on my team and I have to take care of those guys as well.
Q: Everybody seems to think Mettenberger is such a good passer. Did you have second thoughts about not giving him a shot last season?
A: Coming off the national championship game, I'd've liked to have given thought to a lot of other things. At the time I think the other two quarterbacks were a lot more advanced. I think he could have taken some snaps in the national championship game had he not gotten hurt earlier in that bowl practice.
Mississippi State's Dan Mullen
It's great to be back here. I know this kind of reminds you the kickoff the season is here. Nothing like SEC Media Days to remind you how important playing in this conference is. We don't have a lot of seniors, but we have experience. We had the third highest team GPA in school history this spring, our guys worked really hard this spring and the leadership of guys like John Banks and Tyler Russell, guys that have played a lot of football for us and been in the program since my first year, I'm excited about it.
I'm also excited about the direction the program is headed in with a brand new facility that's going to open in January and a number of exciting things happening within our program. The future is really bright as we continue to strive to build a championship program and a team that can consistently compete to win in the Southeastern Conference.
Q: Did you expect [name] to play at center as a freshman?
A: He was a guy that we kept up with the varsity during his redshirt year. We were fortunate to not have to play him as a true freshman. It is tough. That's a leadership role on the offensive line. The fact that he had experience at other positions at the time made it easier for him and he had guys around him that had played some football so it wasn't all thrown on his shoulders. We had some guys go on to the NFL so now his leadership role will have to pick up a bunch more. He has the confidence and toughness to do that. He plays the game hard and now he's tough and he'll have to become the leader of that group on the offensive line.
Q: When Tyler Russell came in, you guys butted heads a bit. How has the relationship developed?
A: With Tyler, here's a young man that came in with so much hype surrounding him. He came in with the fan base and the media and every blog saying he'd be the starter. For a young man to handle that — not just he, but his family — we almost pulled his redshirt off and then he became a role player, starting a couple games for us. We had to answer questions about why he didn't start as a true freshman, but he has blocked all that out.
He's played in almost every stadium in the league, so he knows what to expect. He knows the system, he's comfortable in the system. He knows we're going to turn the keys over to him and let him go, give him control over the offense and he'll take care of it. He's developed himself into a position to be ready for that role.
Q: How important is that first game against Auburn to set the tone and have a long-term impact on the season?
A: This'll be my eighth year as a head or assistant coach in the SEC. That first conference game is critical. It really sets the tone, no matter who you're playing. It's so critical because you're looking at a two-game swing with that one team. Win that, you're one game ahead in the rankings and you have the tiebreaker. That first game can be such a tone-setter for you in conference play. That's obviously huge for us, to find a way to win that game and hopefully make a run at an SEC championship.
Q: On the league's toughness...
A: The league is so tough, you have to bring your A-game every week. What makes the SEC different is the depth of quality teams that are in this league. You have got to play every play, every game, for 60 minutes and sometimes beyond that. The margin for error is so small in this game between losing and not. It's not just in one game or two games, it's in every single game you play. You can't look at a schedule and check off wins. You say, 'That's going to be a battle' with just about every conference game you play.
Q: You've sparked the Ole Miss rivalry. Do you think you can do that with Southern Miss?
A: It'll be different because they're not a conference opponent. We also open with Jackson State. On a national stage it might not mean much, but it does on a local level. We're the only SEC team to play a SWAC team. That means a lot. It means a lot to the people of Mississippi to play games within your communities. The players on each team know each other. The fan bases. You're talking neighbor-to-neighbor. I do think Southern Miss will be a big game. But the school up north of us, them being a conference game makes it that much bigger of a game. Not to downplay the other games, but the overall impact, a conference game wins out.
Q: On academic concerns...
A: You have to look at how it affects everything. We might have some guys who have to have an academic redshirt, but that affects the numbers. What's frustrating is when a guy has his grades in order and would have redshirted to give him a chance to learn and grow, but because of numbers due to academic redshirts, he's forced to go play. You only give him four years. You'd rather say that if you meet a certain standard, then you can get five years and get to enjoy your freshman year. I would love to see that approach taken, rewarding guys for doing well, not focusing on punishing guys who don't do as well.
Q: Any billboard plans for the fall?
A: They give me a copy after the billboards have already gone up to know what they're putting out there. Our marketing team has done a fantastic job of creating a buzz around the state of Mississippi for us. The neatest one was the 'three in a row' after we beat Ole Miss.
Q: Tyler is a little different than QBs you've had in the past, more of a pure passer. Any schematic changes to take advantage of it?
A: Yeah, absolutely. He's more like Alex Smith, who was more of a dropback passer. Alex worked on his athleticism throughout his career, but you wouldn't mistake him for a running quarterback. Tyler's fast enough that he can run in a straight line and you might not get near him. But you're not going to use 100 percent of the plays in your playbook. You're going to take, whatever, 80, 60, 75 percent that you take based on what your team looks like this year. Our philosophy is not going to change but you will see some differences in this year's team, utilizing Tyler's passing ability, the fact that we have five senior wide receivers this year. We might use 30 percent of the offense that we haven't used as much the last few years.
Q: How did the trip to Troy in the non-conference come about?
A: One of the things we do is sit and schedule with our athletic director to play as many conference games within our region as we can each year. We don't have to fly around the country, players' families can come watch their sons play, our fan base can come see us. This year it happens to be at Troy. There was discussion about skyrocketing budgets and how we handle it ... we handle it by scheduling games that aren't going to cost us millions of dollars. We get on a bus and go play and families can come watch us play.
Q: How do you intend to build on last year's defensive performance?
A: We did a good job of being a bend-but-not-break defense. Statistically we weren't great, scoring defense we were great. I'd like to give up even less points this year in doing that, but I'd also like to find ways to get off the field faster. The nice thing is that on that side of the ball we have guys coming back, three in the secondary.
Q:
A: The first game is critical. We can beat any team. The thing is, we have to make game-winning plays, we have to have guys stepping up to make those plays. The great thing about our program is that in the SEC West, we're not far off from those guys. Which means we're not far off from a national title. And our guys see that, it tells them that we can be right there. That builds and it gets into the program. As we continue down the road and grow the program, you start to see that confidence. Not just in our team and coaches but in the administration, the students, the fan base. When you have those expectations, you start winning, you start making that one play that makes a difference.
Against LSU it was 14-9 in the fourth quarter. We catch one of those long passes and score a touchdown, it becomes 16-14 at home and you have a chance to win that game. It's those big plays that make the difference.
Q: How big is the WR experience for your program? And how will you replace them in recruiting?
A: It's the one position, when I got hired, where we went out and recruited guys that had to play right away. Now they're seniors and they've been playing for years. They know the system, they know the league, the talent, the stadiums.
You always want to be in a position in recruiting where you're not top-heavy with your classes. When you lose six O-linemen in one year, that's real tough. You want to balance it out. We're going to try in recruiting to balance out that receiver position in the future.
Q: Are you pleased with the four-team playoff? Do you have any reservations?
A: You're always going to have reservations because you don't know what it's going to be like. I don't have much of an opinion right now. I've been on a team that went undefeated and didn't get a chance to play for a national title. We'll have to see. The great thing about the bowl system is ... these guys are student athletes. They're not professional athletes, they're here to get an education.
But when seniors leave, they get to take a championship with them. That is a great educational tool, being able to, in their last game, win the Music City Bowl. The tradition that goes along with it, the excitement with the fan base ... pulling up to Nashville last year, seeing the fans like that, I hope we don't lose any of the traditions about college football. Right now there's four teams — that fifth one isn't going to be happy.
Q: In light of new information about head injuries in football, do you worry more than you used to about player safety and long-term impact?
A: I don't worry any more than I used to, I've always worried. Player safety is a huge concern for us. Their well-being has always been priority No. 1 in our program. With all the studies that go into it, it is going to be interesting to see. We try to make sure our guys have all their equipment fit properly, that their chin straps aren't loose. Our No. 1 goal is to be an injury preventative program. I'd rather prevent it than react to it.
On head injuries in football, as much as we always try to protect, there will still be some chance of it happening. When it happens, your reaction has to be to protect that young man's future. There are guys who are competitive and will hide an injury because they don't want to come off the field. As coaches and medical staffs we need to make sure we're protecting them as much as possible.
Q: Mississippi State plans to commemorate the Snow Bowl with A&M this year. How excited are you to start up a rivalry with A&M?
A: It's exciting to have someone new. We'll play them every year. Everybody gets on the uniform kick and I think it's real cool. We'll do whatever the players think would be a cool deal. It's kind of the thing now to wear new uniforms. The thing I want to see is guys going to school and doing well. If new uniforms will help that, we'll do that.
Q: A lot has been made of the tough five-game end to the season with no breaks. What are your thoughts?
A: Hopefully win a lot early. If we can win a lot up to that point, those games become extremely meaningful not just in conference but nationally. It's the Southeastern Conference — you're going to play a tough team every week. Early, late, spread out or whatever, you're going to have to play them eventually. That's part of being in this league. Hopefully it becomes a tough six-game schedule with a game a week later.
Q: On offseason improvement...
A: We're not going to change just to change. We're not just going to get our reps, we're creating a mental and physical toughness during our camp. We spend a lot of time looking to make sure we are developing that edge.
Q: How much success do you expect Urban Meyer to have at Ohio State?
A: He's a great coach and Ohio State is traditionally a power program, so I think he'll do real well.
Q: You went on a barnstorming program when you got hired to get State people excited about State football. Do you think you've done that?
A: What we want to do is go up and insert a bit of swagger and confidence and belief into everybody and go around and say that part of us winning football games is you selling out the stadium. If we win, they'll then sell out? It doesn't work that way. You sell it out, we can win. They're starting to see that. In airports around the country you're starting to see Mississippi State clothing and flags flying outside the houses. Pride in our university, pride in our state.
Starkville, I think, could be the best college town in the country. Great community, great people, great atmosphere to win it. If you want the college atmosphere, in a college town, Starkville, the whole town is about the university and that atmosphere. The people that live there, I don't think there's a better college town out there than Starkville, Mississippi.