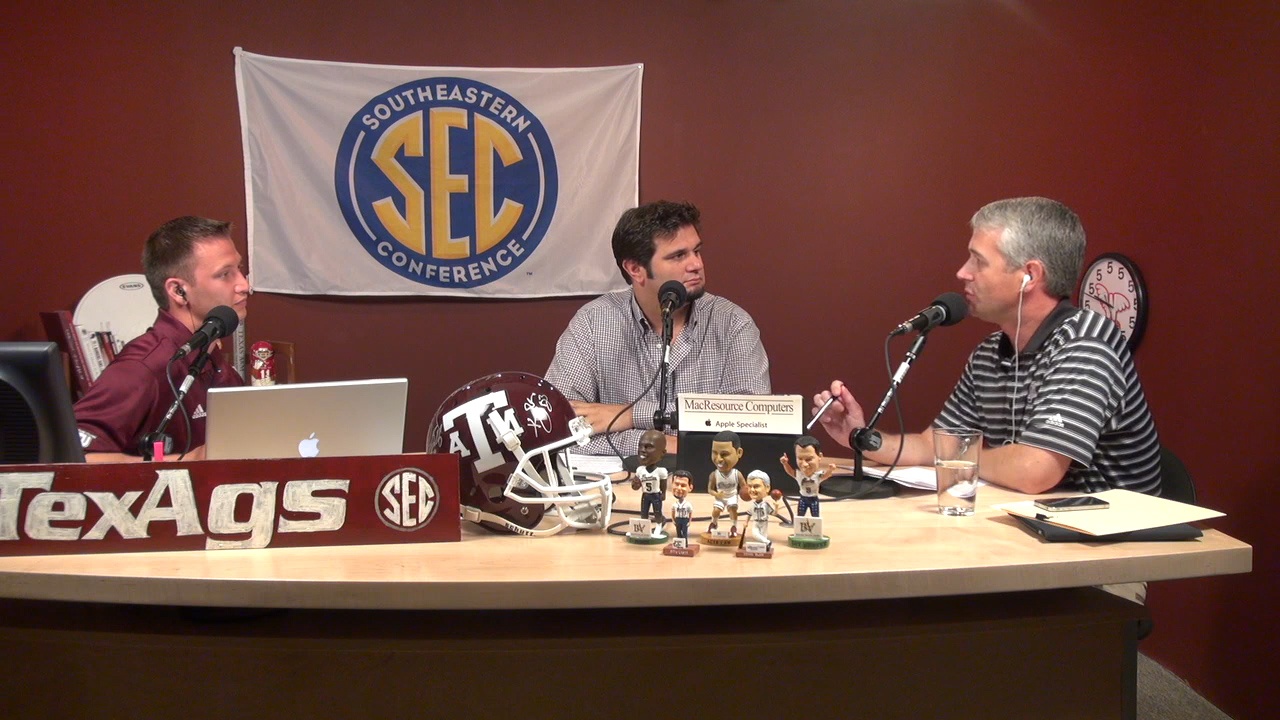 Texas A&M Football
A&M VP Jason Cook details AD hiring, SEC officiality
---
Notes from Jason Cook interview

*It was never his personal goal or dream to get A&M in the SEC. A&M was delt with certain circumstances and the timing presented itself to make a move. There is a tremendous feeling of accomplishment. The most emotional point was the SEC celebration at Kyle Field in the fall.

*The wrapped SEC bus was done well by A&M's transportation services. Could only do one bus but was pleased with the result.

*They missed the mark on the SEC traditions video. The A&M social media team was devastated by the reaction to it. The intent was to show how A&M was excited to be in the SEC and learn the traditions of other schools in the conference. They posted it in the afternoon with initially positive feedback. As the day continued, the reactions took a turn for the worst and they opted to take down the video at 11:30 p.m.

*Social media can be very difficult, especially if you want to be lighthearted as they were in the video. Sometimes Aggies can be their own worst enemies. If Aggies continue to complain about the video and the embarrassment, the situation will only get worse.

*Stubbed their toe on the video, but didn't hurt marketing too much in the big picture. The video did not take away from all the hundreds of positive marketing executions. Aggies need thicker skin when it comes to relations with other schools. SEC is the king of trash talk. A&M needs to learn to take it and dish it back.

*Games at Mississippi State are sneaky. Teams walk in to a smaller stadium expecting a win but find themselves in a deafening environment. Aggies need to go to Starkville and not make it a trap game.

*He had a plan for the search of an athletic director. It was one of his goals to get an AD before A&M moved into its new conference. He had July 1 as a personal deadline.

*He interviewed three candidates in one day. All three were from top BCS programs and were all familiar names. All the candidates brought different things to the table. The committee was split on a decision for a while.

*Cook called Hyman while the then-South Carolina AD was at the College World Series because Hyman had to fly in for an interview immediately to have a shot at the job. The conversation was that serious. He took a gamble by getting Loftin to meet Hyman while the A&M president was still very ill, not to the liking of Loftin. A&M had to take the risk.

*They talked to Hyman for 2.5 hours and Hyman said it felt like 20 minutes. Hyman noted these were his kind of people. After Hyman left, the committee all agreed he was the guy.

*SEC experience wasn't the largest factor, they wanted to get the best guy. Hyman knows presidents, ADs and SEC commissioner Mike Slive. His SEC experience will help A&M make the transition.

*Looked across the SEC and other conferences. They looked at 'No. 2' guys who could make the step up to a full AD position along with actual standing athletic directors.

*At the SEC meetings in Destin, a friend of his introduced him to Hyman. It was awkward because people knew A&M wanted a new AD. They didn't talk about the job, but rather Hyman's Texas ties. They would foster the relationship ever since. Hyman noted A&M as a gold mine for athletics.

*Kept the Hyman interview very clandestine. Hyman left the CWS in South Carolina game gear, flew to his interview in a suit and flew back to Omaha in game gear. Nobody knew he was gone.

*What you see is what you get with Eric Hyman. He's very genuine. He talked about trust and integrity and was very sincere about those principles. It's one thing to say you want to win championships, but it's another to lay down a plan in measurable goals. He has seven principles upon which he builds his department.

*Going into the search, influential Aggies figured no one wanted the AD job. Several people also thought the search was a scam. By initiating a search firm, it showed they were serious about finding the best AD.

*Had 15-19 BCS school ADs showing interest in the position including some big names. They feel they found the best guy. There has never been a more well received hire.

*The committee felt AD experience was necessary especially as A&M was moving to the SEC. They were going to try to find a standing BCS AD first.

*Regent Jim Wilson was a major cog in coming to a decision with both the SEC and the AD search. It's unfortunate that's he's been cast as a villain throughout the process. Contrary to popular belief, Cook and Wilson don't talk on the phone every night and scheme. Wilson is a good friend because they worked very closely together. Wilson's not the guy to look for glory.

*Spent a lot of time with Hyman. He and his wife took Hyman and his family around College Station for a tour. Could tell was true to his values.

*Hyman said A&M was not broken and that he wanted to lead the Aggies into the SEC. He was surprised College Station was as large as it was. Hyman was also very impressed at the facilities and was happy he could bring together all the athletes into the athletic academic building. He was thrilled at the hospitality.

*People are recognizing A&M within the SEC and shows marketing initiatives are working. Many SEC officials attended the SEC welcome party. Many SEC fans/officials want to attend Kyle Field to see what it's all about.

*Wanted to position A&M as being a fit in the SEC and having the same spirit. Marketing's job at A&M was to show how they fit culturally in the conference. A lot of work was done to get A&M ready for the SEC and vice-versa.

*There will be statewide billboards but there's a master timeline. We're going to wait for those leading up to the Florida game. The billboards will help market in the state of Texas.

*His prediction is that the Florida-A&M will be a night game on ESPN or ESPN2. Commissioner Slive will be in attendance as well.

*Announcement for uniforms at 12:12 p.m. (already released).

*The SEC is a huge brand and it would be great to cobrand with that. There's a lot of excitement and this is a once-in-a-lifetime opportunity. A&M is still considered a regional brand and this will help change that perception.

*The beveled T was there before he was. Tennessee officials thought it was hilarious people were so wound up about the issue.

*Beginning in August there will be a large push by retailers for Aggie merchandise. Sports Authority and Academy have made their largest purchases ever for A&M merchandise. A&M marketing is meeting with Walmart next week at the regional Texas meeting to discuss A&M in the SEC. There will be more maroon in the marketplace soon.

*Hyman is bringing his chief operating officer from South Carolina who he has worked with since his TCU days. He deserves to build his own team and will take a couple of months to begin to configure his staff.

*Anticipates the 2013 football schedule will be released around SEC media days. The basketball schedule should be out in the fall.

*A&M is a traditional brand and the uniforms won't go away from that. Wants to modernize the brand but not go away from Aggie roots. The times are changing and fans need something a little bit different. The aTm is not changing.

*ESPN doing a Gameday commercial and another A&M related commercial showcasing the craziness of sports fans in general.