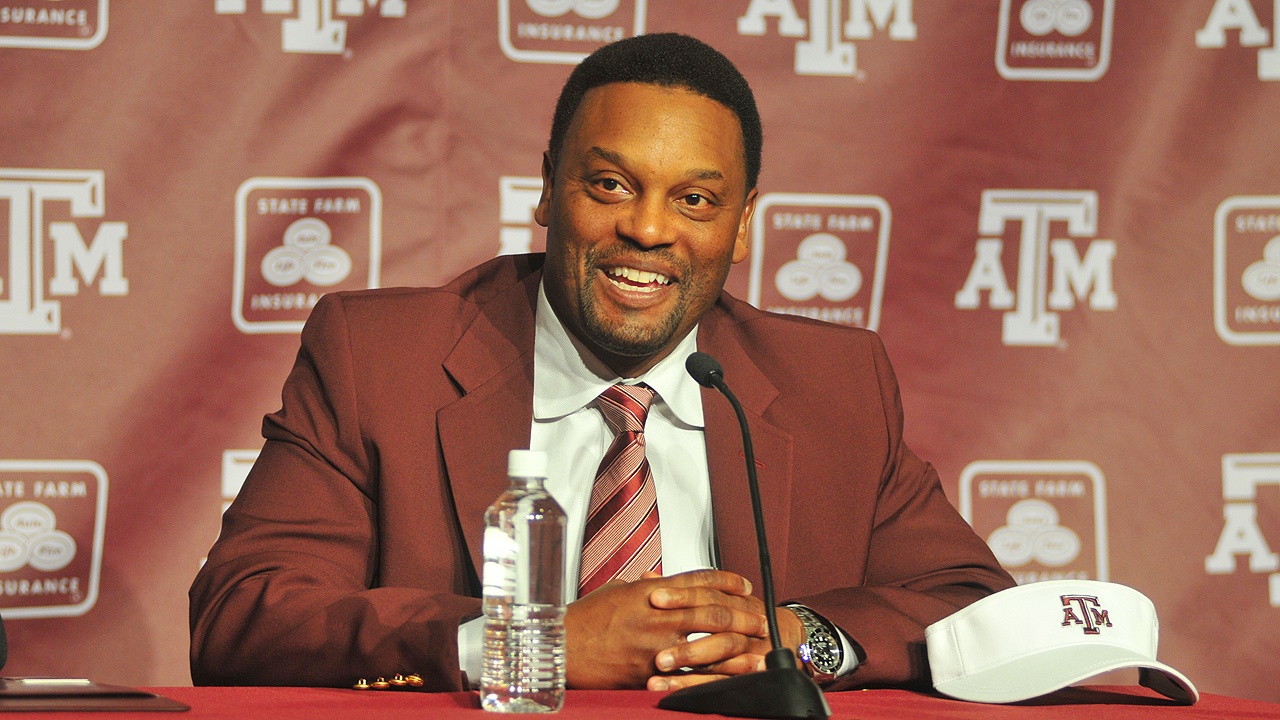 Texas A&M Football
Kevin Sumlin talks current team, SEC transition
---
Notes from Kevin Sumlin interview

* It's hard to tell the exact level of excitement that the fans have during this transition period, but one thing is for sure and that's that everyone is excited to some degree. The coaching staff hit the ground running from day one and has been around the state doing all sorts of things recently. From talking to a lot of people, he knows that people are excited for the first season in the SEC and are ready to kick things off in the fall.

* He can't say enough about the coaching staff he put together. He was able to assemble a group of guys that truly wanted to be at Texas A&M. The fact that they all want to be part of A&M has started to show in recruiting, and they have done a heck of a job so far. The staff has had a few meetings over the past few weeks and they think that the position they are in from a recruiting standpoint is only going to get better as time goes on.

* There were a number of fabulous juniors-to-be that showed up to some of the camps that the staff was able to eyeball and start building a good relationship with. With the schools from Oklahoma doing camps in Texas, A&M will be at a competitive disadvantage once they are not allowed to hold these camps anymore in the SEC. Hopefully they will be able to talk to the conference about that rule sometime in the future. It's not easy for kids to get to College Station, so bringing A&M to them becomes that much more important in order to form those good relationships early in the process. The staff saw some guys out there that, in their opinion, can play with anyone in the country, and they were just fortunate to be able to spend some time getting to know those players.

* This staff hit the ground with the SEC stuff already in progress, so it's hard for him to tell exactly how excited people are about this move than they would be otherwise. The staff embraced the conference change and they think that playing in the hardest division of the best league in the country will only help A&M on the recruiting trail. There is a certain type of guy that wants to play in that league and the staff wants to find those guys that not only want to be a part of Texas A&M, but also a part of the SEC as a whole.

* Going to Destin, Florida for the SEC meetings and sitting in the meeting room with coaches of such high caliber and Commissioner Slive provided for conversation with great, great intensity. There was so much passion in that room and there was also a lot of respect for everyone because each and every coach cares so much about what they do. It was amazing to be in that room and to share opinions with the likes of Steve Spurrier and Nick Saban.

* The team has a long ways to go from what they were doing in the spring. When you're installing a new system on all three sides of the ball, there will always be some amount of growing pains. The staff was able to install the philosophy and the base of what they are trying to do during the spring which will allow the guys to work off of that during the summer. The biggest thing that needs to be done is changing the mental makeup of the team. Right now, the team has been through so many tough losses and situations which make it hard on the guys. The staff has to get the team to trust them and change their body language, and if they are able to do so, they should be alright. They aren't where they need to be yet, but recruiting is in the process of changing that. The whole team needs to exhibit the confidence and energy that the up and coming recruits show on a daily basis.

* During the spring, he was very surprised by the talent level in the secondary. Statistically, the secondary was on the lower end of things last year, but there are very talented guys back there. Deshazor Everett can play for anybody, Floyd Raven is a pleasant surprise as a big physical guy and Otis Jacobs gives some depth as well. Statistically, A&M was one of the worst teams in the country in pass defense, but what he sees is a bunch of guys that can play the game and that are excited to play. Their energy in the secondary is important, and even though talent is important, usually the most excited team will be victorious on Saturday.

* When the staff got to A&M, they walked in the room with the four quarterbacks and noticed that they already had relationships with them. They had offered scholarships and talked to them through previous schools, so there was a certain comfort level already established between the quarterbacks and the coaches. The kids know what they staff is trying to do, and it definitely is not one of those times where you don't know what to expect when a new head coach comes in. The staff feels really good about their guys and this process won't be any different than it has been at any other place he has been. At Oklahoma, they didn't name Jason White until late in the summer, Sam Bradford wasn't named until two-a-days, and then Case Keenum at Houston wasn't named until two weeks before the season started. He thinks that a starter will be named two weeks before the season at the latest, so that the main guy can get enough reps to feel as comfortable as possible out on the field.

* Guys come into the program, and some of them are in shape, but some of them aren't. Even if they are in shape, they are nowhere near the caliber of physical shape that the staff needs them to be in. That's where Larry Jackson comes in, and he can't say enough about the impact that he has had on programs wherever he has been. When the two of them sat down and talked about coming to Texas A&M, Jackson's exact words were, "This is not a job, it's personal now." Being a player at A&M, and only losing a few games during his whole college career makes him want to get A&M back to that level of play. That kind of pride and passion is important to have, and the players definitely feel that vibe coming off of him.

* A&M needs things like the new player development center to catch up to the other top schools in the country. A&M is used to comparing themselves to Texas, but that isn't the case anymore. A&M is now comparing themselves with every other team in the SEC. It's one thing to be competitive, but it's another thing to be successful and A&M is doing everything they can to get to that level.

* Great defensive lineman are hard to find, particularly in this part of the country. A&M and Texas have split the top defensive lineman in the state over the past few years, but after that it's a free-for-all and you have to go searching for the next best prospect. The difference in the SEC is the size and speed combination of the defensive lineman. Houston played Mississippi State last year and pretty much their entire front seven will end up playing in the NFL. Looking at their three linebackers and their front four, you're amazed at how fast those guys are with the size they carry. A&M has to increase the profile of their team, and having the SEC footprint in the east should allow A&M to go in and get more of the players they need like Otis Jacobs. As A&M moves east, they should be able to compete for the high profile defensive line guys.

* There is so much going on right now that he hasn't really had the chance to think about how it will feel to lead A&M out of the tunnel for the first time at Independence Stadium. He is going to take a couple of weeks here in a bit to just get away and reset himself. When the team comes back in July and August, they will be preparing to play a good football team in Louisiana Tech. Playing Louisiana Tech away from Kyle Field will help A&M down the line, and hopefully A&M will have enough fans there to turn it into a pseudo-home game.

* Part of the job is dealing with people who watch his every move like a hawk. He's fortunate and lucky to be the head coach at A&M, and after being around the industry for so long, he's realized there are a bunch of good places, but very few great places like A&M. He left his alma mater at Purdue to come to A&M the first time, and there is a definite reason he did that. There is no place like Kyle Field on game day, and it gives A&M a chance to be competitive not only in the state of Texas, but nationally as well.