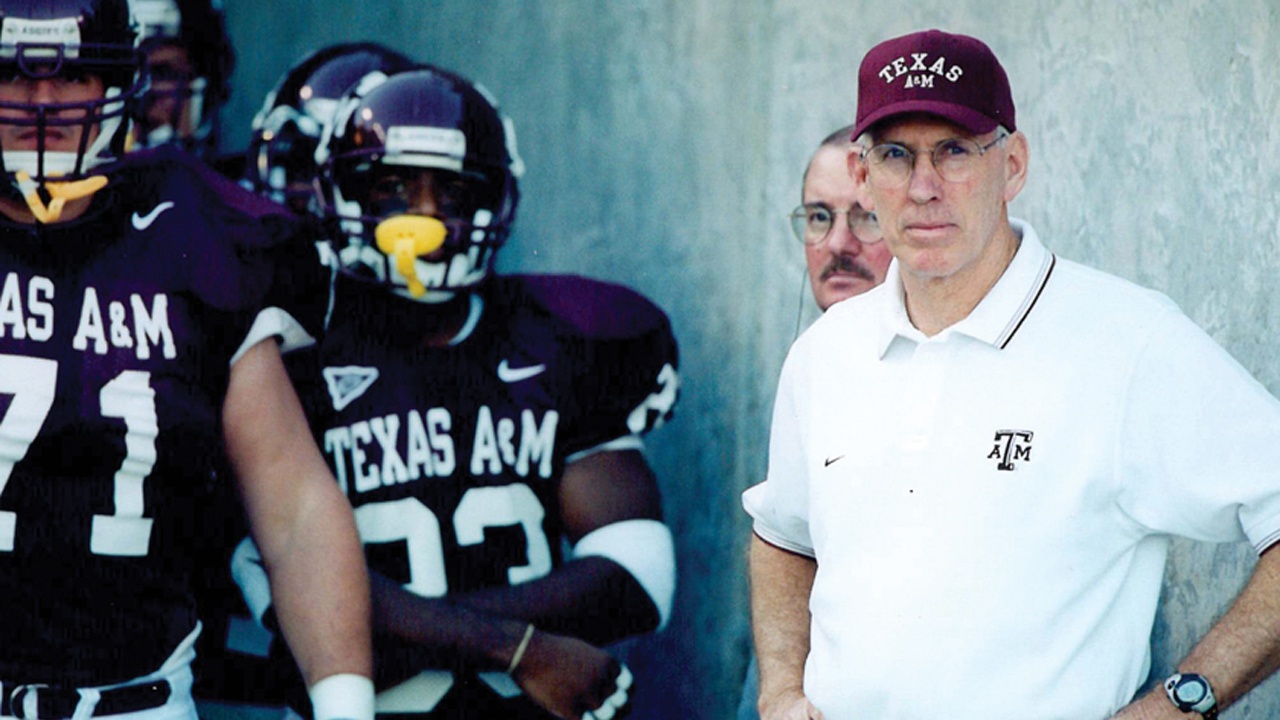 Texas A&M Football
R.C. Slocum talks HOF selection, A&M career, Sumlin era
---
Notes from R.C. Slocum interview
* He's tremendously honored to be a College Football Hall of Fame member and it's a great feeling to now be included in a group with the coaches he tried to emulate growing up. While he was coaching, he had some awesome assistant coaches and wouldn't have gotten the nod without them. He also gives credit to the players that played under him for getting him to where he is today. The 12th Man also deserves some recognition for making the atmosphere at Kyle Field exactly what it was and he wouldn't have traded it for any other place in the country. This award validates the work of those players, coaches and fans all of the years he was at A&M.

* While at A&M, he always talked about how important teamwork was and about guys needing to play for something bigger than just themselves. Every year he would tell the team that there wasn't one single guy who could win a championship and that it takes every person doing what they can to help the team to succeed. The word TEAM stands for: Together Each Achieves More.

* There were so many moments he was proud of while at A&M including his first game as a head coach against LSU. A&M ended up winning the game over the top-five Tigers. In 1993, A&M played and beat Texas, which was another moment he will always be proud of. The juniors who were on the team at that time never lost a conference game at Kyle Field.

* In 1997, the year before A&M won their conference title, he remembers fielding questions from reporters asking if the Big 12 South would ever be able to be competitive with the Big 12 North. A number two ranked Nebraska team came to College Station the next year and that's when he first asked the students to participate in a 'Maroon Out' to combat Nebraska's 'Big Red'. Of course, the Big 12 title game in 1998 was also a very special game to him. Perhaps the most meaningful game during his tenure was the Bonfire game in 1999. The Oklahoma game in 2002 was also one of his most memorable. Kevin Sumlin called every play in that ball game for the maroon and white, and freshmen Terrence Murphy and Reggie McNeal both had good days to lead the Aggies over the highly touted Sooners.

* The quality of the athletic ability of his defensive players was what made the defenses so good during his time. The staff had a philosophy of recruiting guys who could run and put an emphasis on having coverage corners and having fast linebackers. They also had a philosophy that the defense wasn't just going to sit back and react to what was going on, they wanted the offense to be worried about what they were doing. The kids bought into that philosophy and since special teams was made of mostly defensive players, they controlled two-thirds of the game. Defense is something that can be consistent week-to-week and they expected to be good every day.

* Before Kevin Sumlin assumed the role of offensive coordinator, Dino Babers was in charge. He wanted to be fair in what he was doing, but looking back, he probably wouldn't have made the hire to start with. That isn't meant to be a knock on Babers, but the situation just didn't function well with him leading the offense. Once Sumlin took over, you could see an immediate difference which is credited to his coaching ability.

* 7-on-7 competition has dramatically changed football in the state of Texas and has opened up the game to be more pass-happy. If you look at the number of quarterbacks in the NFL from the state of Texas now as compared to years ago, you'll see there are a lot more now due to the changing of the game.

* He feels very good about Sumlin's ability to lead A&M back to football prominence. He has all of the tools and qualifications to be successful. He recognizes the challenge of going into the toughest football conference in the country and hopes that all Aggies can get behind the program and pull in the same direction. Sumlin has put together a great staff and seems to have everything he needs to make A&M competitive in an always challenging SEC. He's very optimistic about A&M's future in all areas, not just athletics. If you think something is going wrong or can be improved, he urges taking it up with Sumlin or one of his coaches instead of plastering that something is messed up all over the internet.

* He shouldn't be a candidate for the athletic director search. The era of football coaches running the athletic program is long over and he thinks A&M needs a big-time athletic director that knows the ins-and-outs of the business.