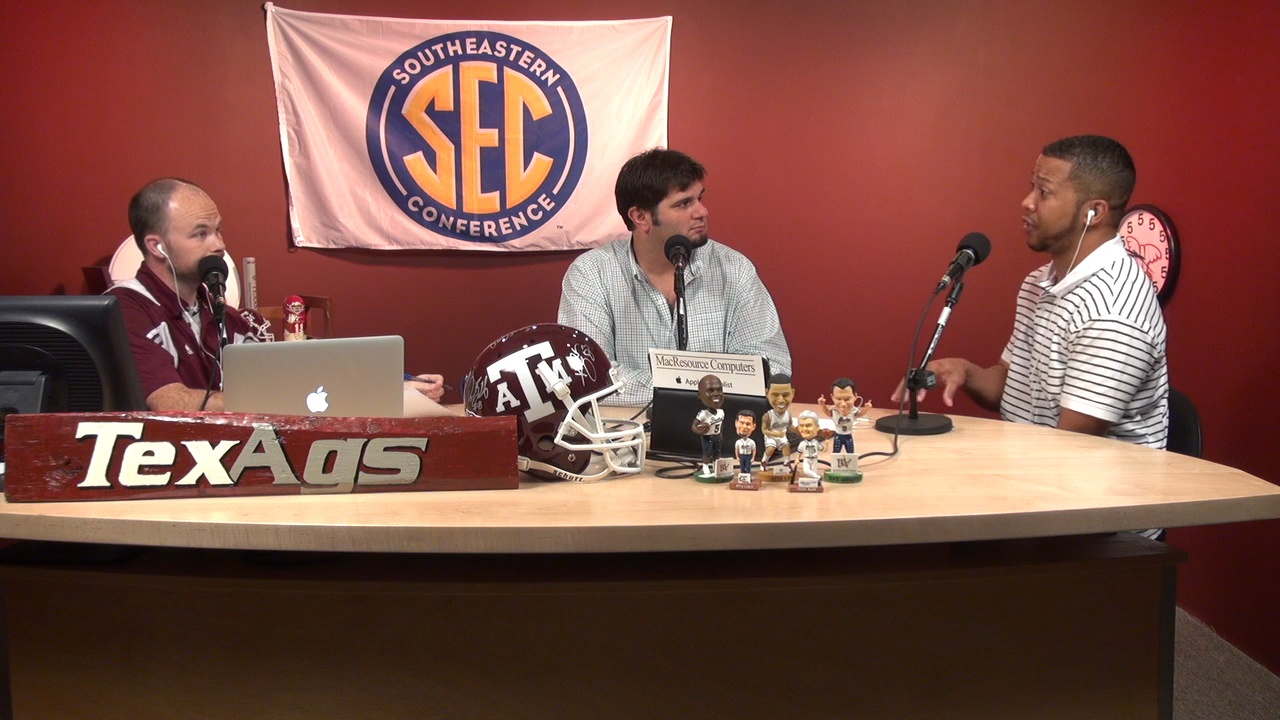 Texas A&M Football
McMillian opens up about Sherman era, recruiting & SEC move
---
Notes from Charles McMillian interview
* Is currently trying to break into the high school coaching world, whether it be in a coaching position or an athletic director position. He always talked about working with high school kids no matter where he was, because he believes it's all about the youth in the community. As a high school coach, it's easier to impact kids' lives because you can spend more time with them and mold them more.

* The expectations of the team last year were deserved. The team had made strides, and it's hard on you as a coach when you go 6-6 when 12-0 was a possibility. There are things as a staff that could have been done better, but it was still heartbreaking. In his opinion, the coaching change did not happen due to the team going 6-6 because everyone could clearly see the team was on the rise.

* Going into the 2011 season, you felt great about the defensive backs on the team because everyone was healthy. After Steven Campbell and Coryell Judie went down, Lionel Smith said he was coming back for his fifth season on campus. Ever since he got to A&M, he tried to kick Smith off the team because Smith was the laziest player he ever coached. Smith was determined to prove him wrong, and was able to make an impact in his senior year. After losing Campbell and Judie, the corner position should have still been solid, but Dustin Harris wasn't able to perform up to his ability all season due to injuries.

* One way to understand if a high school recruit really has what it takes to play at a higher level is by assessing his mental capability on the field. If a kid is able to answer about what was going on while he was on the field, whether it be the type of defense ran or different coverages, you know you have a guy with good football IQ.

* When he got to A&M, he wondered how you go about rebuilding a program that shouldn't need rebuilding. The staff he was on started from the ground up and tried to build a new foundation for Texas A&M football.

* Terrence Frederick was consistent his whole career at A&M, minus a couple of games at the beginning of his freshman year. He would tell pro scouts when they would come by that, he wasn't sure how fast Frederick was, but he knew Frederick was a football player. He worked out Frederick while at TCU during a camp in Katy, and eventually ended up coaching him at A&M. Frederick probably should have gone a round earlier in the NFL draft, but should excel in the Steelers defense.

* While at TCU, he recruited the same area that he did at A&M and was able to maintain relationships with the coaches in the Dallas area which helped him a lot. Before he got there, the coaches in that area didn't have any respect for the A&M program or the coaches that ran it. Coach Sherman did a great job of breaking that disrespect by writing letters to each individual coach and talking to them one-on-one to gain that respect back. Sherman and his staff were able to put A&M back on the map with a bunch of high school coaches and reopened the door for the current staff to do well in recruiting those areas.

* When the stories about A&M's possible move to the SEC started popping up, the coaching staff paid no attention and did their best to focus on what was happening on the field.

* In his opinion, by making the jump to the SEC without the talent level necessary, the question becomes, will Sumlin get the time needed to increase that talent level to where it needs to be. He doesn't think it will take three years to get there, but more around six to eight years to get the recruits needed to compete in the SEC. People need to have patience, and need to know that this transition won't happen overnight.

* Back when he grew up in Bryan, everything was held to a higher standard than it was in College Station. Since that time, it has completely flipped and College Station is seen in higher regards. He has stayed in the area in order to help youth who need a male role model do what is needed to have success in life. He wants the community of Bryan to get back to where it was academically and athletically while he was living there.

* He believes that Coach Sumlin can come in and take the A&M program to where it should be. The higher ups will have to give him the time to get the job done, however. If A&M would have stayed in the Big 12, Sumlin probably would have won the conference. Sumlin has hired a great staff, but now they need the tools to work with.

* The SEC will have trouble adapting to the offense A&M will run, because most defenses in that league are built to stop the run. When there are four wide-outs on the field, a linebacker can't be matched up in man, and therefore they have to play more zone coverage which opens up space on the field.

* He coached Marcel Yates at Boise State and realized that Yates was going to make a good coach after Yates hurt his knee and was able to observe the game more. Yates would find things the coaching staff missed and would help improve the team in that way. The most important thing for Yates to do at this point is to get the younger guys to learn the defense because there is plenty of talent at the corner position.

* Sherman was focused on 2011 and not on the SEC move, which was why he seemed to be complacent about the issue. He believes A&M needs to get more majors that are conducive to athletes in order to recruit against schools like LSU which have more options, which is something Sherman was working on. He doesn't think Sherman was against the SEC move, but he wasn't totally in favor of it either. However, the staff was prepared to do whatever was best for the school. It comes down to whether or not you can compete in a new league, and at that moment, the staff did not believe they were ready to compete due to a lack of depth and the battle to become better in recruiting.

* Toney Hurd Jr. was a great recruit who came in at 5'8'' and 205 lbs. He was a little stiff due to his weight being solid muscle, but he since then lost some weight and has been able to get some of his speed and skill back. Playing the nickel position will really help him out, and size shouldn't be an issue because of how physical and tough he can be.

* Howard Matthews made some freshman mistakes last year and cost the team several touchdowns because he would run up and try to stop the run when he was supposed to be a middle third safety. The old staff thought he would eventually grow into being a linebacker, but now that A&M is in the SEC, that remains to be seen. The real question with him is whether he will put in the work to live up to his potential, because he doesn't always work the hardest in practice.

* If Steven Campbell can get his strength back, he has the potential to be a major factor on the field.

* Steven Terrell is so smooth and so fast, but sometimes has an issue with playing with confidence. If he can gain confidence and get more physical, he can be a great safety for the team.

* When he talked with Sumlin in early January, he told him he needed to go after Devante Harris. He is excited about Harris because of how fast he learns and how physical he can play. If Trey Williams can get in the weight room this summer and put on a little more muscle, he can really help the running game. He's also excited about Thomas Johnson because he is a superb football player with great hands and can be used in many different ways.

* As a coach, you don't want to take a bunch of small guys, but if there is a guy who can help the team win a championship, then you have to go get him. Some coaches get set on trying to find a player with prototypical size and speed, and by doing so, miss some of the other great high school players.

* In order for A&M to be more appealing to high school recruits, the negative comments that get thrown around on the internet need to stop because the players and their parents read those. In his opinion, the Bryan-College Station area has some things to overcome in terms of race perception. However, with the hiring of Kevin Sumlin as A&M's first African-American head coach, he believes that stigma will decrease and kids that are on the fence about A&M because of that issue will start to join the program more and more.