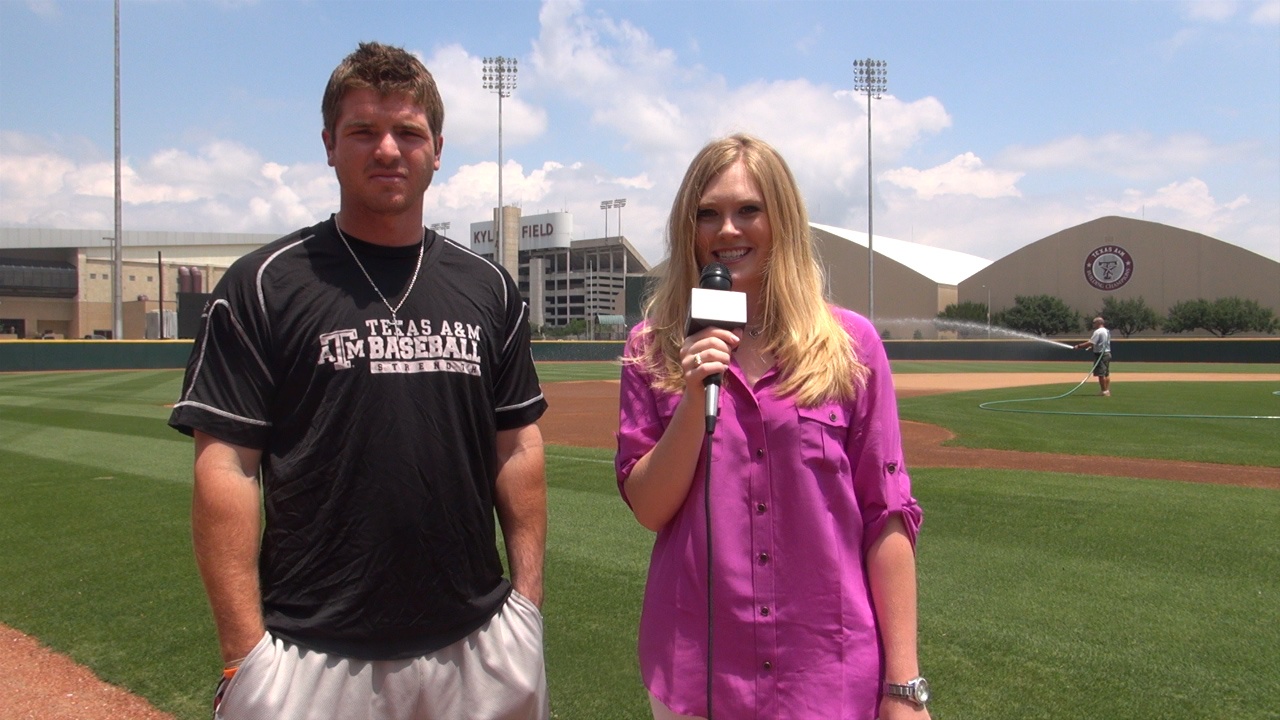 Texas A&M Baseball
Troy Stein breaks down A&M's season with Jordan K
---
A&M's surprise star shares goals, insights & personal details

Jordan Kirkland: Troy, congratulations on the series win against Texas Tech. You had a couple great at-bats. What have you done this semester that's really helped your hitting?

Troy Stein: "Just really try to slow the game down as much as I can. Try and make it not as big a deal as it is. Contributing to the team is a huge deal and that's the way you get in the linuep. Try to slow the game down as much as you can and make it not a big deal at all. Once you slow the game down, it comes back."


JK: Looking ahead, you have San Diego State this weekend ... but you also got a break (no mid-week game) this week. What are you working on this week instead of having to game plan?

Stein: "We've had a break Monday and Tuesday. That was a big thing. We're winding down the regular season and it's big to have a couple days off to get your legs back underneath you and get your body back to the shape it needs to be in to play at your full potential."


JK: You didn't start the season as a starter but you 'write your name into the lineup.' What about your play made it so that you had to be playing at all times?

Stein: "You know, there's ... we have a great catching crew. We have three guys that can be out there on any day and it just so happens that I got hot at the right time, I guess. There's nothing those other guys can't do. They're two great players and it just so happened that I got out there and got hot at the right time and that's just how it went."


JK: In high school you started all four years, All-District, and did incredible things. But you were also really involved in FCA (Fellowship of Christian Athletes). You were FCA Athlete of the Year. What about that organization made you want to be a part of it?

Stein: "It's just a great organization. It's a big-time thing to be able to meet up with Christian brothers and sisters and have a relationship with them and get to know them and what they're all about and be in a fellowship with them. It's nice to have a place you can go to pretty much leave baseball aside and realize that your faith is the more important thing. That's what FCA does. It lets you put baseball aside and focus on your relationship with Christ and your faith.

"I got into it in high school and it's hung with me the whole way. I was really glad when I got here that they had an FCA. I got involved in it and it just so happens I live with Jacob (House) and he's the FCA president. It's kind of a big deal. It's been a big part of my success here."


JK: You and Jacob seem to have a tight bond. What about him has helped you grow, not just in your faith but in baseball as well?

Stein: "He's just a great, great mentor. I live with him and he does stuff that influences me that he doesn't even know about. He's an older guy that's been around the block and has done a bit of everything. He's transferred, taken the tough times and rolled with the good times. It's been great having him around the house, as a mentor, as a person. Having him here at the baseball field and by my side, by the side of the whole team, as a great leader ... he's just a great role model for the whole team."


JK: Looking back, Kevin Gonzalez was one of the all-time great catchers here. What did you learn from him your freshman year when he was a senior?

Stein: "(Chuckle) Everything. He was the same way Jacob was. He kind of took me under his wing. I came in knowing I'd be able to learn from him, and I did. He was great, helping me out and teaching me the tricks of the trade. Knowing what Coach (Rob) Childress wants of you and what he expects out of you. Gonzo was always there to do that. He helped me out in practice and, when I did get in the games, he was the same way. He'd help me out as much as he could, see if he could make me a better catcher."


JK: What was it like going to Omaha for the College World Series in just your freshman year?

Stein: "It was a great experience. There's really nothing like it. Being able to come in as a freshman, you really don't know what to expect and just being on a great team, having them take us all the way to Omaha, it was a huge experience and something we're trying to get back to."


JK: What are you looking for against San Diego State in your last homestand this season in Blue Bell Park?

Stein: "Nothing more than normal. We treat every team the same. We're trying to win every series and that's how we're going to go about it. We're trying to get better with each game we play. Whether we're playing San Diego State or Oklahoma or Texas or Baylor, it doesn't matter. We're going to go out there and try to beat them."


JK: You have one of the best pitching trios in the country. What is it like catching for those guys on a weekly basis?

Stein: "You know what, they make it easy. They truly are great. They're easy to catch, and they're fun to catch. They're great pitchers and they have command of all their stuff. It makes my life easy to just sit back there and be able to enjoy them pitching."