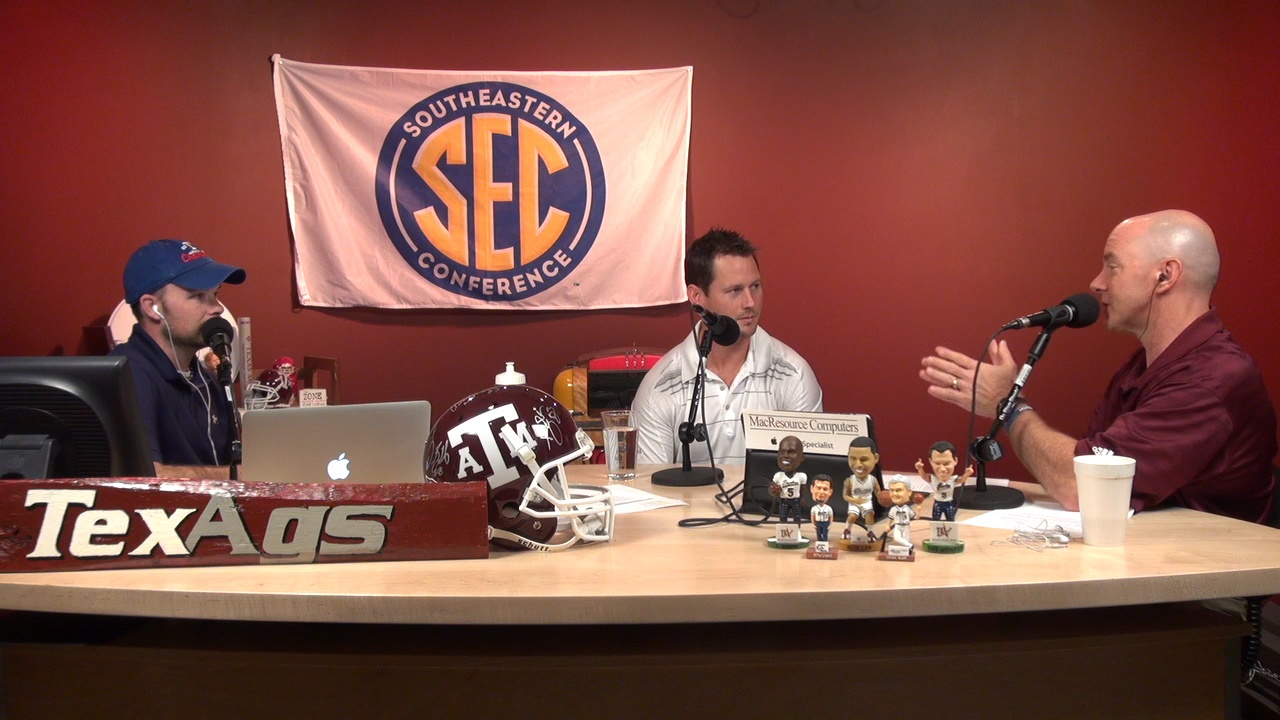 Texas A&M Football
Aggie Flashback with Terence Kitchens
---
Notes from "Aggie Flashback" with Terence Kitchens
* He still follows Aggie football closely and has had season tickets since 2002. He attends every home game and watches the away games at his house every weekend so you could say that he follows it like a die-hard Aggie, just like everyone else.

* It's hard to believe that he's been out 11 years and is definitely 100% on the fan side of things now. He acts just like everyone else at the games, and has had fun making the transition from a former player to a fan.

* He lives in Round Rock now and runs a fundraising company called USA Fundraisers. He got into that straight out of A&M after trying to get into an NFL camp the summer after he finished school.

* He keeps up with TexAgs and uses it as an outlet to see what the hot issues are. He used to comment, but once he found out that it really was 'The Zoo', he quit commenting on a lot of stuff.

* He thinks the hiring of Coach Sumlin was a great move, and along with the SEC move, it makes this a very exciting time for the A&M football program. He believes that Coach Sherman was what was needed at the time for the program and believes that what Sherman did got the program going in the right direction. He believes that Sumlin has the right fire and energy to take A&M to the next level.

* He liked A&M ever since he was in the third grade and while he was in junior high and high school, A&M was playing some of their best football of all-time. Every time he would get a recruiting letter from A&M, it would be emblazoned with their top-10 ranking at the time. There was no doubt in his mind that if he was going to kick in the state of Texas, that it would be at A&M. He had an opportunity to kick at a few smaller schools, but when Coach Slocum asked him to walk-on to the team, it was a no-brainer that he would be coming to A&M.

* Before a game in Shreveport, Louisiana, Slocum asked him how he felt while at the hotel and he told him that he felt pretty confident and that it would be nice to get the opportunity to go kick a couple of extra points since A&M was favored against Louisiana Tech. Sure enough, he had to kick a 50 and a 51-yarder in the first quarter of the first game.

* The snow bowl he played in Shreveport was an odd affair. During pre-game the grass was green and by the second quarter you could hardly see the other sideline and it was hard to walk.

* Randy Bullock had an outstanding year last year and people don't realize how hard it is to have a year like he did. He made a lot of big kicks and he's really proud of him as a person and a kicker. As far as the NFL goes, it's hard to find kickers with a strong and accurate leg. Some guys can hammer away and then there are guys who are accurate, but only up to about 45 yards. Bullock has both. He came out of nowhere his senior year and exceeded everyone's expectations. He thinks Bullock has a good chance to make an NFL team because he has the form, the leg and his head is in the right place.

* From his experience, there is a point for all good kickers where the light goes on and they just 'get it' and hit the next level. He believes that's what happened with Bullock after struggling early in his career. He kept working and figured out his problem which is what made him better as a kicker.

* As a kicker, you tend to have really high highs, and really low lows. At the beginning of one of his seasons he was making field goals from long distances and was thought to be the team hero, but as soon as he missed a few and starting having a couple blocked, everyone started to not like him as much. What that does is give you a lot thicker of skin and at during that offseason, he dedicated himself to being better and having a great next season.

* Being a kicker is easy when you're doing well because everyone likes you, but as soon as you miss one, people start to turn their head away from you. What he learned was that if he worked as hard as everyone else, he would have the respect of the other guys on the team. Because of that, during those hard times, the players would come up and be supportive of him.

* He thinks it's always better for a kicker to get drafted, rather than be a free agent because if a team uses a pick on you, they have more invested in you. With that being said, every team only carries one kicker at a time, and if you're a free agent, you have the freedom to show up at a camp where you have the best shot at beating out the current guy. There are plusses to both sides of the issue. Most people don't understanding kicking after college because a lot of times, teams want you to go kick in arena ball or the Canadian league so they can get to know you before they give you a shot.

* Things could have been a lot different in Bullock's legacy if he would have had a game-winning kick his senior year at A&M. He believes that if it would have come down to it, Bullock would have nailed a game-winning kick which would have given him a lot more publicity and could have helped his draft status. Bullock came out of nowhere and didn't really have a career defining kick.

* With the instability of college football the past couple of seasons, it was huge for A&M to think about what was best for the university and make the move to the SEC. Great opportunities aren't always presented to you every year and thinks that the opportunity to be able to brand A&M as an SEC school was too good to pass up two years in a row.

* If the NFL does away with kickoffs, it would be a shame because it's such an exciting play in the game. If they get rid of them, it will really change the teams and the way they look at kickers. Teams might not need guys with as strong of a leg and could start taking guys who are very good from 50 yards away.