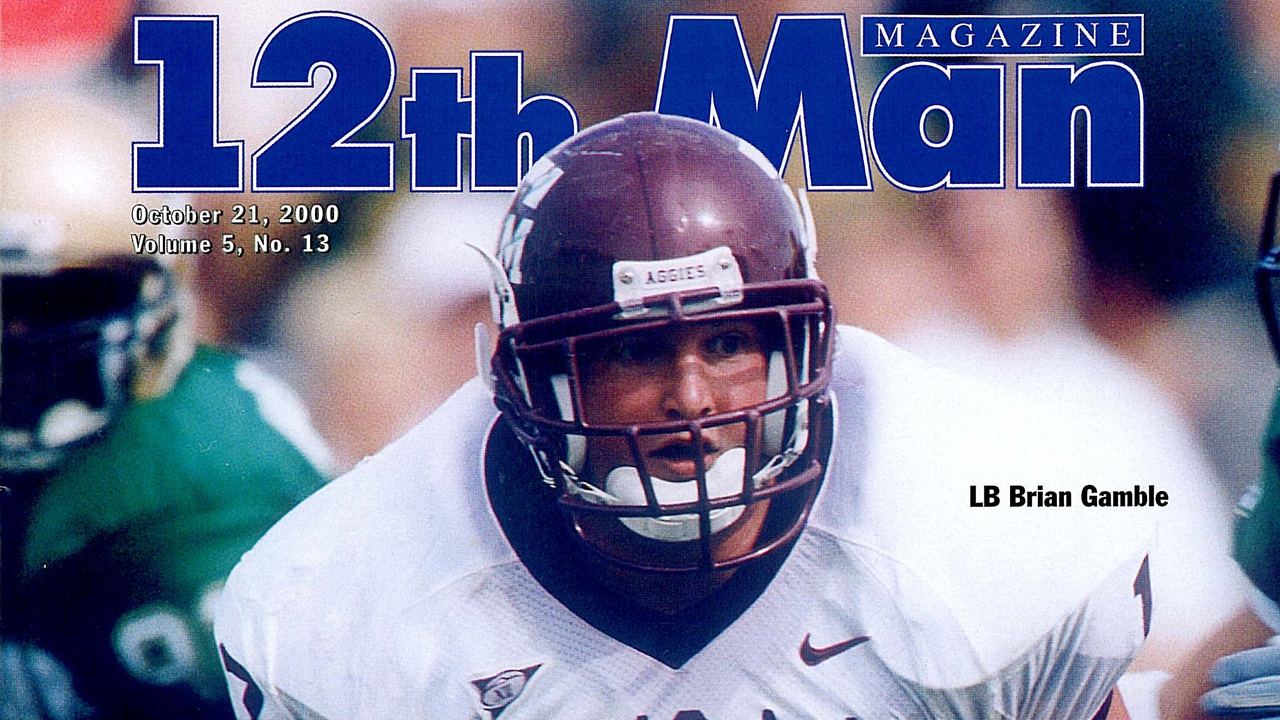 Texas A&M Football
Gamble talks Bonfire game, changes at A&M, future in coaching
---
Notes from "Aggie Flashback" with Brian Gamble
* He had an opportunity a while back to have a cameo in Friday Night Lights. After going up to Chicago with a couple of friends and doing some work on the movie "The Express", he discovered that in most football movies, it is ex-college and professional players that come in and do all of the football related stunts. When they got back to Austin after filming "The Express", he made his cameo in the second season of the NBC hit as an offensive guard. He even had a line in the episode he was in.

* He was very excited when he heard that Kevin Sumlin was to be the next coach at A&M. He's a guy who is a brilliant offensive mind and has proven himself by coming up through the ranks. He was very successful at Oklahoma and then was able to put his head coaching stamp on Houston in a big way. The thing that excites him the most is just seeing what is going on with the program and the new swagger that this staff brings to the team.

* Growing up as the son of a high school football coach, the mascots of all the different schools across the state were engrained into his mind. His family moved around a lot and while on road trips, he and his brother would sit in the back of the car and go through different mascot names of schools across the state. He's been slacking lately with all of the new schools popping up and hasn't had time to sit down and memorize the newer mascots, but the schools that were around in the 80's and 90's, he knows like the back of his hand.

* In high school, he played quarterback, but was really just a linebacker in a quarterback's body. He started his high school career as a wide receiver and a free safety, and half way through the year, his team had trouble at linebacker and he was moved down to the front seven. During the summer of 1995, before his freshman year, he attended the A&M camp and Phil Bennett told him that he would play in the Big 12 one day. After he saw and visited A&M for the first time, he fell in love with the place and he knew that if you wanted to play linebacker in the state of Texas at that time, A&M was the place to be.

* As a freshman during the 1999 season, there was no better way to start his career than recovering the fumble against Texas. Going back and looking at how that season transpired really shows that timing is everything. If you are third on the depth chart, you're two ankle injuries away from being the starter which is what happened to him. He had the opportunity to start a game early in the season against Louisiana Tech and was able to show the coaches that he deserved to be the starter all of the time.

* That fumble recovery is one of his biggest memories of his time at A&M and it gets more special as the years go on. He went back and watched that game about a month ago and he's still wondering how in the world he was able to have such a good game on that day because he only got about an hour and a half of sleep the night before due to nerves. It was a very special play and he was very fortunate to be on the field for it. Once he got his hands on that ball at the bottom of the pile, there was no way he was letting it go.

* Beating Notre Dame at Kyle Field also sticks out in his favorite moments while at A&M. The team played great defensively that game. Beating Oklahoma in 2002 was a huge game as well. There were a lot of good memories and he had the opportunity to play on some spectacular defenses.

* He always felt that he wanted to end up being a coach after having been brought up in a coaching family. After he finished his playing career, he took a position as a graduate assistant at the University of Houston under Art Briles. After that he went to film "The Express" in Chicago which led into his cameo in Friday Night Lights. He then decided that his Hollywood career was over and that he wanted to get serious about coaching and was fortunate enough to land the job as defensive coordinator at Incarnate Word in San Antonio where he is now.

* He really enjoys his job and it's been an awesome process. Before he was hired at Incarnate Word, he had never heard of the place. But since then, he has been able to help build the program from the ground up and takes great pride in his work.

* Kliff Kingsbury had a big role in him meeting his wife. After playing in a Texas coaches all-star game, the two of them hit it off because at the time they were both coaches sons and both quarterbacks. The two of them kept up with each other and made it back to New Braunfels every summer to see each other and it was during one of those summers that he was introduced to his wife through Kingsbury.

* Kingsbury is going to do great things with his offense while at A&M and is a guy who is as sharp as a whip. He plans to take what the defense gives him, take care of the football and get the ball in the hands of the playmakers and let them go to work. He knows that sometimes it's not all about the X's and O's and is more about the Jimmy's and Joe's.

* He hopes to one day be roaming the sidelines of Kyle Field and thinks it would be a great opportunity to go back to the place that has given him so much. Hopefully he will get there someday, but is currently doing what he can to make a name for himself in San Antonio. However, if the opportunity to come back to A&M came about, you wouldn't have to ask him twice to take the job.