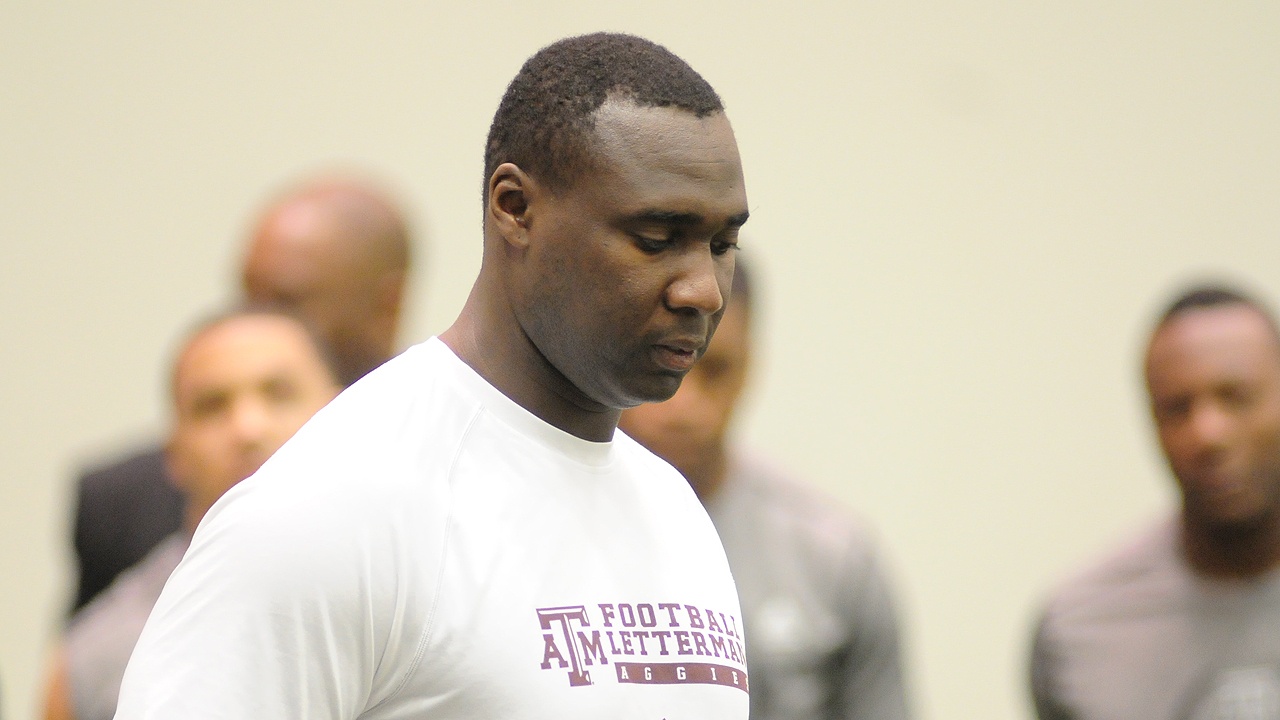 Larry Jackson
Chad Dennis
Texas A&M Football
Exclusive sitdown with strength coach Larry Jackson
---
Notes from Larry Jackson interview
* He's really excited to be back at A&M. When he left in 2004 to go to Oklahoma, it was a business decision for him and he thought it was the best decision for him at the time in order to become a head guy. Getting a chance to coach with Bob Stoops at Oklahoma was good, but it was straight business.

* When he went to the University of Houston, he was finally able to land a head job and it was exciting because it was a chance to prove himself and prove that he was capable of doing the job he always wanted. When he took the Houston job, the team was quite a bit smaller and there were things that he had to get done in order to get those guys ready to compete. Being at Houston was good, but it was still another business decision.

* Art Briles hired him at the University of Houston and wanted him to move over with him to Baylor, but he felt so strongly about Kevin Sumlin that he wanted to stay where he was and work for him. Briles is a good guy and a good coach but when he was asked to move to Baylor, he turned it down because he wanted his next move to be more than just a business move. Sumlin provided him a personal relationship as well because they worked together while they were both on their first stints at A&M and then again while they were at Oklahoma. He knew what kind of coach he was so he was excited about the possibility of working under him at Houston.

* When you're excited and the game is just starting, any team can be good in the first half, but when that adrenaline wears off the training you've had must carry you through the second half in order to be successful. He takes pride in not working athletes out, but developing football players. It would be easy to just bring the guys into the weight room and just work out, so in order to be the best they have to develop them as football players and not just weight lifters. That means that he has to break the workouts down and make sure that guys are getting what they need to be successful on the field. When it gets into the third and fourth quarters, he expects his players to outlast the other team. What the players are laying out on the field is a reflection of him. He always tells the players, 'Don't embarrass yourself and don't embarrass your team'. At Houston the third and fourth quarter dominance they had was so important because his guys were so much smaller than the teams they were matching up against and they knew that they had to hang with them as long as possible and then take over once the other team was tired.

* He feels as if it's up to him to help bring back the swagger that the A&M teams from the 90's had. Last year's team wasn't too far away from having that back but they weren't able to carry that swagger the whole game physically. You also have to be in good enough condition to know you can finish the game with that swagger or else it's hard to have it in the first place. If you're not in shape, you start thinking about things like 'When am I going to start getting tired?' and 'When am I not going to be able to go anymore?' and that can distract you from getting your assignment done and having fun while you're playing. When he played, Mike Clark had them in good enough shape that they believed from the start that they would win the game. As a defense, they expected to run three plays and be off the field.

* He brings up how many games he lost at Kyle Field (or lack thereof) to the players all the time. He tells them they can't walk around with a swagger yet because they lost more games last year than the whole time while he was at A&M. He can see some of the guys starting to take that to heart and listening to what he has to say. It's going to take some success on the field before they really actually get it which is not something he had to deal with because the Wrecking Crew was already in place when he showed up at A&M. The precedent was already set that giving up a first down or getting beat by your man was not ok. Whenever he can get the players to fully buy into that mentality, then they will start seeing real success on the field. The players need to learn to create a wall with one another and not let anything by them. In the 90's, all the offense would need to do is score a couple of times in order for A&M to win and now they are going into a conference where that tends to hold true.

* He doesn't want the national media to pump A&M up and say they are going to do well in the SEC because he wants A&M to be the team that slips in the back door and takes the league by surprise. He's excited for the SEC and will take the challenge that people think A&M won't be able to compete in the league.

* He thinks his A&M teams would not have had a problem competing in the SEC back in the 90's. They beat LSU every year that he was in school, both home and away. He would have loved the opportunity to play in the SEC, but the team was going to play whoever was on the schedule no matter what. Every game they showed up to win the game, not lose or tie it. His redshirt freshman year against Texas, Coach Slocum decided to go for two when being down only one point because they didn't show up to end the game in a tie. They ended up not converting and lost the game, but all of the young guys on the team respected Slocum a lot more because of that.

* It's good to be back in College Station and he's really excited about everything going on with the A&M football program. He's been training guys who he knows are good athletes and he can't wait to see what they can do on the field.

* He's really pumped about the new weight room and player facilities. It's a 19,000 square foot facility that will have everything you could possibly want to train a football team. They will be able to move in around August 1st, so he's been busy trying to fill it will all of the tools needed to develop the players. It will be a great recruiting tool when kids can come in and see that A&M is serious about sports performance.

* Even though season tickets are sold out, he urges the fans to try to find some way to get into the stadium on game day. When he heard how fast season tickets were sold out, he had to ask someone if it was common for tickets to be selling like they were in March. It's really exciting to know that people are that excited about going into the SEC and having a new coach. It's good to have so much support, and it's good to be back home.


---
Notes from Chad Dennis interview
* Started working with Larry Jackson at A&M when both of them were hired by Mike Clark in 2002. He worked with him until 2004 when Jackson went to Oklahoma and he went to the University of Connecticut. They began working together once again at the University of Houston in 2006 and have been with each other ever since.

* He had a difficult decision whether or not to come to A&M because he had a good offer to stay at the University of Houston, but he felt like the opportunity to come to A&M and work in the SEC was too good to pass up. He enjoys working with Jackson and felt like coming to A&M was the best decision to make.

* Jackson has a pretty good instinct with the players and puts off a good vibe when working with them. When players are tired and in a lull, he is able to pick them up and continue to get good work out of them. Some days the players have great energy which gives the coaches great energy, and he is always able to get that out of them. He's knowledgeable and knows what to do in order to get the very best out of his players every day.

* The transition to working at A&M after playing football at the University of Texas has not be as difficult for him as he thought it would be. He was happy to come here the first time he was here, but it was definitely a change because he grew up a Longhorn and had the opportunity to go there to play football. He has his degree from Texas but also has his masters degree from A&M, so he is one of those unusual people with degrees from both schools. He and Jackson joke about it, but it's not really a big deal at all between the two of them or between him and the other coaches. There is a mutual respect amongst athletes about the school you went to, whereas fans can be hostile sometimes.

* He and Jackson have been very pleased with how the athletes have progressed under their watch so far. They've done a tremendous job of making improvements. Their attitude was great from the beginning and that was a good surprise because that was something he was worried about when they started with the athletes. They had no idea whether the athletes would fight them or be on board with what they were trying to do, and fortunately they were on board and ready to listen and learn from them. Having them ready to progress in the system made the transition so much easier on the coaches and the players. There have been great changes in body composition and they are seeing progress physically and mentally as well.

* He's looking forward to seeing what the players can do on the field and is very excited for spring practice. It will give them a chance to see the guys in a little different way from strength and conditioning perspective than they are used to. They've been able to get to know the guys very well, but they'll finally be able to see what they do and why they're here at A&M. They're not here just to lift weights and run, they're here to play football.