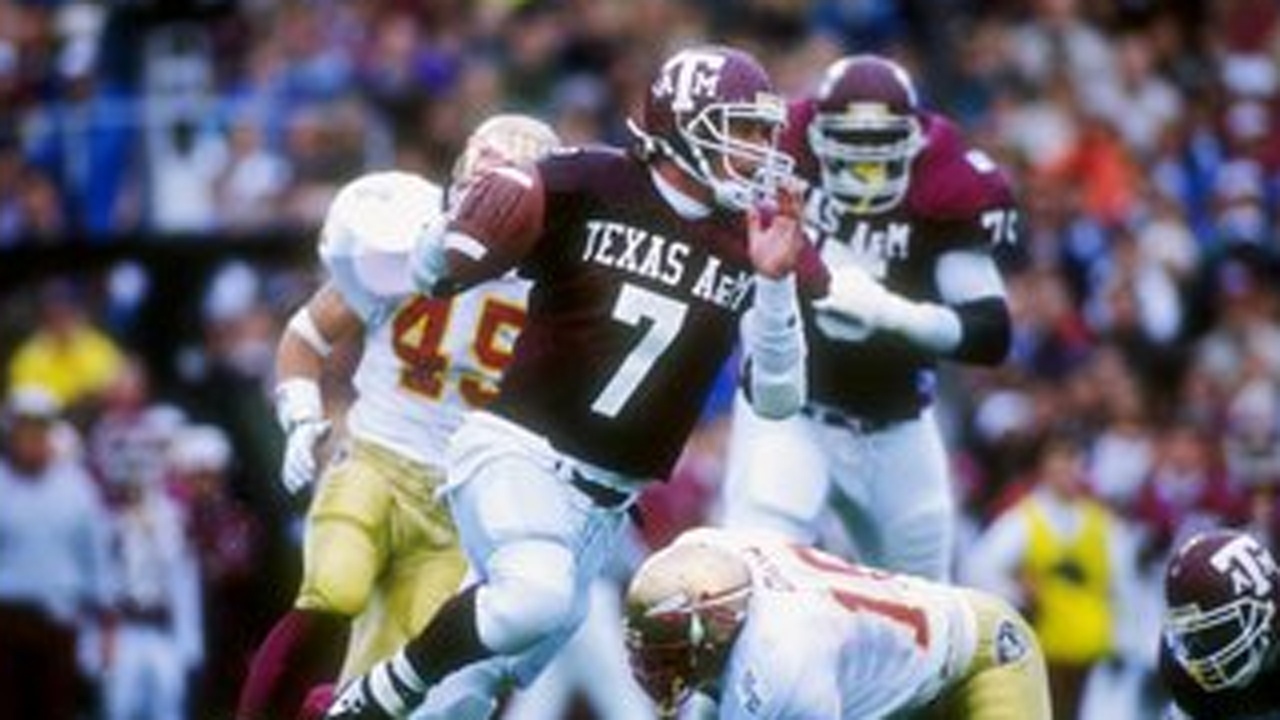 Texas A&M Football
EXCLUSIVE: Legendary A&M Quarterback Bucky Richardson
---
Notes from Bucky Richardson Interview
* Currently living out in the Sugarland/Missouri City area of Texas with his three kids and his wife. He's got his season tickets and is ready for football season to kick off.

* Thinks he chose Texas A&M over LSU because of a combination of things. The LSU head coach, who he had a good relationship with, left after his senior year in high school for a career in the NFL and the new staff just wasn't the same. He wanted to play quarterback and was originally recruited by the new Tiger staff to do just that, but then they started throwing around the idea of him being an athlete or playing in the defensive secondary somewhere. It just didn't fit for him. He had always loved the state of Texas and when he visited A&M, he fell in love with the place.

* He's been a big advocate of the move to the SEC since the beginning. He is a fan of democracy which is something the SEC offers that the Big 12 didn't. Overtime, a dictatorship will fail and A&M is now in a league where every team gets equal say which is the right decision for the future of A&M athletics.

* Coach Sherman did a great job while he was at A&M. Change is never easy, however. When you get cut as a player, you always leave the office mad. From a coaching standpoint there is no easy or nice way to tell a player that his services are no longer needed. That's just the nature of the business these guys are in. When you look at who the options were to replace Sherman, Coach Sumlin was the right guy for the job. If you were to write down a list of things you were looking for in your next coach, Sumlin would be the only candidate to fill all of the checkboxes. He thinks Sumlin is a great hire because he knows the landscape and has been at A&M previously. He knows what needs to be corrected and fixed in the university as it relates to football. He's really excited for a fresh start for this program. From everything he's seen, Sumlin and his staff have embraced the SEC move with open arms. The move will be a challenge but the team will work hard, and good things happen to those that put in hard work each day.

* Having grown up 10 miles from Tiger Stadium and going to every LSU game there was, looking back he can't believe that he made the decision he did to come to Texas A&M. There was a lot of pressure to stay home, but there are a few decisions in your life where you have to be selfish, and choosing where to go to school was one of those. He knew in his heart that going to A&M was the best thing for him and he's glad his parents supported him in his endeavors.

* He thinks that in order for the young quarterback, whoever it may be, to be successful next season, they need to be prepared. They need to be accountable as the leader of the offense and they need to know what each person is doing on the field at all times. In order to be ready to hit the field when the time comes, a lot of preparation time will be needed. These guys are talented, otherwise they wouldn't be at A&M. As a freshman quarterback, you're going to make mistakes, but you have to have a short memory and be ready to go the next play.

* Going into the first game of his freshman season in 1987, he was third on the depth chart. He always kept a mentality of only being two plays away from being on the field which motivated him to prepare. In Jackson, Mississippi, after the team was struggling a little bit, Coach Sherill came up to him and told him he was going in the next series. Once he found his helmet, he got ready to go and make the most of his opportunity.

* Once he was on the field against Brett Favre's Southern Mississippi team his freshman year, he made sure just to get the snaps clean and to get each play going right from the beginning. You never know how many opportunities you will get, so you have to try and make the best out of each chance that is given to you. He was able to move the team pretty well that day, and A&M was able to score enough points to be victorious. When he was on the field, he never tried to complicate things because he was never able to play that way. He would always try to do the things that he was comfortable with, which a lot of the time was running the ball. He felt like his passing improved while he was here, but the kids coming out of high school today have probably thrown the ball 10,000 more times than he did. At his high school, he didn't get the number of throwing reps under his belt which ended up hurting him in college, but luckily the coaches at A&M realized his strengths and it ended up working out.

* In the Texas game his freshman year, the Texas players tried to take him out of the game by ripping off his shoes after plays. After a couple times of this happening, he went to the sidelines and told Billy Pickard to tape his shoes to his leg so that they couldn't come off. That game was a dirty fight, just like they all are on Thanksgiving, but A&M was able to pull out the win.

* Both of the bowl games against Notre Dame and BYU stick out in his mind when recalling his favorite bowl games. If he had to pick just one, he would pick the BYU game. That was as close to a perfect game as you could ask for. Looking back at the BYU game, the team had an incredible week of practice in San Diego prior to the game. BYU motivated them with their comments leading up to the game and A&M decided to open up a can on them. He hasn't watched that Holiday Bowl in a long time, but his son is starting to want to see some of his old tapes, so he'll probably show him that game soon.

* He almost played baseball at A&M in addition to playing football. He played for one fall season at A&M after having some offers from around the country to go play baseball. It didn't take him long to figure out that his passion was football, and that helped him ultimately lead to dropping baseball. His little league coach is who originally gave him the nickname "Bucky". Instead of putting your last name on the back of your jersey, the coach assigned everyone nicknames and put them on the back instead. He hated the nickname originally because "Bucky" rhymes with some pretty nasty stuff and he remembers even crying about it as a kid. He couldn't stop the nickname from catching on, and no one knows him by his real name anymore, so he is stuck with it.

* It means a lot to him that people still recognize him in the A&M community. It's so humbling that people still appreciate what he did nearly 25 years ago. He drove his coaches crazy, but he lived for the game and worked hard. His whole time at A&M he was surrounded with great coaches, staff and players, and for that he is very grateful. He loves A&M. He loves the people, the university and what it stands for and he loves the time he spent on campus.

* The new staff definitely has the "cool" factor. He has visited with Kliff Kingsbury a couple of times since he has been in College Station and thinks he is a great coach who will end up being a head coach somewhere not too far down the road. The swagger that this coaching staff has starts at the top with Coach Sumlin. These coaches have the mentality you have to have in order to be successful. They know it's not going to be easy, but it's one thing to know that and another thing to accept it and to go out to do something about it.