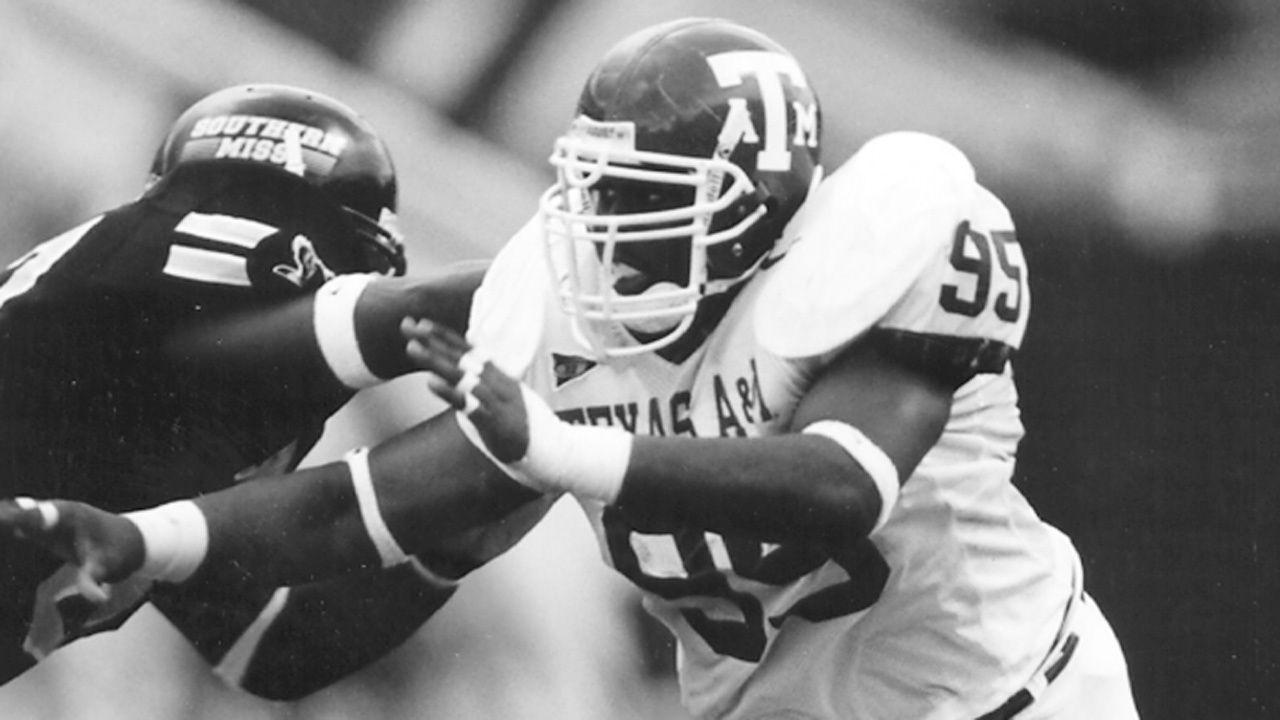 Texas A&M Football
Rocky Bernard talks Super Bowl, Sumlin, SEC & Bonfire Game
---
Notes from Rocky Bernard interview
* Intro song for the interview was Empire State of Mind by Jay-Z and Alicia Keys. He has heard that song about a million times living and playing football in New York.

* A lot of the guys on the 2007 team that beat the New England Patriots in Super Bowl XLII talked about the parade after winning the game all the time. The parade was held Tuesday and it was unbelievable. The fans were going crazy, the streets were lined with people and it was an all-around great experience.

* Still can't believe that he can call himself "Rocky Bernard, Super Bowl champion." After the game it took him a while to realize that they had actually won. It was such a long season and the Giants had their ups and downs but the end of the ride was an amazing experience.

* The Giants turned the season around when their back was against the wall. It was pretty much do-or-die time and they realized they had to do something or the season would be over. The whole season was full of inconsistencies. One week they would play really well and the next week they would play bad, or the offense would play well one week and the defense wouldn't. It came to a point in the season where the whole team was able to put everything together at the same time and it turned the season around.

* Eli Manning has matured as a quarterback and that has led him to having the great career he has had so far. He is a leader in the locker room and really spends time on working with his receivers and studying film. He's always had the chip on his shoulder of being Peyton's little brother and that has made him always have something to prove. He also had people being critical of him from his performance last year and the interceptions he had which drove him to do even better this year.

* It means a lot to be an Aggie and represent Texas A&M. Every time you can, you want to represent the school in the best way possible. Got to meet Von Miller at the Super Bowl and it was pretty neat to be able to talk to him about the school and the football program as Aggies.

* Has never seen an athlete like Jason Pierre-Paul. The guy is 6-6 and 280 pounds and can move like a cornerback. He has long arms and a motor that never stops which helps him tremendously. A huge part of his development this year was just playing the game since he hasn't played a whole lot of football in his career.

* The best defensive lineman he has played with would be John Randle. He got to start his first two years in the NFL playing with him and being able to watch him and study film with him every day was a great thing for him as a player.

* Definitely can feel the amount of Aggies playing in the pros coming back around to what it once was. When he first got into the NFL, A&M was among the top colleges in sending people to play in the league. For a time things weren't going so well, but you can definitely feel that A&M is coming back.

* Very excited to hear that Kevin Sumlin landed the A&M job. He didn't know exactly what to think because he was disappointed in the way things were handled with the firing of Coach Sherman but knowing Sumlin personally has made him excited about the situation. Knows it will be a big challenge for him going into the SEC this year, but thinks he is the right man for the job.

* When he played at A&M was about the time Bob Stoops came in and changed the Big 12 to a spread-oriented league from a defense first and running the ball league. Oklahoma was able to hang 50 points on A&M his junior year and their defense couldn't stop it. You then began seeing teams like Texas Tech use the same style of offense and prove that it could work long term. It's a tough offense to stop no matter how much defense you think you can play.

* Now a free agent since the year is over and is going to make a decision within the next month or so about the future of his playing career. He's played 10 years in the NFL so his body has quite a bit of wear and tear on it and he has also accomplished everything he has wanted to in the league. He's going to take the time to decide what he wants to do and see what options he has available. It's a good feeling to be able to make that decision right now.

* Favorite memory of playing at A&M is beating Texas in the Bonfire game in 1999. It brought the whole school together and really united the team as well. Going out and winning that game for the people who died was something really special.