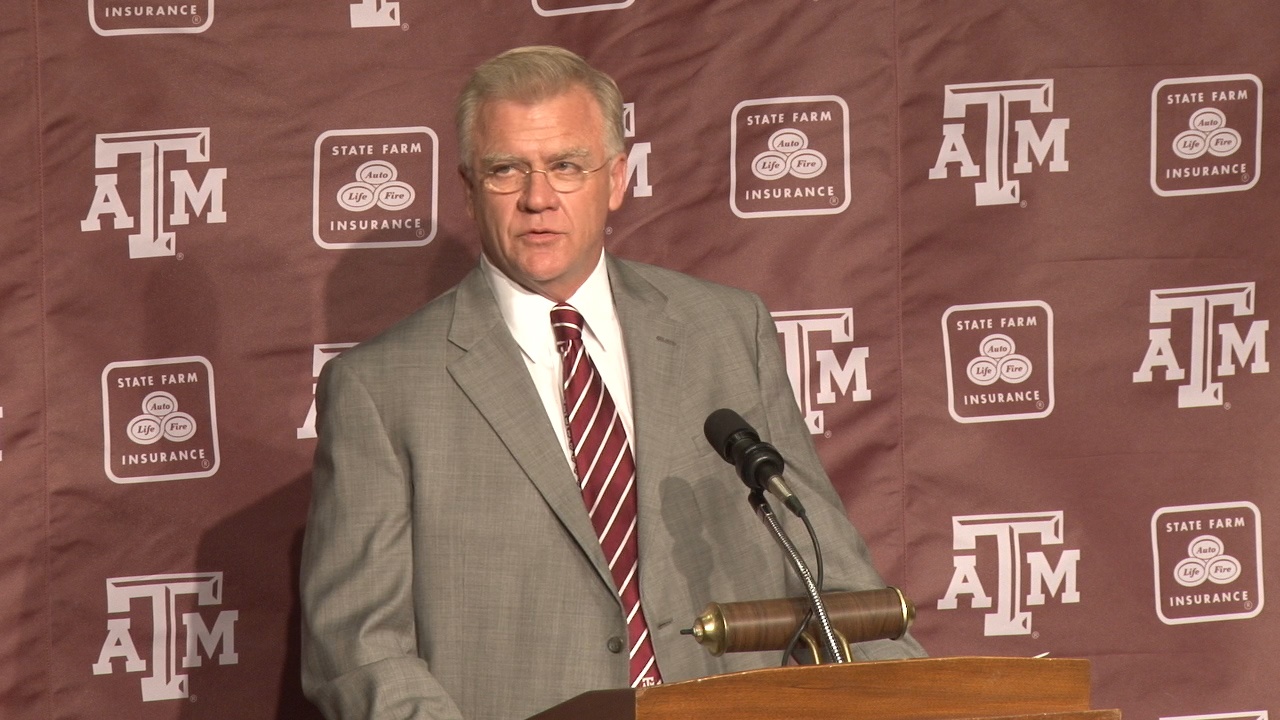 Texas A&M Football
Quotes & Video: The Mike Sherman exit press conference
---
***Thanks to Beau Holder for his live transcript***


Opening statement...
"Howdy. Let me just begin by saying that no one has had greater expectations for this program than I have. No one, after the season, is more disappointed than me. I feel totally accountable and responsible for everything we've done over the last four years, including this past season. But I'm proud of how our football team always came back and battled and battled. At no time did I ever feel like they gave in to that disappointment. They gave it their all. If anything they pressed too hard and missed opportunities they would normally make.

"As I said, I'm disappointed and accountable, but I'm proud of these men and even prouder to be called their coach. Last night, saying goodbye to them was one of the most difficult things I've ever had to do in my life. It was gut-wrenching to say the least. I told them they could always count on me. Winning is such a fine line in the game of football and we were on the wrong side of that line each time. I take full responsibility for that. But this is a good football team. We're going to play this bowl game and we're going to win. I'm disappointed I won't be there to coach.

"I believe in the last four years this program has come a long way. We've changed the culture where we are now expected to win every game. That wasn't the case when we got here. This season we fell victim to our own expectations that we created. What I'm most proud about with this football team is their character and their work ethic. I've asked a lot of these guys and they've always responded when I've put them to the task. We've recruited some good kids from some good families. Sometimes it's a single mom, but those moms are such an influence on that young man that they come to us with character. Someone in their lives led them here ready to do the things I've asked them to do.

"I'm very thankful for the players' parents, they've been very supportive. I wouldn't trade the last four years for anything. I've had the chance to coach my son Matt and see him grow into a man. I've also gotten to see other kids grow and become men.

"It's been an honor to be a part of this great University. I've worked 24/7 the last four years. Not a day has gone by the last four years where I haven't done something related to A&M football, whether it's drawing up plays, recruiting, working toward development of facilities.

"I'm proud to be associated with the great faculty we have here. I know this is a research university, but we have a group of faculty members that embrace these kids, educate these kids, and I'm proud to be associated with each of these faculty members that care about these kids. We have a great athletic staff, and coaches in all our sports. They motivate me with the bars they've raised. I'm thankful for the sacrifices everyone's wives and family have made for this program. I'm proud to be associated with our athletic director, Bill Byrne. He's professional in everything he does. He's been a mentor to me and very supportive these last four years.

(Thanking various other parties.)

"Our athletic training staff has been great. Our doctors have been second to none.

"I'm going to miss a lot of things over the years. I'm going to miss walking across campus on a Wednesday or Thursday heading to mass at the All Faiths Chapel and students always stopping to be supportive, giving a Howdy or a handshake. I'm going to miss Aggie Band practices, going over to the Corps — which is the backbone of this University — and the students. At 11:00 last night, a group of students were out at my house encouraging me. I was so moved by that demonstration, it was special to me. That tells me we made the connection we wanted between our football players and our students. I always told the players that they're players on game day, but when they walk across campus they are students. I tried to break down that barrier between athletes and students, athletics and academics. Our players understand they have to be students first, and athletes second.

"Our former students have been unbelievably supportive, over the last four years and yesterday.

"Our academic support group is second to none in the country. There is not another school in America that helps our guys like we do. It is the greatest recruiting tool we have, that we can get a young man in here and not just get him the grades but educate him to a higher level.

"I don't know if I enjoy anything as much as going out and visiting with high school coaches. I feel when we came here we weren't received as we should be. Something was wrong. But we embraced the coaches and they embraced us and we've opened avenues that will help us as we move into the SEC. We've got a great group of recruits that will lead A&M to new heights. I plan to encourage them all to continue to be committed. You don't commit to a coach, you commit to a school.

"I've tried to embrace the values of A&M and infuse that into our players. I believe that they're better men today because they bought into the Aggie culture, the Aggie Code of Honor. No one's perfect, but they've embraced A&M and they beleive in it and that's important to me.

"Since I've been here at Texas A&M, it's never been about Mike Sherman. And today is not about me. It's the end of one chapter and the start of another. I just hope that when this chapter is read later, it tells that this chapter is one that led to greater times. I hope this leads to a period of greater things as we move into the SEC.


Q: Coach, how were you let know you were dismissed?
Sherman: "I was on a recruiting trip, going to a home visit with a great young man who will be a phenomenal player here at Texas A&M. Great family. We were almost in the driveway when I got a call from our athletic director informing me of termination. It was disappointing to me because my family found out before I did, because it was released before I was told. I think we're better than that."


Q: Where do you go from here?
Sherman: "I'll be a sportswriter for the local newspaper (laughs). I'm going to reintroduce myself to my wife. I haven't been around very much. That's the most important thing right now. Maybe these things happen for a reason. We'll make a trip to New York and relax and walk and talk and rehash the last four years. I have some plans after that. I love coaching and I love kids and I love football and think it brings out the best in people. I think it builds chemistry and character and I want to be a part of that."


Q: Were you aware your contract had not been executed?
Sherman: "I'm not going to get into that, but I signed a contract in September for five years."


Q: Do you see yourself staying around the A&M program?
Sherman: "I don't know if that opportunity is necessarily out there. I want to see our facilities finished. I take great pride in the fact that when I first got here I laid out a strategic plan. At that point we weren't able to do the things I wanted to do, then last year I updated and laid it out again and Bill Byrne brought it to the 12th Man and they ran with it. I think A&M will have the best facilities in the country when it's done."


Q: Was anything harder about coaching in college?
Sherman: "It was harder in that you wear so many more hats. Players constantly in my office, you have a chance to mold these guys. In the NFL, you get time with the players and it's football all the time. But I have enjoyed my opportunity to do more with these guys, such as watching Damontre Moore go from one point to another. And I can name plenty more. It's different though. As a head coach in college you have to be able to wear multiple hats to navigate your way through the atmosphere these guys are a part of."


Q: Did Bill Byrne give you reasons during that call?
Sherman: "No."


Q: Did you ask why?
Sherman: "No. I knew it was a tough call for Bill to make. We have a close relationship. I didn't put him on the spot and ask him."


Q: What would you consider your greatest accomplishment as you leave?
Sherman: "We've reestablished those relationships with high school coaches in TX and LA. I've thoroughly enjoyed writing letters to them over the last four years, more personal, letting them know what we're doing and how we're doing it. And I'm proud that the expectation level at Texas A&M has changed. We were expected to win every game last year. The expectation level has changed. The talent level has changed dramatically. In our program I see a handful of first- and second-round draft picks, young players who will be great here. The thing I'm probably most proud about is seeing guys go from 18-year olds to 22-year old men who don't make excuses, they work hard, they're accountable, they understand life better. And I thought we played hard this year and last year. That wasn't always the case. The games didn't go the way we wanted them to this year, but it wasn't because of a lack of effort."


Q: At any point, did Bill Byrne come to you and say, 'We need to win some games?'
Sherman: "Talking to Bill, I never got that feeling I wouldn't be back."


Q: Where do you feel the team, looking forward, has that you're leaving to the next coach?
Sherman: "It starts always with recruiting. I never worry about grades, I know we have high grades in recruiting but I didn't worry about them then and don't now. I know we're bringing a high level of talent in. We've made tremendous strides. I've always prided myself on my ability to identify talent. We're now able to attract and develop relationships that will bring better players to Texas A&M. I think it starts there. Our current talent level is high. We have players in the program that will continue to get better and better and better. The class coming in is high, but the freshman class from last year is a very talented group as well."


Q: Why did you decide to have a press conference, and did you think you deserved to be fired?
Sherman: As far as the press conference, I always have to have closer to move on. It's important to me to do that. Plus, I have so many people to thank. This has been a phenomenal experience and I wouldn't change a thing. I'm very proud of having had the opportunities I've had. I can say I gave them everything I had. Sometimes it's not always good enough, but I gave everything I had. I can leave here knowing I gave everything I had. Do I feel I deserve to be terminated? No, I don't. I think this program is headed in the right direction. But I understand we live in a society where it's easier to change than to fix. We live in a society today that is motivated by anonymous people that write baseless texts and twitters and it gets things stirred up. There's no accountability to that type of society, and the immediacy they request ... I think it's important that people make decisions based on facts, and what's real. I think sometimes that gets skewed a bit. But I feel like the program is definitely headed in the right direction and I hope the next coach appreciates the opportunity he's going to get to work with these players and I'll support him however I can. Because I want to see A&M be successful.


Q: What is the message that you have for the Aggies and supporters out there?
Sherman: "I can't tell you how honored I am to have been the football coach at this university. And it's ... (emotional) it's very special. I remember coming home after Missouri, waiting for the tape to get put together, and a guy on the road stops next to me and rolls down the window and says, 'Coach, hang in there. We're with you.' The silent majority has been very supportive of me and I'm very grateful for that. It's very inspiring. The hardest part of my job is, when you're in college as opposed to the NFL, you have relationships with the students, and former students, and faculty, and they're all depending on you to win a football game ... and you don't want to let them down. And that's been the hardest thing to handle, feeling like you've let people down. That feeling only comes because of the respect and gratitude you have for those people. I can't say enough about that group of people that will take time to make sure the coach is OK."


Q: Do you have interest in returning to the NFL to coach?
Sherman: "That's a strong possibility."


Q: What were the keys to recruiting this class and what are the keys for the next coach?
Sherman: "Developing relationships, and being honest. I tell kids that if they come here I will be honest with them and not blow smoke. If you can't handle that, don't come here. And I expect them to also tell me the truth. If you ever have a problem, come talk to me. You have the obligation to come to my office and shut the door and we'll talk man-to-man. Not coach-to-player. Man-to-man. The only way you can have a relationship with anybody is to have honesty as a part of it. That's one thing I hope I instilled in our players. And I think I have, because they don't lie to me. The truth factor is so important. Kids are so quick today to pull a lie out of their back pocket, and to overevaluate their performance because of what people are telling them from all directions. You can't fix things that are fake. You're constantly trying to get them to walk on solid ground and not the ground that people put them up on. I told them last night, 'If you're only a football player and I'm only a football coach, that's a sad testimony.' You have to be a man who can talk the talk and walk the walk. To answer your question about recruits, we establish those relationships with honesty. These people we're recruiting appreciate the honesty. We get disparaged a lot, but we don't ever cross that line talking about anyone else. Parents, and recruits, buy in to what we're saying. The truth is more valuable than a lie."


Q: What are the moments you'll take away?
Sherman: "The emotion is what makes college football. That run we made last year that may never be replicated, beating Oklahoma, Nebraska and Texas, and after those wins we're just in the locker room acting crazy ... I'll always remember those times. My life has been in football for so long and those games have been so rewarding. It's said that the losses are more bad than the wins are good. But the wins are what bring you back. To be with those kids in that locker room and share that moment is something I wish everybody could experience. Because it is special, particularly here at A&M. When you have 80-90,000 Aggies — Aggies, I hope I get (pronounce) it right in my last press conference — screaming, you feel it all."


Q: What's the most important thing to you with those players as you leave?
Sherman: "Regardless of them as players, if we take care of them as people, the rest will work itself out. I hope, when a kid leaves our program, that he embraces integrity and honesty. When the Penn State deal came out, we had a meeting on a Thursday. I couldn't let that teaching moment pass by, to say that we make our moral decisions not on consequences but on what's right. That's how you have to make those decisions. Hopefully those subtle messages will carry over into their lives. I think if you ask our players, they'll say the same thing. You have to hit them over the head with it every single day."


Q: What was your message to the team last night?
Sherman: "I was disappointed that it leaked out without my knowledge and before I could sit down with my family. They're very protective of their dad and husband and I wish I had had that opportunity. I wish I had the opportunity to tell the team before it was let out, but we made the most of what we had. My message to them was that they're a good team, don't let anyone tell them otherwise.

"I've gone on long enough, but I'll just say one more thing: As far as media, I didn't always agree with what you wrote, but I always believed it was fair. And I even took some of what y'all said sometimes when you stumbled on something. So I want to thank you for being fair to me."