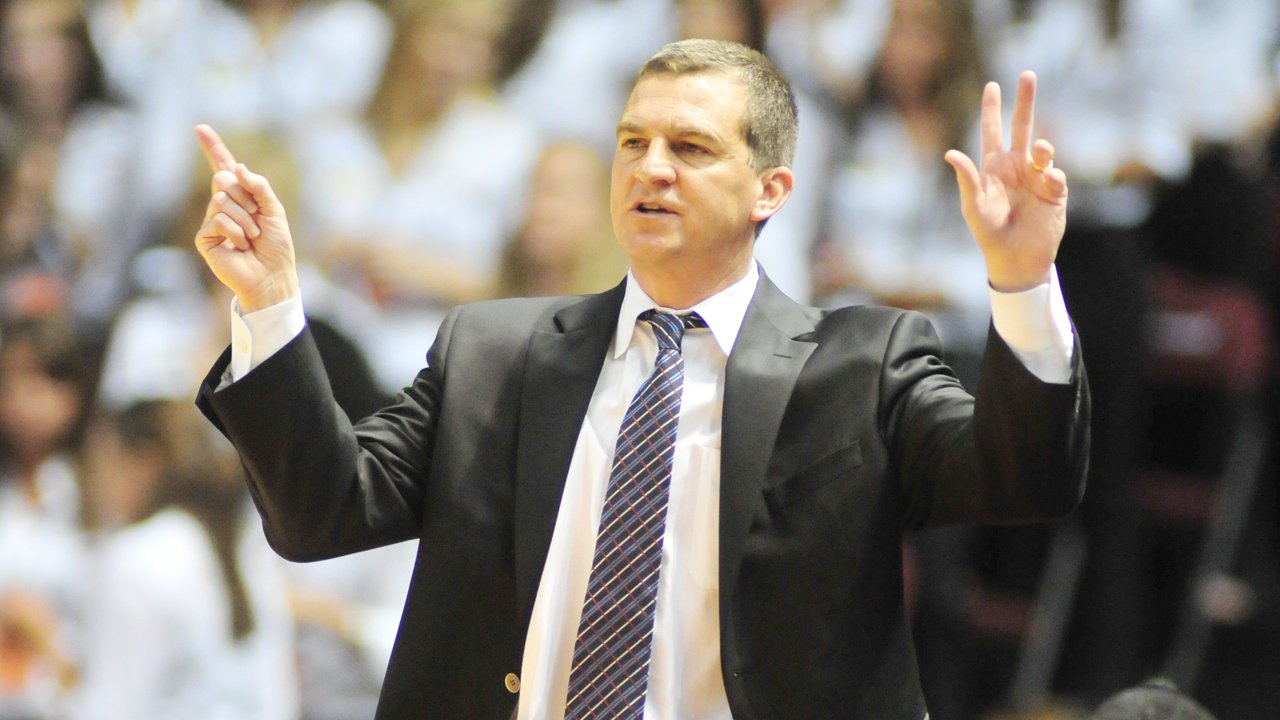 Texas A&M Basketball
Turgeon & Byrne meet with media following Maryland decision
---
QUOTES
Former A&M head coach and new Maryland coach Mark Turgeon
On accepting the Maryland head coaching job...
"I accepted the Maryland job earlier tonight. It was just too good of an offer for me to pass on. The thing that made it most difficult were the players. These guys have done everything that I've asked for four years and we've had a great ride. Bill Byrne has been good to me, too. Those were the hardest parts of the whole thing. It's been a tough day and I've been back and forth many times. I felt like Maryland was a great opportunity for me and my family."
On this being a gut decision...
"Maryland has got a great basketball tradition. The [two programs] are really similar. It's a gut-feeling [because] both programs are great. I'm a blessed person to have the choice that I had to make today. They're both great programs. I inherited a good team and I feel that I'm leaving my best team behind. That made the decision really hard, but I feel good about what I'm leaving behind for the next guy to continue what Billy and I started."
On the timetable and process for his decision…
"It started [Sunday] afternoon and it overwhelms you. These coaching searches are not fair to coaches, and they're not fair to players, and they're not fair to families in the way that you have to make a decision. Luckily I've been to their campus many times and I know enough about everything there."
On the difficulty of leaving his current team...
"I told the players that this was the hardest decision that I've ever had to make. Marriage was easy for me … I knew that I was in love. Going to KU was easy … that's where I always wanted to play college basketball. Going to Wichita State was easy. Going to A&M was an easy choice. Today was one of the hardest choices that I've had to make because of the young men in that room."
On whether the attendance issues played a role in his decision…
"Not really … it really doesn't. We had some great crowds in my four years and we set some records here with crowds. I'll never forget the KU night [even though] we lost. The crowd was phenomenal. The students have accepted me from day one here. I tried to build a relationship with them. I thought that this year, the locals did an unbelievable job of supporting us. But this has nothing to do with [attendance]. It wasn't about money either. It was just a gut decision for me to try something."
On what Maryland brings to the table that attracted him to the job...
"[A key factor] is where [Maryland] is located. I think it's a fantastic place. They have great tradition … they won a national championship seven years ago. They've had a lot of great players … they've had first-round draft picks and the first pick of the draft in John Lucas. There is just a lot of tradition. Because of what we've done [at A&M] the last few years, we've developed a lot of relationships in that area. So I feel comfortable going in there that we can be successful in recruiting, because of our relationships that we've built there. We talk all of the time that the hotbeds for high school basketball are the North East, Florida, California and Texas. That's an area that has produced a lot of really good players and good teams."
On what he will miss most at Texas A&M…
"This is an unbelievable campus and what it represents [is great]. It's really a classy and tremendous university. I'm going to miss the respect that this university has. I was really blown away from day one with that part of it. I'm going to miss that and of course, the number one thing that I'm going to miss are the players. Without question. And right now, they're so mad at me and you can't blame them. But hopefully in time, they'll get over it and they know that I won't be their coach next year, but I'll always be their coach and I'll always be there to help them."
On being out of contact with Maryland officials over the weekend...
"I was on a camping trip this weekend and I had no cell coverage. If it would have lasted another day, I would still be the coach at A&M. It started on Sunday afternoon … I got cell coverage at about 1 p.m. Eastern Time and I was talking to [Maryland] by 2 p.m. Apparently, they were trying to get ahold of me most of the weekend, but I just didn't have cell coverage."
On the Internet and social media jumping the gun at times during this process...
"Apparently, I took the job at 3 p.m. today (joking). I literally took it at 7:30 p.m. tonight and I met with the players at 8. At 7-o-clock, I was really still thinking about being here a little bit … it was just back and forth and it was tough because I was coming to meet with the players. That's the toughest part of the whole deal. I'm in control and I allowed the situation to [get crazy on the Internet]. I felt comfortable with the situation and so here we are."
On who helped him make the decision...
"It was just me and my wife. It's a long day, so you're sitting there trying to figure out what you're going to do and it's tough. It's tough."
Texas A&M athletics director Bill Byrne
On A&M being an attractive place for prospective replacements for Mark Turgeon…
"The good thing about this, compared to when we hired Billy [Gillispie] and when we hired Mark [Turgeon], is that we have built a basketball fanbase and we have built some incredible facilities. So going out and attracting a great coach to Texas A&M is going to be a lot easier than it was when we hired Mark and when we hired Billy. So I'm confident that we're going to have someone come in who will represent the values of Texas A&M and make sure that the kids have a good experience and graduate. That's what I told [the players] a few minutes ago. We'll make sure that they'll have a great experience here because I'm excited about the future of this basketball team coming up. This would have been Mark's best team and we need to make sure that we continue and [build] on that."
On being blindsided by the possibility of losing Turgeon…
"I didn't realize that the coach of Maryland was going to retire. I thought we had pretty well gone through the entire hiring cycle so I pretty much relaxed. I was down in Mexico with my dad for Mother's Day. So I wasn't planning on something like this. But we always keep a list. We always know some people that we think will work well with us here. And so we'll start that process again."
On Turgeon helping turn A&M basketball into an attractive program...
"He has done an incredible job for us. I really think that we have built ourselves to the point at Texas A&M, where we can go out and attract great coaches. If you look who we have attracted in our other sports … we've got some really outstanding coaches here, and that has not always been the case. A few years ago, nobody wanted our coaches. They do now. And that's the best position to be in."